Alden 06605 Color 8 Shell Cordovan Plain Toe Blucher
Additional Model Details:
Double Leather Outsole

360 Pre-Stitched Reverse Welt

Brooks Brothers
Alden 06605 eBay Sales (last 50):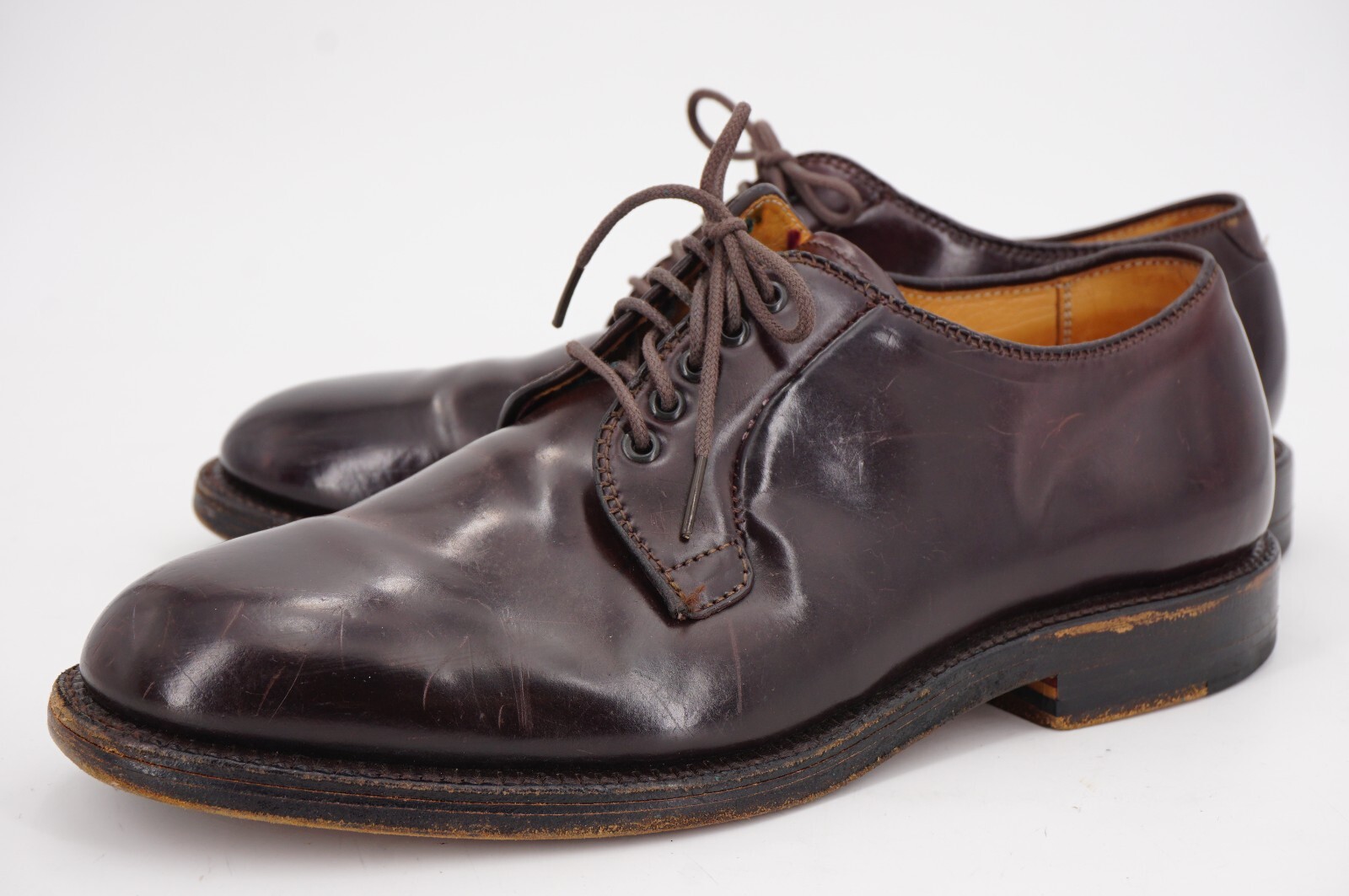 $820 | ALDEN 7 E PLAIN TOE BLUCHER COLOR 8 SHELL CORDOVAN PTB BURGUNDY !
Condition: Pre-owned
Size: 7 E
Start: 2022-10-30 4:49 AM
$248.00

Active

Times Listed: 2
For your consideration a lightly used pair of Alden plain toe bluchers. Made on a double leather outsole, 360 flat welt, black edge trim, and contrasting welt stitching. Made from smooth Horween color 8 shell cordovan and finished with metal eyelets. Shaped over the M58 last, similar to Barrie with slight less volume across the ball. Tagged a size US 7, E width. Retails for $820: theshoemart.com/alden-mens-9901-plain-toe-blucher-black-shell-cordovan/ Outsole Measurements: 11 3/4 x 4 3/16" Price includes USPS priority mail shipping, and tracking. Feel free to contact me with any questions. All shipments are typically sent out within 24 hours. International bidders welcome please contact me if you have any shipping questions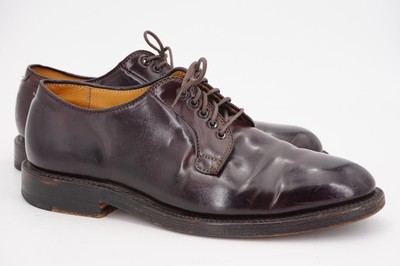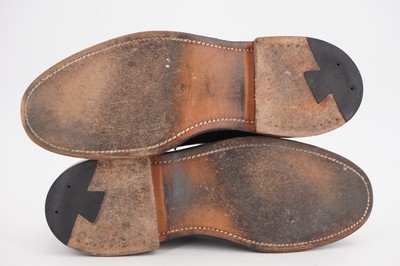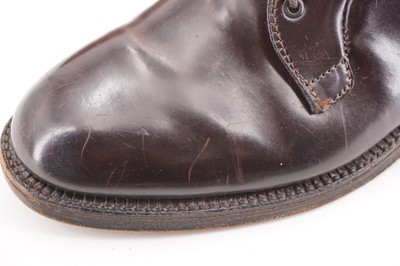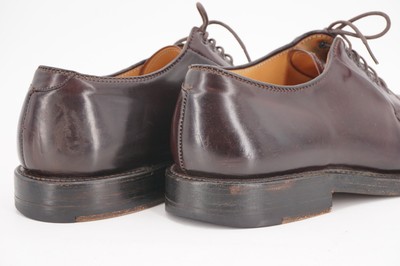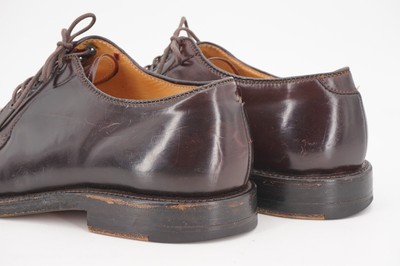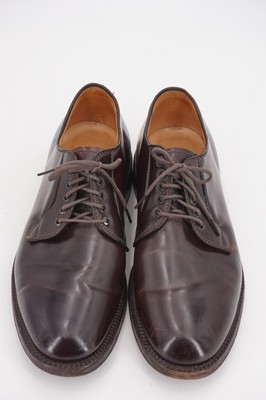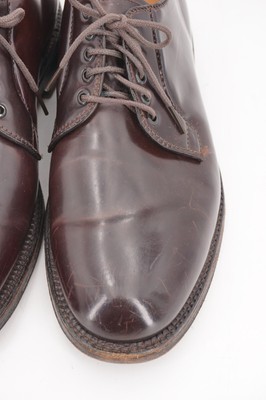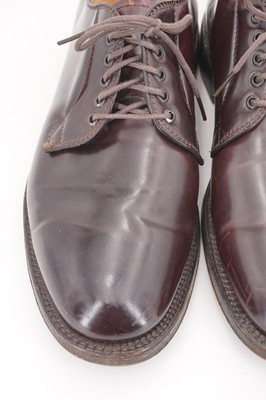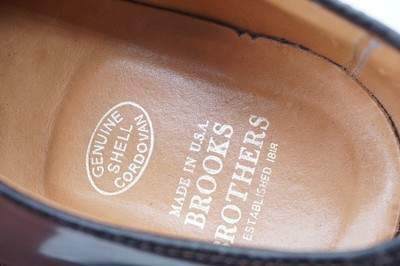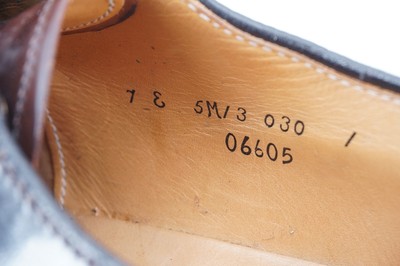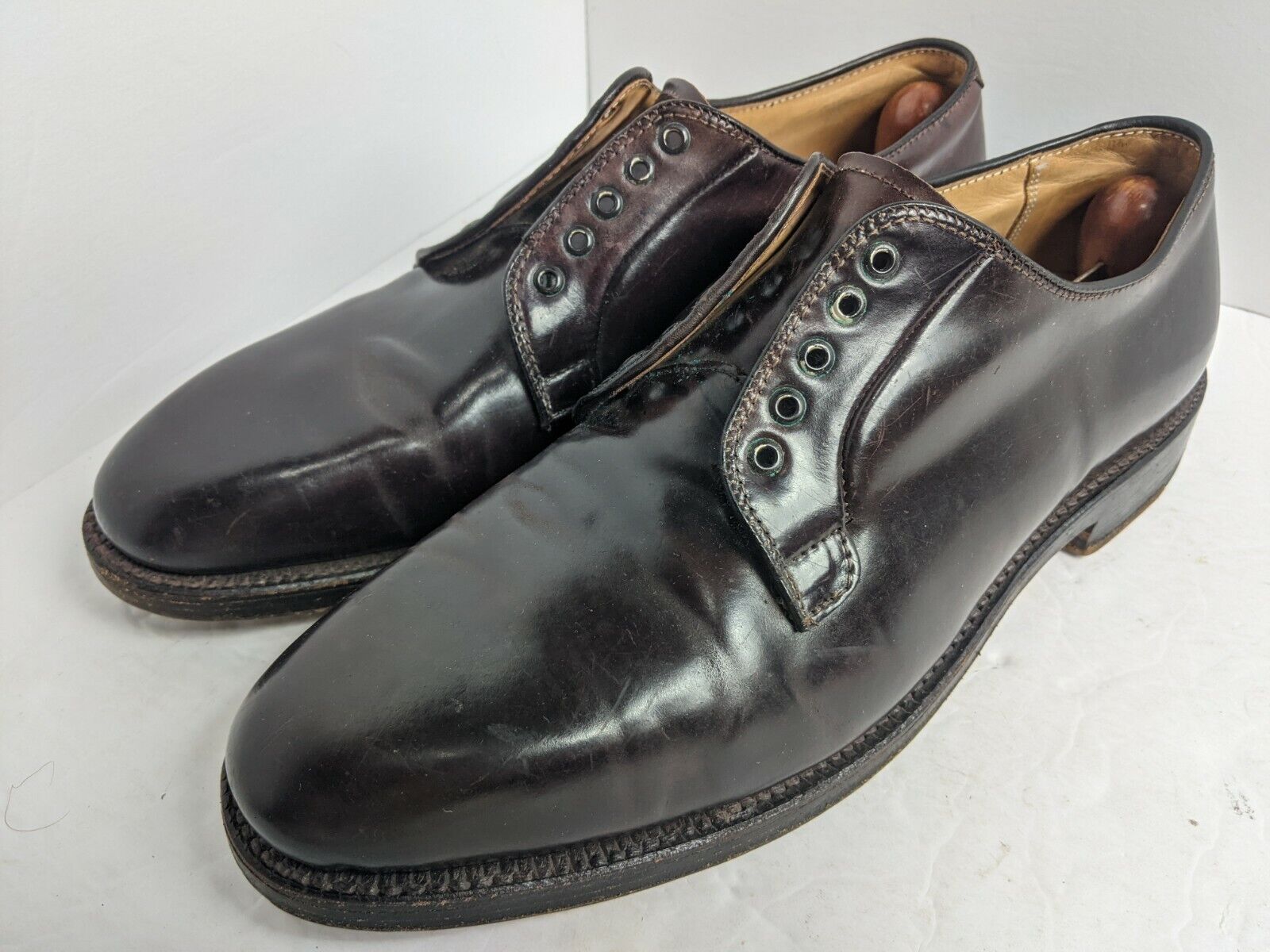 Brooks Brothers Made in USA Goodyear Welt 06605 Shell Cordovan Shoes 10 C
Condition: Pre-owned
Size: 10
Start: 2021-08-03 9:53 AM
$249.99

Active

Times Listed: 1
Very good condition. Little corrosion on the buckles. No laces. Size 10 C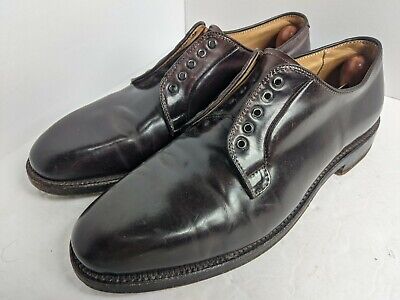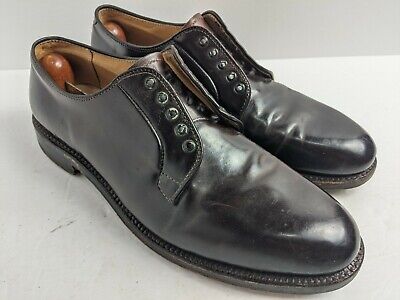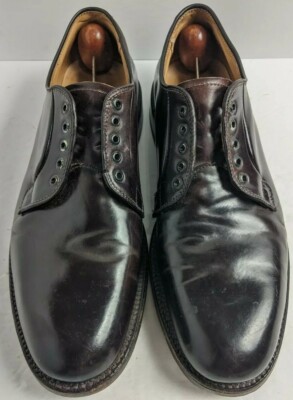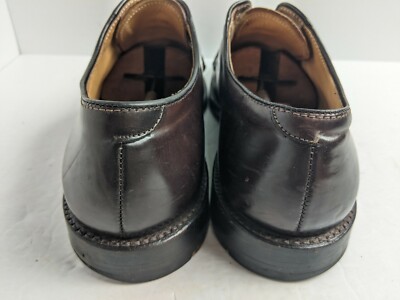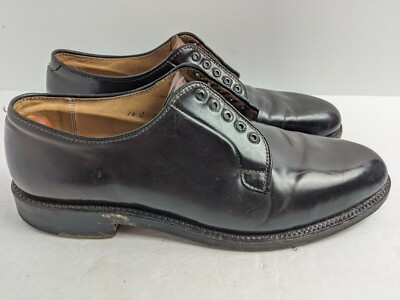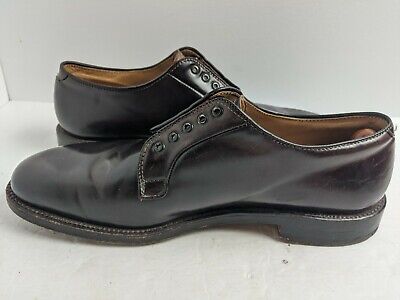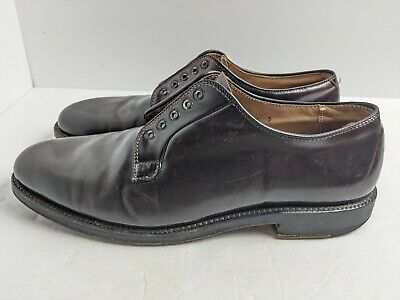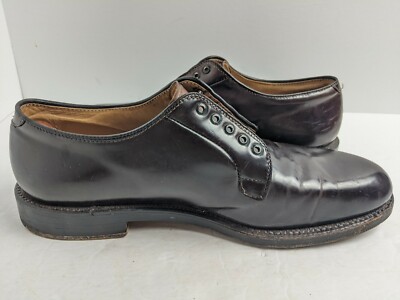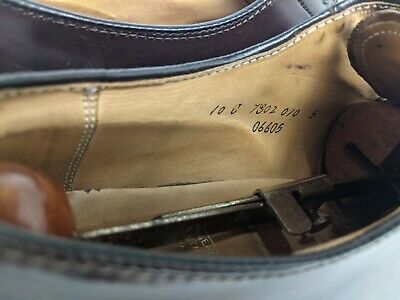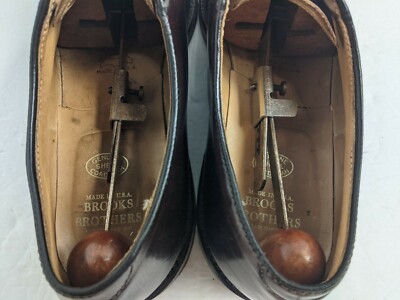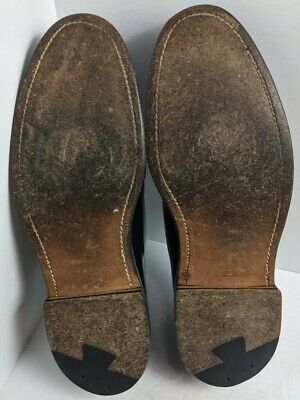 BROOKS BROTHERS GENUINE SHELL CORDOVAN SZ 10C GOODYEAR WELT MADE IN USA BURGUNDY
Condition: Pre-owned
Size: 10 C
End: 2022-09-19 11:28 PM
Duration: 10 days
$157.50

Sold

Times Listed: 1
YOU ARE BIDDING IN A GREAT PAIR OF SHOES BROOKS BROTHERS GENUINE SHELL CORDOVAN GOODYEAR WELTED SZ 10 C MADE IN USA LONGEST SOLE 12 3/4 WIDEST 4 1/4 oes/boots for ANY reason(unless the wrong item has been received). We provide the shoes size(if stamped in shoe/boot) and measurements for every pair of shoes/boots listed. Please keep in mind...if a pair of shoes is "vintage" the size may or may not be todays standard size....please check measurements carfully. Please remember you are bidding on used shoes. SHOE TREE NOT INCLUDED PLEASE DON`T SEND ANY RETURN IF WE HAVEN`T WORK IT OUT BEFORE RETURN WILL NOT BE ACCEPT WITH OUT PRIOR NOTICE IF FOR ANY CIRCUMSTANCE OR MISREPRESENTED ITEM YOU NEED TO CONTACT US BEFORE I WILL PROVIDE NAME AND ADDRESS FOR RETURN PLEASE DONOT USE THE ADDRESS ON THE BOX BECAUSE IT MAY NOT BE GOOD, COMMUNICATION WILL BE GREAT APPRECIATE PAYMENTS WE ACCEPT PAYPAL WE ALSO ARE PAYPAL VERIFIED, PLEASE NOTE. BEFORE YOU GO TO THE RESOLUTION CENTER I LIKE TO KNOW IF THERE IS ANY WAY WE CEN SOLVE ANY ISSUE I WILL TO MY BEST TO KEEP YOU AS A CUSTOMER `, BEFORE YOU OPEN A CASE LET WORK IT OUT FOR A SOLUTION DISPUTE ONLY HARM THE ACCOUNT YOUR FEEDBACK WILL BE GREAT APPRECIATE OUR GOAL IS TO GET THE MAXIMUM ON EVERY CRITERIA THANKS FOR DOING BUSINESS WITH WILSONSHOPUS WE GREATLY APPRECIATE item location is Houston TX please bid with comfidence item are safe, warehouse was not flooded, still we need a little bit extra time because road are cflooded and usps is not in a full potential, thank you for buying from us we really appreciate God bless you
Alden x Brooks Brothers | 10D | Color 8 | Shell Cordovan Plain Toe Blucher
Condition: Pre-owned
Size: 10D
End: 2022-06-18 10:00 PM
Duration: 12 days, 4 hr, 11 min
$180.00

Sold

Times Listed: 2
Regrettably, up for sale are one of my favorite pairs: Alden for Brooks Brothers Shell Cordovan plain toe bluchers in Color 8 (from Horween). Offloading these due to the need to find a better fitting last for me (the Barrie!) These have been well worn and have plenty of life left in them. The patina is outstanding, with some small spotting on the toe. Definitely adds some character, but can certainly be refinished if you send them in to Alden for recrafting. These are on Alden's the M58 last. A unique thing about these as well is that they are soled with Vibram's 1757 sole which makes them incredibly versatile and comfortable! Will not be coming with shoe trees and won't be accepting returns due to sizing issues. Feel free to ask any questions!
Alden for Brooks Brothers Cordovan Horse Leather-Brown Size 11.5 11.5
Condition: New without box
Size: 11.5 E
End: 2022-04-23 6:48 PM
Duration: 6 days, 22 hr, 47 min
399.00 EUR

Sold

Times Listed: 5
Original Alden for Brooks Brothers Gr 11,5 (ca. EU 45 bis 45,5) Ohne die abgebildeten Schuhspanner! without shoe trees (not included) mit Alden Schuhbeutel Neu mit geringen Lagerspuren Cordovan-Braun Viel Spass beim Bieten! Der Artikel wird entweder aus Deutschlad versandt, oder aus meiner Zweitwohnung in Österreich. Käufer aus Deutschland zahlen in beiden Föllen nur die deutschen Versandkosten =7,99 € Versandkosten übernimmt der Käufer, ebay-Gebühren übernehme ich! Gerne können Sie mich für weitere Fragen per Email kontaktieren. Es handelt sich um eine Privatauktion. Das neue EU-Gesetz schreibt folgenden Vermerk bei Privatkäufen vor: Bei meinen Auktionen verkaufe ich ausschließlich Gebrauchtware, sofern ich es nicht anders beschreibe. Die Waren stammen aus meinem Privatbesitz, ich verfolge keinerlei gewerbliche Zwecke. Ich erkläre ausdrücklich dass ich für die von mir versteigerten Artikel keine Gewährleistung übernehme. Mit der Abgabe eines Gebots erklären Sie sich ausdrücklich damit einverstanden, auf die Ihnen nach neuem EU-Recht gesetzlich zustehende Gewährleistung/Garantie bei Gebrauchtwaren zu verzichten. Keine Rücknahme und keine Rechnung. Danke!