Alden 1649 Black Shell Cordovan Monk Strap
Additional Model Details:
Single Leather Outsole

270 Flat Welt
Alden 1649 eBay Sales (last 50):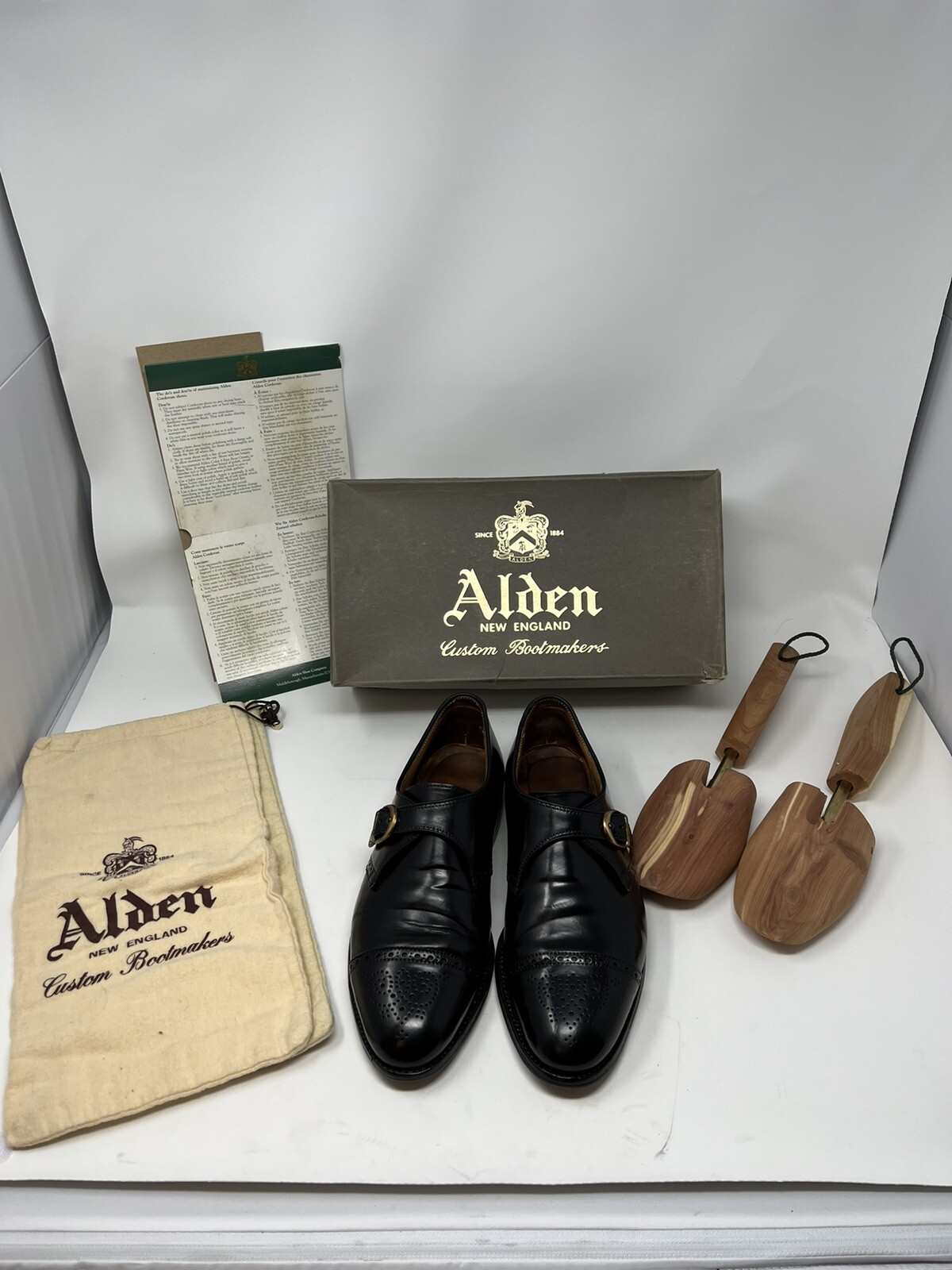 ALDEN - IOB - Black Shell Cordovan - Monk Strap - #1649 - Box Bags & Shoe Trees
Condition: Pre-owned
Size: 7 D
Start: 2023-03-24 1:17 AM
$200.00

Active

Times Listed: 1
A beautiful shoe. The shoes are still in its original box, and dust bags. I have included shoe trees. There is a large fold on the right vamp. A small scratch on the right inside. There are small other imperfections but none of notable mention it would take from the integrity of the shoes. These shoes are cleaned shined and ready for for wear. The shoes have normal wear and tear on both shoes. No noticeable odor. Please see picture for item imperfections. Let me know if you have any questions. Happy shopping! PRE-OWNED - no rips/tears - insoles/footbed may/may not have visible toe/footprints - all pre-owned Shoe will have varying degrees of scuffing which may/may not include same or different color marks, scratches, creases, nicks, dings, dents - view picture (use zoom) to determine degree of wear on soles - pictures are of the actual item and are considered part of the condition statement (view all pictures using the zoom feature) - color tones may vary depending on your monitor/device settings. ALDEN - IOB - Black Shell Cordovan - Monk Strap - #1649 - Box Bags Shoe Trees.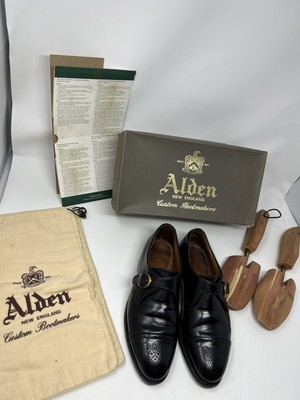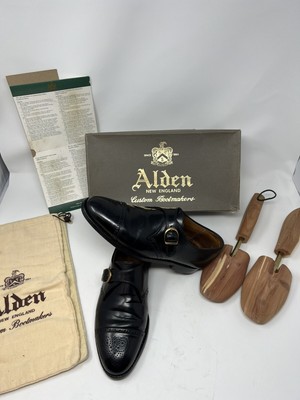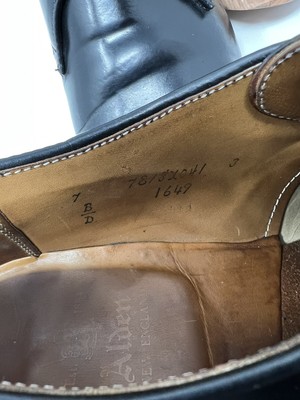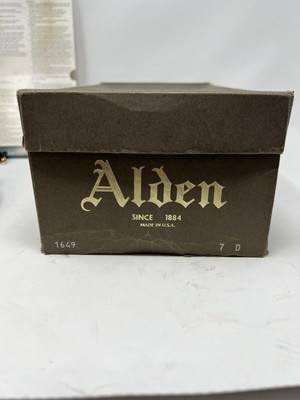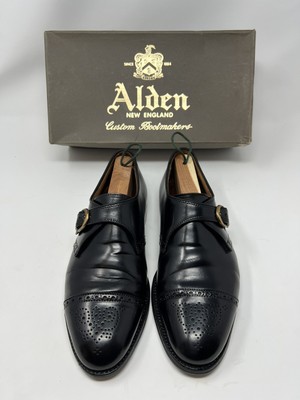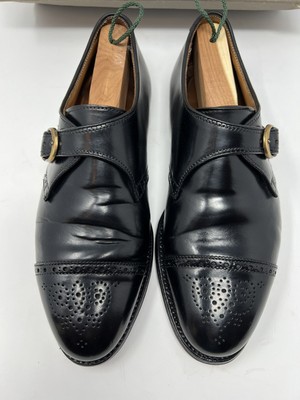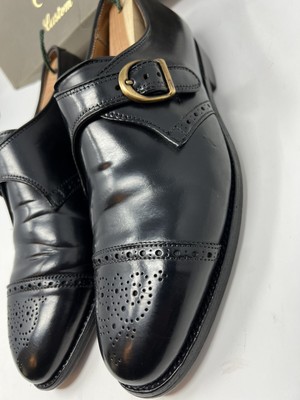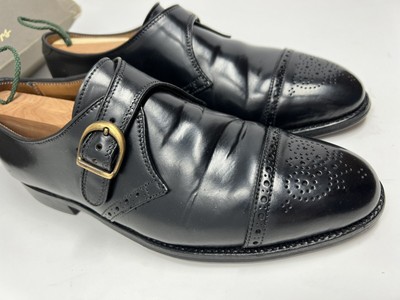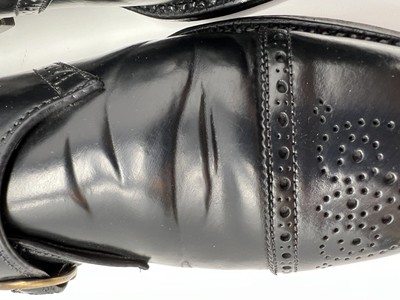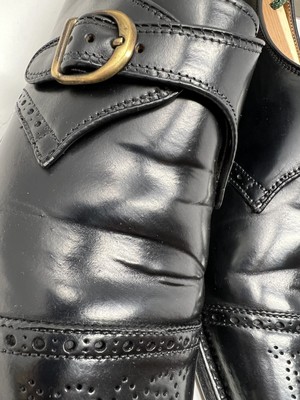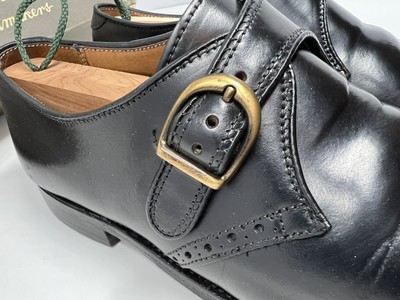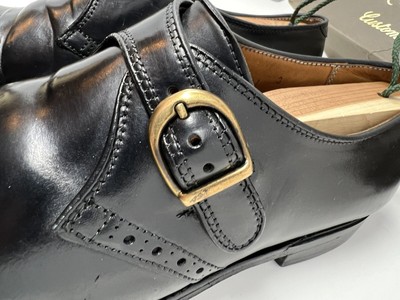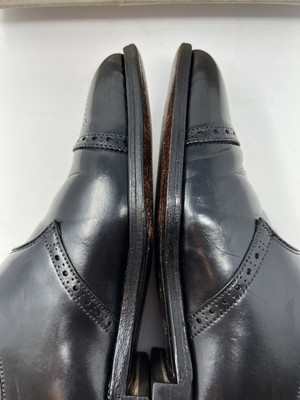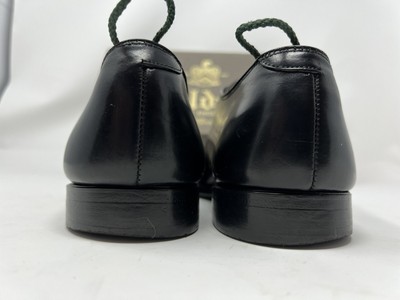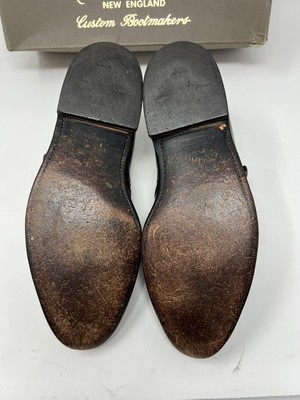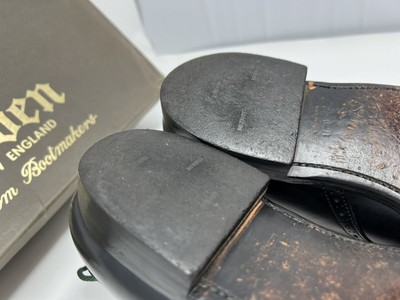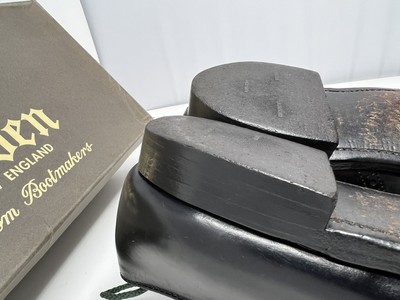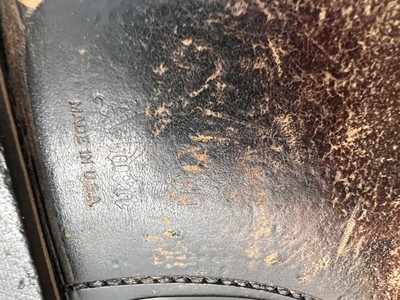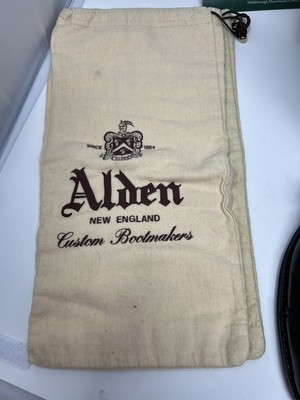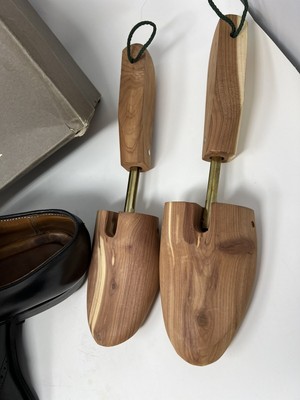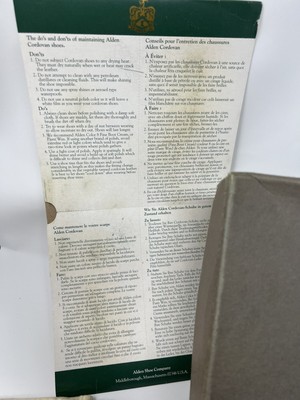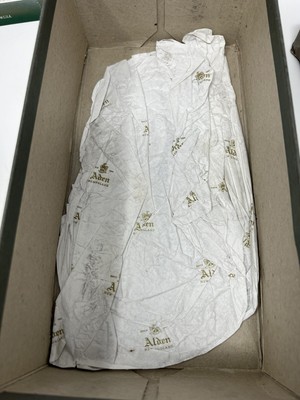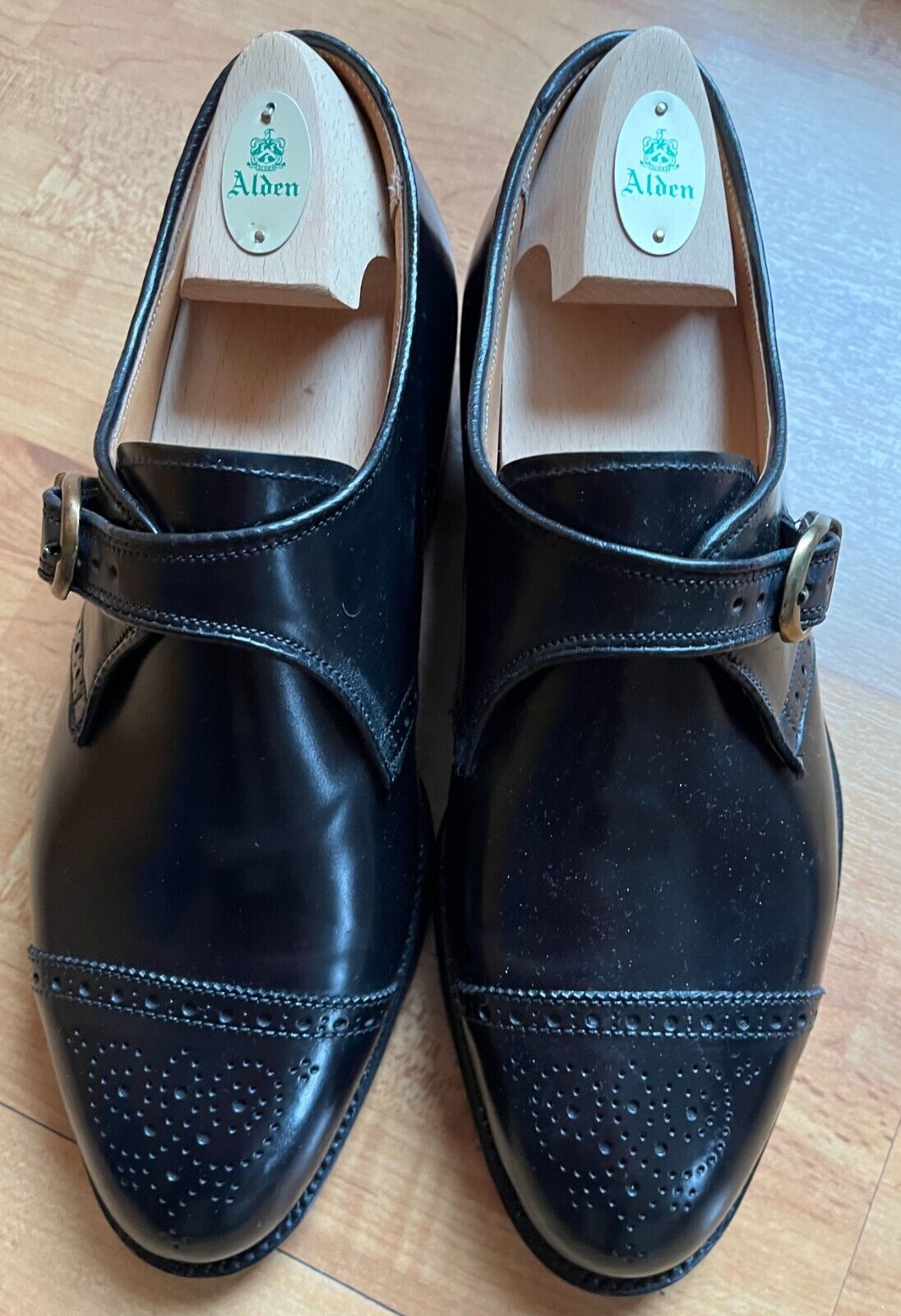 Alden Style #1649 Shell Cordovan Monk Strap Cap Toe - Black - Size 7E - €1,049
Condition: New
Size: US 7 E
Start: 2023-02-23 12:44 PM
900.00 EUR

Active

Times Listed: 1
Alden Style# 1649 Shell Cordovan Monk Strap Cap Toe - RRP € 1,049.-- Model No. 1649 Colour: Black Material: Shell Cordovan Vegetable tanned leather insoles Sole: Single Oak Leather Outsole. Size: 7 US Width: E Made by Alden in the U.S.A. Alden is an american shoe manufacturer, all size details are therefore american. All references to european sizes are for information purposes only, and are non-binding. The shoes are US Size 7E !! The shoes can, if later required, be sent to Alden for their factory restoration service whereby they will receive an expert rebuilding including all necessary repairs, using original materials carefully handworked on the original lasts. Alden will refinish them by hand, and return them with Alden cedar shoe trees and cloth bags. The Alden Shoe Trees are not included in the Sale or the Price. Private Sale - no Warranty or Return . The package willl be sent via DHL courier service. You will pay the applicable DHL rate depending on your location. Note that if you are an international buyer, located outside the EU, there may be import taxes or duties associated with this purchase. These will be the sole responsibility of the Purchaser.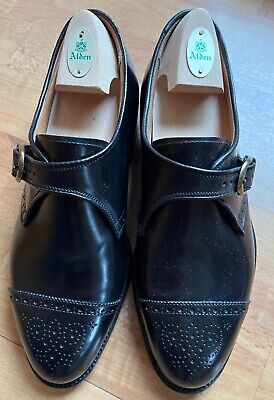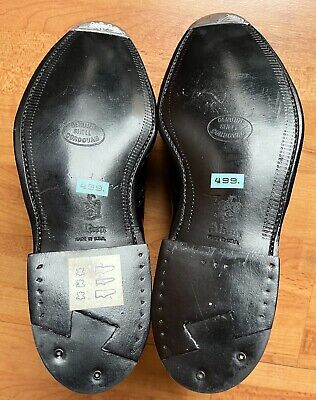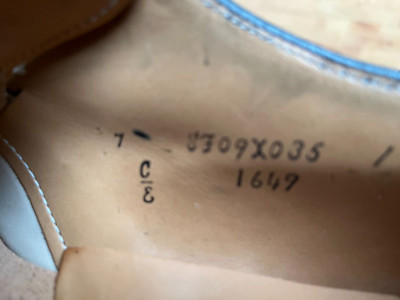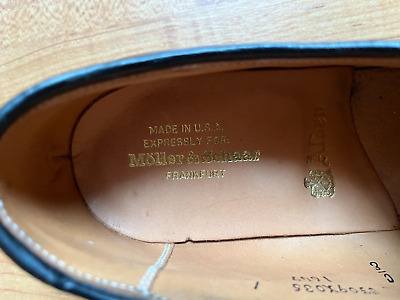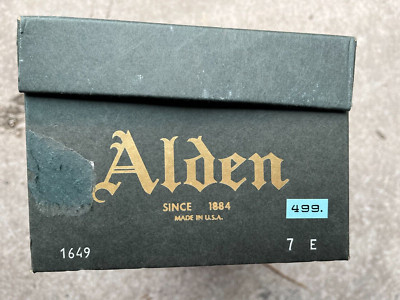 Alden 11.5 E (wide) Shell Cordovan Monk Strap Brogue Cap Toe Aberdeen Last 1649
Condition: Pre-owned
Size: 11.5 E
End: 2023-01-15 2:54 AM
Duration: 16 days, 12 hr, 29 min
$88.00

Sold

Times Listed: 2
Heavy wear but plenty of life left. Note damage to strap from buckle which is common and will not affect the structural integrity as it is a thick bovine core wrapped in cordovan. Insole 11 3/4", outsole 13" x 4 1/2"
ALDEN 9 D, Black Shell Cordovan, Monk Strap Cap Toe, Replaced Soles and Buckle
Condition: Pre-owned
Size: 9 D
End: 2022-10-31 6:44 PM
Duration: 7 days
$149.00

Sold

Times Listed: 1
ALDEN 9 D, Black Shell Cordovan, Monk Strap Cap Toe, Replaced Soles and Buckle. Look at the last picture to see very small tear in the shell of the right shoe
Alden shell cordovan black single monk strap reinforced toe thick leather dress
Condition: Pre-owned
Size: 7
End: 2022-03-05 1:34 AM
Duration: 402 days, 12 hr, 14 min
401.21 EUR

Not Sold

Times Listed: 9
Les commandes réalisées à partir des États-Unis, peuvent être soumises à des taxes d'importation et droits de douane, que l'acheteur est tenu responsable de payer. Alden Coque Cordovan Noir Simple Moine Bracelet de Cuir Épais Bout Renforcé Robe Cette fiche produit est originalement écrite en anglais. Veuillez trouver ci dessous une traduction automatique en français. Si vous avez des questions veuillez nous contacter. Alden Shell Cordovan Black Single Monk Strap Broque CapToe Chaussures habillées 7 B/D 1649 Informations générales Genre-Hommes Mesures approximatives Longueur de la semelle extérieure-11.25 Largeur de la semelle extérieure-4 Détails État - d'occasion Matériel-coque cordovan Taille taguée - 7 B/D Notes-usure de la semelle Conditions de vente Tous les articles sont en vente finale Paiements dus dans les 7 jours suivant la clôture des enchères Paypal est le seul moyen de paiement accepté * Tous les envois sont envoyés par les services prioritaires ou express USPS. Aucune taxe de vente ne sera facturée. Les livraisons internationales ne seront pas marquées comme des cadeaux ou auront des valeurs inférieures déclarées sur les formulaires douaniers. L'évaluation de l'état ci-dessus pour les articles d'occasion peut inclure de petites taches, des courses, des réparations, des modifications ou d'autres usures associées aux articles d'occasion qui peuvent ne pas être spécifiquement mentionnés. Les articles sont vendus par taille étiquetée et les mesures sont répertoriées à titre indicatif uniquement. N'hésitez pas à m'envoyer un message si vous avez des questions, des commentaires ou des préoccupations! Merci d'avoir cherché !  _gsrx_vers_823 (GS 7.0.12 (823)) Alden Shell Cordovan Black Single Monk Strap Broque CapToe Chaussures habillées 7 B/D 1649 * Tous les envois sont envoyés par les services prioritaires ou express USPS. Aucune taxe de vente ne sera facturée. Les livraisons internationales ne seront pas marquées comme des cadeaux ou auront des valeurs inférieures déclarées sur les formulaires douaniers. L'évaluation de l'état ci-dessus pour les articles d'occasion peut inclure de petites taches, des courses, des réparations, des modifications ou d'autres usures associées aux articles d'occasion qui peuvent ne pas être spécifiquement mentionnés. Les articles sont vendus par taille étiquetée et les mesures sont répertoriées à titre indicatif uniquement. N'hésitez pas à m'envoyer un message si vous avez des questions, des commentaires ou des p Style Oxfords Width Medium (D, M) Color Black Accents Strap Material Shell Cordovan UPC Does not apply US Shoe Size 7 Upper Material shell cordovan Theme Shell US Shoe Size (Men's) 7 Department men Shoe Width B Type Dress Brand Alden Size 7