Alden 29143 Navy Suede Plain Toe Dover
Additional Model Details:
Single Flex Welt Leather Outsole

360 Flat Welt

Unlined Vamp
Alden 29143 eBay Sales (last 50):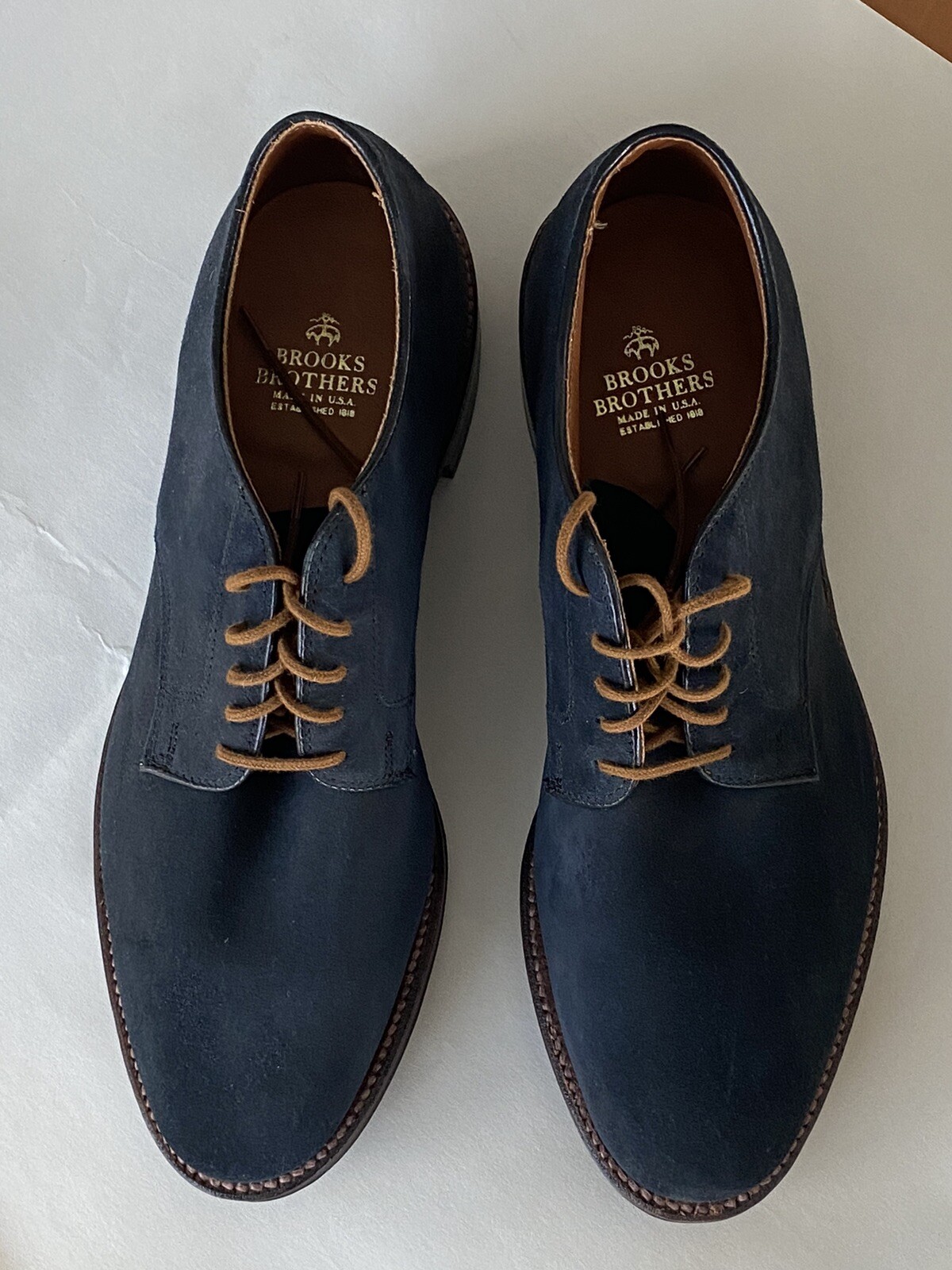 Alden x Brooks Brothers Unlined Blue Suede Dover/Blucher
Condition: New
Size: 9 D
Start: 2022-10-22 8:59 PM
$275.00

Active

Times Listed: 1
BNWOB Alden x Brooks Brothers Unlined Blue Suede Dover/Blucher. Model number 29143. Blue suede, unlined vamp. Single flex welt leather outsole. Snap last (rarely used by Alden, maybe exclusive to BB). A rare unlined makeup that is awesome for summer. Because it is unlined, it feels almost like a slipper. I bought it from BB thinking it was a 9.5D, and the 9D was too small. The shoe has been tried on but not worn (see sole pictures). Shoes will ship with different box (box was damaged) and no bags (bags were not included with original purchase).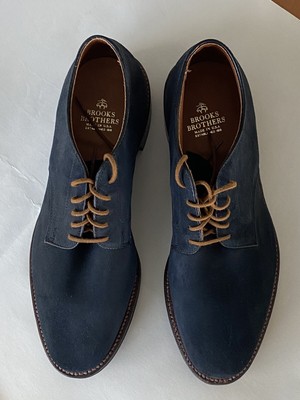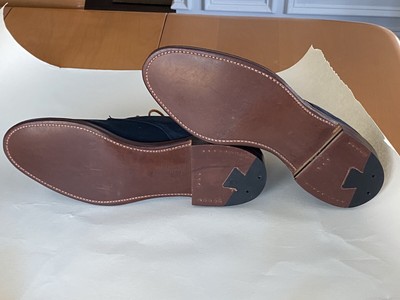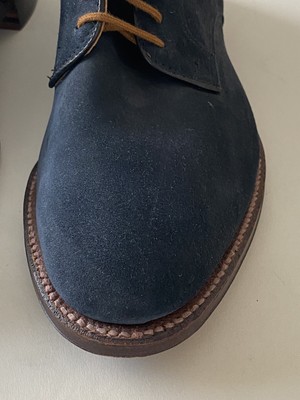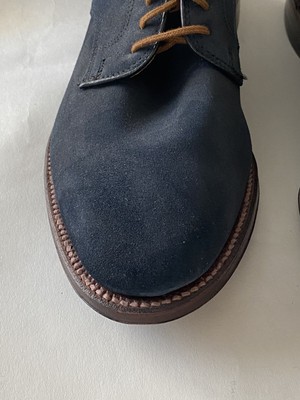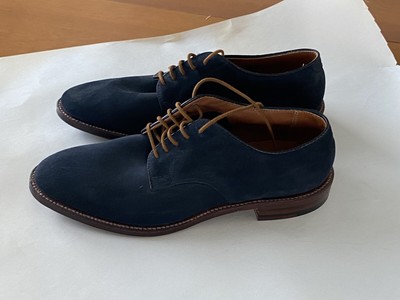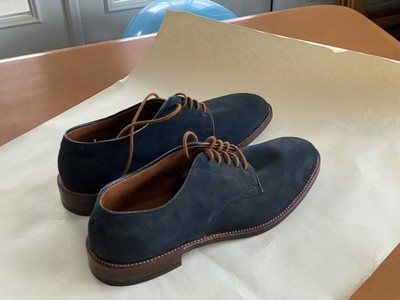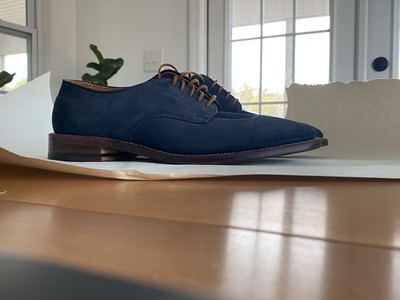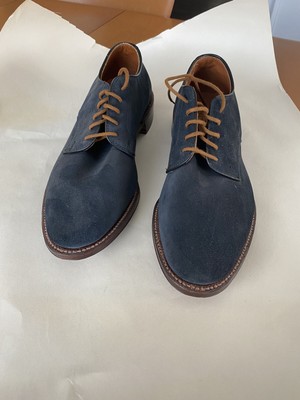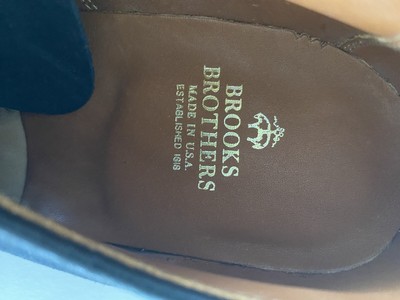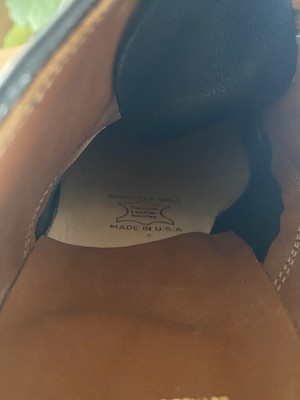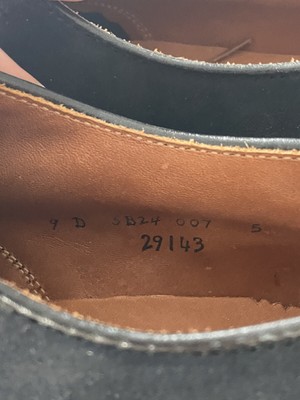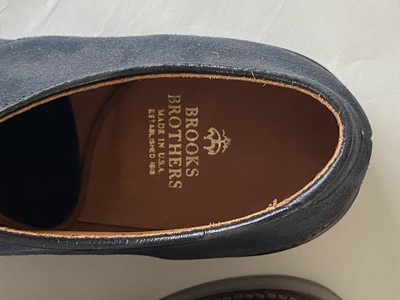 NEW w BOX - RARE MODEL | ALDEN x BROOKS BROTHERS 10D NAVY SUEDE SHOES 29143
Condition: New
Size: 10 D
End: 2022-10-27 11:34 AM
Duration: 132 days, 17 hr, 40 min
$414.00

Sold

Times Listed: 2
shoeslikeclockwork NEW w BOX - RARE MODEL | ALDEN x BROOKS BROTHERS 10D NAVY SUEDE SHOES 29143 Marked Size: 10D Condition Grade: 9 Model: 29143 Last: Snap Measurements: 12 3/8" by 4 3/16" Notes: Built on the Brooks Brothers exclusive "Snap" last, these shoes approximately fit true to size. Please note, these shoes are unlined in the vamp similar to Alden's "dover" line of plain toe shoes. Made in a unique shade of blue suede, these shoes have been tried on and have light marks at the soles. The uppers need a light brushing as the suede is laying flat from storage. Comes with original box only. Please note that shoe trees, shoe bags, shoe boxes, and other accessories are not included unless otherwise stated. Any stated color is an approximation, as how a color appears on screen and in person varies greatly depending on the settings, screen, and lighting conditions. Grade Chart Grade Description 10 Brand New 9 Like New, or Display Item 8 Used Several Times Only 7 Minor Scratches and/or Marks 6 Moderate Amount of Scratches and/or Marks 5 Many Scratches and/or Marks 4 Used a lot. Many Noticeable Scratches/Marks 3 Heavily Used, Serviceable with Repair 2 Very Heavily Used, Serviceable with Repair 1 Obviously Damaged, May not be Repairable - - V Vintage Visit Our Store! 〉 © shoeslikeclockwork _gsrx_vers_856 (GS 7.0.20 (856))
ALDEN for BROOKS BROTHERS! Beautiful Navy Blue Suede Bucks - 11 B/D - Box + Bags
Condition: Pre-owned
Size: 11 D
End: 2022-01-22 9:34 PM
Duration: 5 days, 19 hr
$75.00

Sold

Times Listed: 2
ALDEN! for BROOKS BROTHERS! The absolute finest Made in America USA gentleman's shoes footwear. Blue Leather Suede Lace-Up Oxford Bucks. Size 11 B/D Medium traditional width. Contrasting Camel laces. Numbers inside are 11D, 5A25 029 9 29143. Built on a Goodyear Welt. With original Alden box and shoe bags - a nice touch! We are antiques dealers in the Virginia Piedmont - Charlottesville and environs. We use eBay to offer unique items that are terrific but may not be a fit for our traditional retail outlets and customers. And, sometimes, we sort out our own collections to make room for new discoveries! This week, my husband is doing a great thing - clearing out his closet a bit in the spirit of New Year's tidying and acknowledging we are blessed with too many beautiful things. So, let's find great new homes for these splendid shoes and clothing! And - just for fun - we're gonna start everything at very modest opening bids! Buyer pays shipping and insurance, and we are glad to combine shipping anytime for multiple purchases. Feel free to email questions of any kind. Many thanks to the thousands of great folks with whom we've done a little bit of business since 1996.
Alden for Brooks Brothers 29143 Blue Navy Suede Plain Toe Dover, US 11 D
Condition: Pre-owned
Size: US 11
End: 2021-05-31 9:03 PM
Duration: 0 hr, 8 min
70.00 EUR

Not Sold

Times Listed: 1
Pair of Brooks Brothers by Alden 29143 men's shoes in good condition. Features include:Flex Welt Plain Toe BlucherNavy Suede Calfskin leatherSingle flexible leather sole with dove tail heels, full welt aroundLight brown sole and welt edge coloring.Barrie LastUnlined vamp for a nearly broken in feelMade in USA Size US 11 D. British and European measurements are mentioned on the manufacturer webpage and it is to be used as reference without any liability from my part. Please know your measurements before bidding.
ALDEN x BROOKS BROTHERS 10.5D UNLINED NAVY SUEDE PLAIN TOE DRESS SHOES 29143
Condition: Pre-owned
Size: 10.5 D
End: 2021-05-22 7:26 PM
Duration: 23 days, 1 hr, 44 min
$160.00

Sold

Times Listed: 2
Marked Size: 9.5UK / 10 US Condition Grade: 7 Model: 29143 Last: Snap (a Brooks Brothers' exclusive last, runs approximately true to size, please refer to measurements) Measurements: 12 5/8" by 4 3/16" Notes: Shoes have light marks at toes and inside heels of both shoes and the suede needs to be brushed in these areas. Small white mark at outside side of left shoe. Original soles firm to the press with approximately 85% of their original life remaining. Original heels good with light edge wear only. Please note that shoe trees, shoe bags, shoe boxes, and other accessories are not included unless otherwise stated. Any stated color is an approximation, as how a color appears on screen and in person varies greatly depending on the settings, screen, and lighting conditions. Grade Chart Grade Description 10 Brand New 9 Like New, or Display Item 8 Used Several Times Only 7 Minor Scratches and/or Marks 6 Moderate Amount of Scratches and/or Marks 5 Many Scratches and/or Marks 4 Used a lot. Many Noticeable Scratches/Marks 3 Heavily Used, Serviceable with Repair 2 Very Heavily Used, Serviceable with Repair 1 Obviously Damaged, May not be Repairable - - V Vintage Visit Our Store!© shoeslikeclockwork _gsrx_vers_856 (GS 7.0.20 (856))