Alden 302 Brown Calfskin V-Tip Blucher
Additional Model Details:
Single Leather Outsole

270 Flat Welt
Alden 302 eBay Sales (last 50):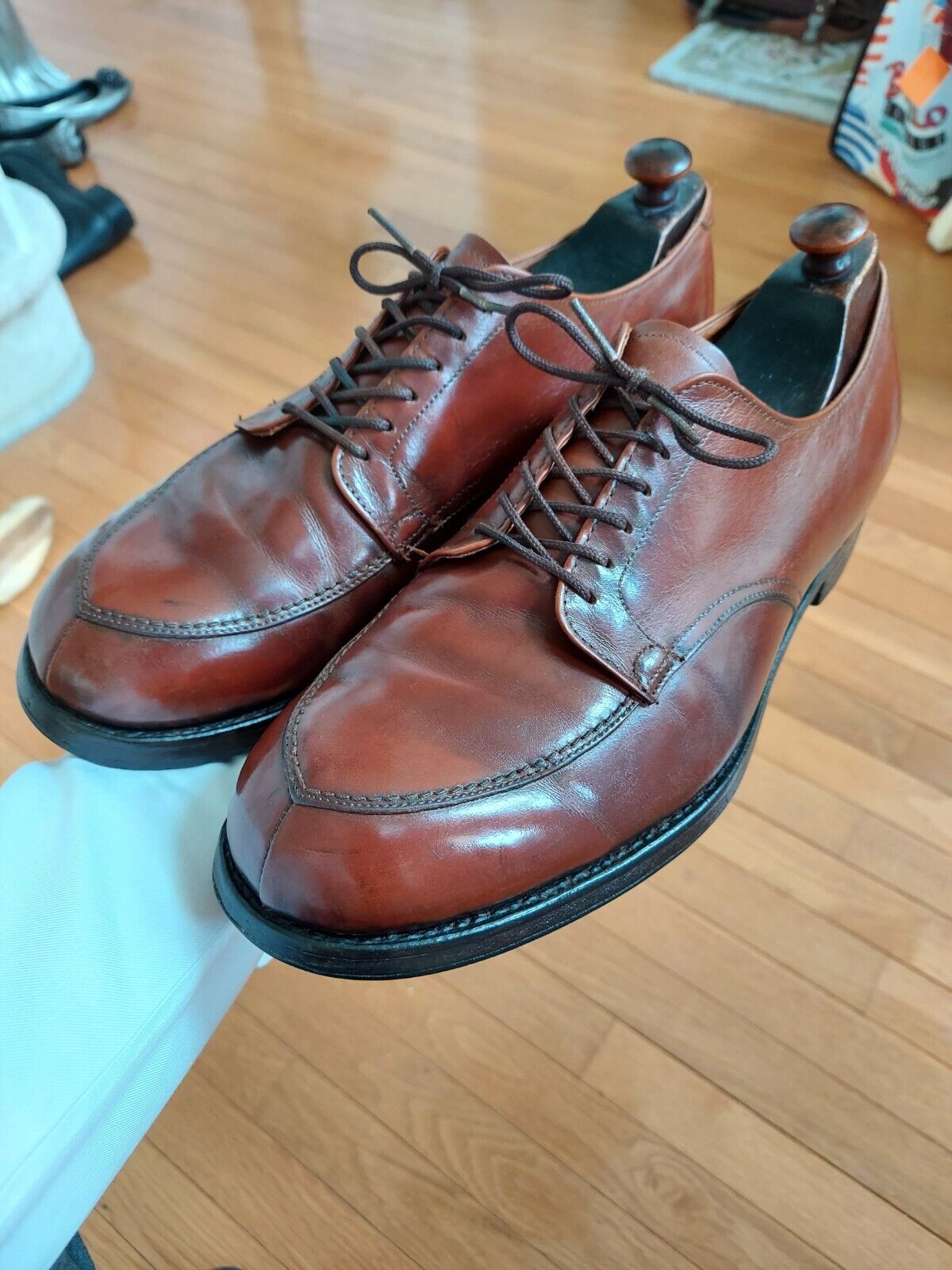 Rare Vintage Alden 302 Brown Calf V-Tip Algonquin Toe Derby Shoes 9.5 E/EEE CDI
Condition: Pre-owned
Size: 9.5 E/EEE
Start: 2023-05-07 5:20 PM
$219.99

Active

Times Listed: 1
For sale is a pair of Rare Vintage Alden 302 Brown Calf V-Tip Algonquin Toe Derby Dress Shoes Men's 9.5 E/EEE CDI. From Alden Model Project: "CDI Last (true to size) Single Leather Outsole 270 Flat Welt" For your consideration is a rare pair of vintage V-Tip Algonquin Dress Shoes, from the Famed American Shoemaker, Alden. These pair notably feature the pre-crest 4A logo, and a partial fabric lining (typical indicator or earlier Alden Shoes). This is the 302 style, and features a light to medium brown eye-catching brown Calfskin, on Alden's specialized CDI last (to learn more about it, read here: (http://www.aldenshoe.com/Archive/cat_ortho_cdi_facts.htm) With top of the line materials, a timeless profile/last, and rugged Goodyear Welted Construction, these shoes will (and have) last(ed) years and provide dependable style. These shoes feature a richly patinaed brown calfskin leather upper, classic V-Tip Algonquin Toe Derby Dress Shoes design, round braided brown laces, leather and fabric (for ventilation) lining, leather sockliner, leather insole, leather midsole, leather and Vibram Topy (with stitches going through for added durability) Outsole, Foot Balance Heel (toplifts are excellent - near original thickness due to heel plates), and Goodyear Welted Construction. For reference, here are the approximate measurements (taken along the outsole): Length - 12.375" Width (at the ball of foot) - 4.5" These shoes have been worn sparingly and maintained exceptionally well. There is some instances of minor wear to the leather lining, though this is mainly a cosmetic flaw (a cobbler could adhere a piece of leather over it to patch it). Regardless, this flaw is inconspicuous, and in no way affect the wearing or integrity of these shoes. *Note: The leather sockliners on these have loose edges that tend to flap up when putting the shoes on or taking them off. If you want, I can glue the edges down with Locite Glue or Shoe Goo - just let me know when buying if you would like me to do so before shipping them out. I have cleaned and conditioned these shoes, inside and out, with Weimans Leather Wipes, deep cleaned and conditioned with Lexol Cleaner and Conditioner, and polished them with Saphir Beaute du Cuir Shoe Cream. They come from a pet and smoke-free home. Shoe trees are not included. If you have any questions, please feel free to ask! Also, feel free to check out our account for other quality offerings! (Including multiple other shoes in this exact size!).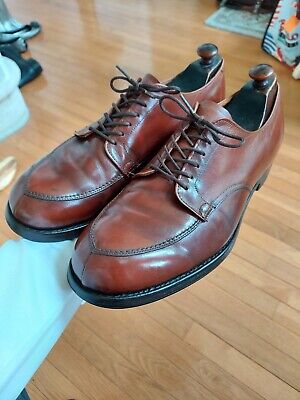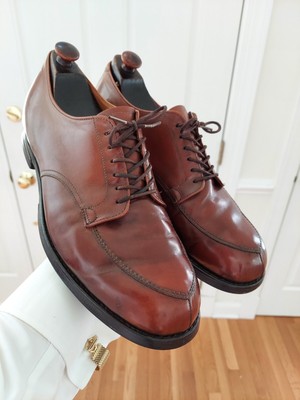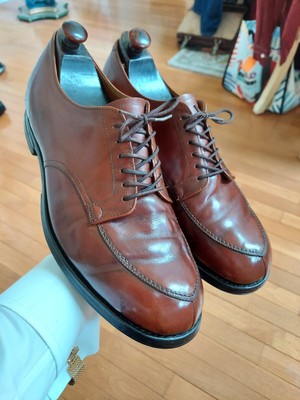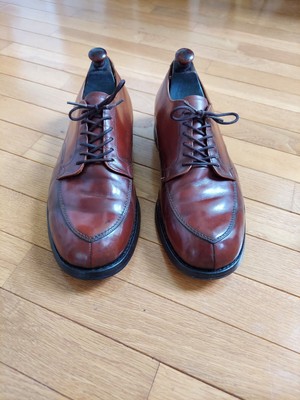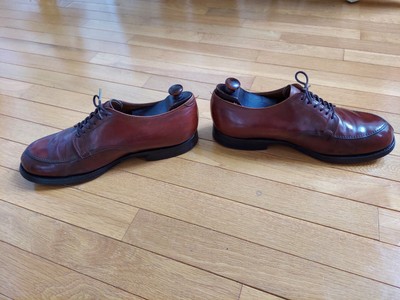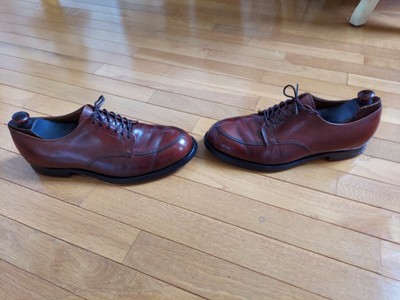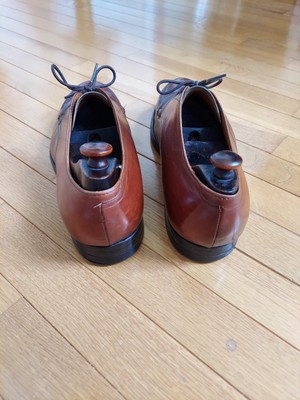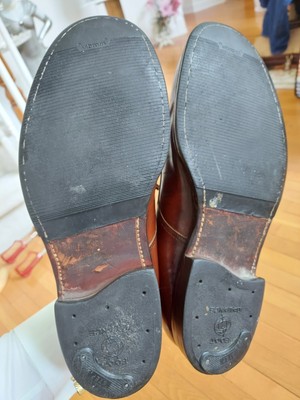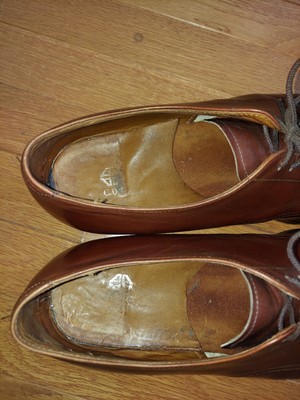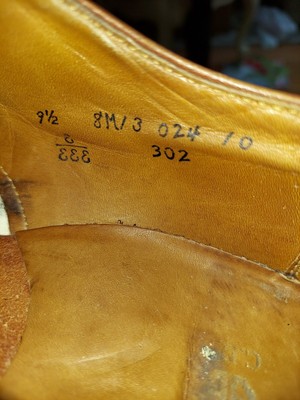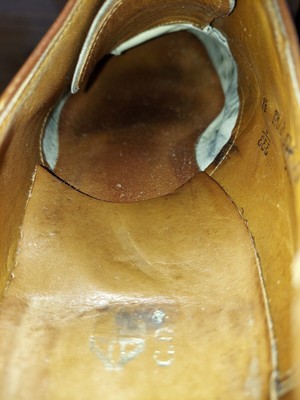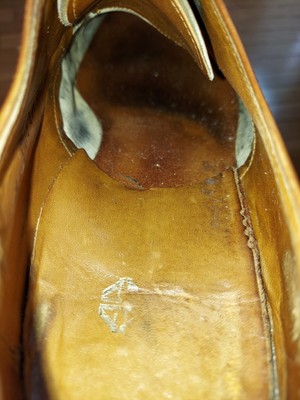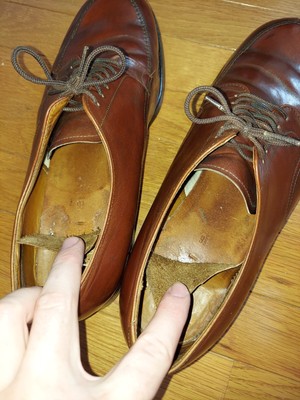 ALDEN 302 BROWN CALFSKIN V-TIP BLUCHER 8.5 / 42 SUPER CONDITION MEN'S SHOES SHOE
Condition: Pre-owned
Size: 8.5
End: 2023-05-27 1:40 PM
Duration: 513 days, 16 hr, 31 min
249.00 EUR

Not Sold

Times Listed: 1
CHAUSSURE ALDEN 302 BROWN CALFSKIN V TIP BLUCHER CUIR SUPER ETAT Taille 8,5 US / 8 UK / 42 EU Longueur semelle extérieur : 30 cm Longueur semelle intérieur : 27,5 cm Largeur semelle: 11 cm Hauteur talon: 3 cm Chaussure en très bon état, semelle est talon en excellent état Chaussure vendu sans les embauchoirs Merci
Vintage Alden 302 brown leather split toe oxford 11C
Condition: Pre-owned
Size: 11
End: 2023-03-26 1:21 AM
Duration: 5 days
$30.00

Sold

Times Listed: 12
Vintage Alden 302 brown leather split toe oxford 11C.
Alden 302 brown leather split toe oxford 11.5 C EXCELLENT
Condition: Pre-owned
Size: 11.5 C
End: 2023-03-24 7:56 PM
Duration: 2 days, 1 hr, 7 min
$50.00

Sold

Times Listed: 9
Really nice pair of Alden 302 split toe oxfords. Size 11.5 C. See photos. These shoes were worn very little--maybe only once. There are few signs of wear and the soles are only a little scuffed. These shoes are made on the "Foot Balance" last. Note shape of the front of the heels. Note that inside of upper is taller than the outside. These shoes are designed to provide additional support and stability. Bottom of soles measure 12 3/4 X 4 1/2. Get a bargain on these quality shoes! I have updated the photos since the original listing. I replaced the shoelaces with some that are a little more stylish. Shoe trees not included. I am also listing more shoes in size 11.5 C today. I also have a similar pair of black Aldens listed--same basic style but with rubber soles. See my other items.
Alden"" Brown 45 (10-3-E) Cordovan Brown Shoes
Condition: Pre-owned
Size: 10.5
End: 2023-03-01 9:53 AM
Duration: 42 days, 21 hr, 47 min
174.00 EUR

Not Sold

Times Listed: 5
Mocassins " Alden " Cordovan Color : Braun Size entre 45 - 10 3/E Material : High Quality Leather Sole : leather sole 100% Original Custom Grade in USA The Lenght of the outer sole measures 31,6 cm The lenght of the inner insole 29,6 The width of the outer sole is 11,9 cm " Alden " Cordovan Colore : Marron Taille / Pointure 45 / 10 3/E Matériele : Cuir de Haute Qualité Semelle : Cuir 100 % Authentique Fabrique en USA Longeur de la semelle extérieure31,6 cm Longeur de la semelle intérieure 29,6 cm Largeur de la semelle extérieure 11,9 cm Fait à la main " Alden " Cordovan Farbe : Braun Sohle : Ledersohle Größe 45 ( 10 3/E ) Material : hochwertiges Calff Leder Custom Grade Serie - handgefertigt in USA Die Lnge der Ausensohle betragt 31,6 cm Die Lange der innersohle Betragt 29,6 cm Breite der Ansensohle Betragt 11,9 cm 100% Original