Alden 3670 Color 8 Shell Cordovan Tassel Loafer
Additional Model Details:
Single Leather Outsole

270 Flat Welt
Alden 3670 eBay Sales (last 50):
When you click on links to make a purchase, this can result in this site earning a commission from the eBay Partner Network.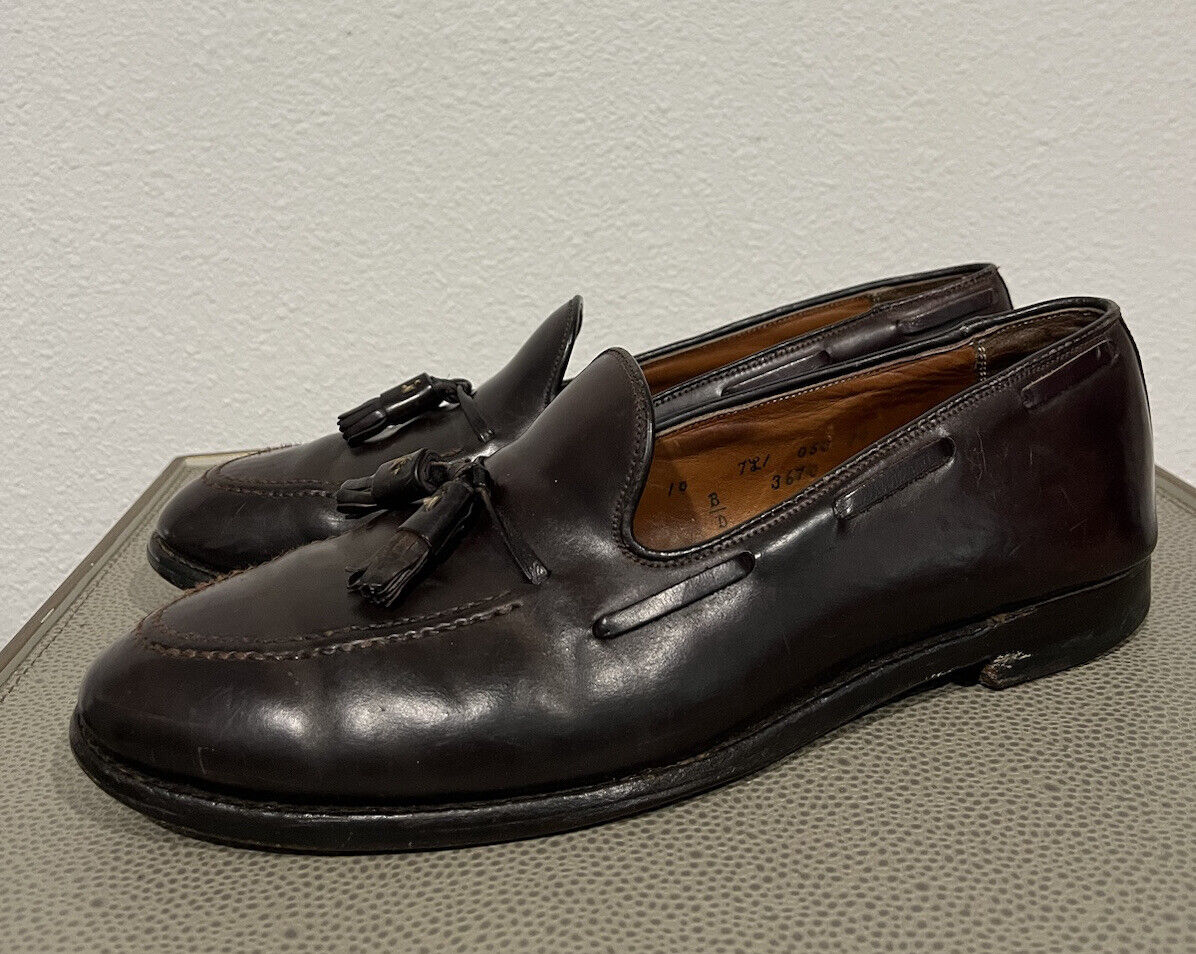 Alden Tasseled Loafer Shell Cordovan Size 10 D Aberdeen 3670 Color 11
Condition: Pre-owned
Size: 10 Medium (D, M)
Start: 2023-10-26 1:24 PM
$250.00

Active

Times Listed: 1
Alden Tasseled Loafer Shell Cordovan Size 10 D Aberdeen 3670 Color 11 Used with normal wear. Uppers are still in great shape as you'd expect from the high quality cordovan leather. Soles show wear as pictured.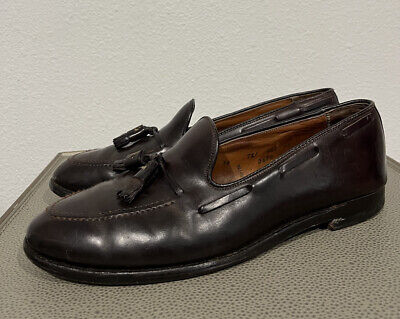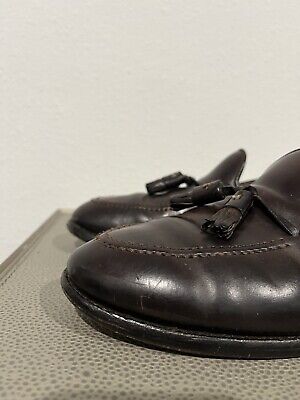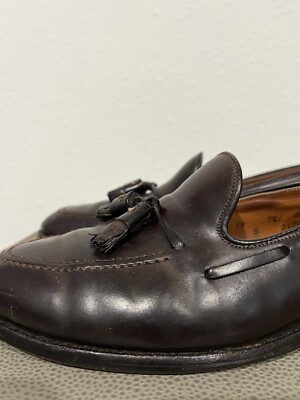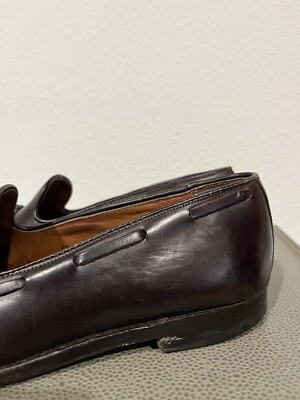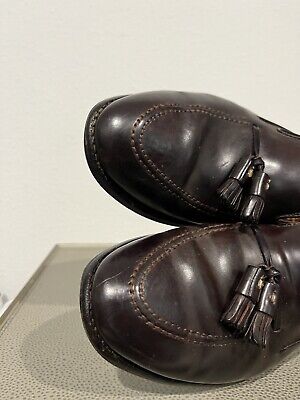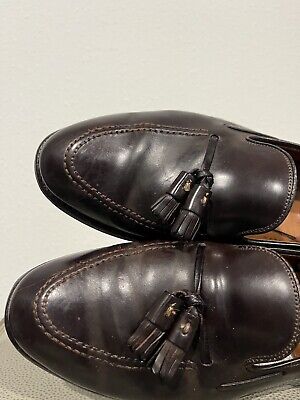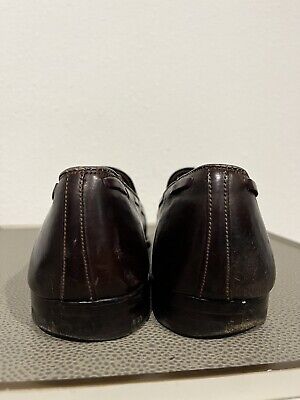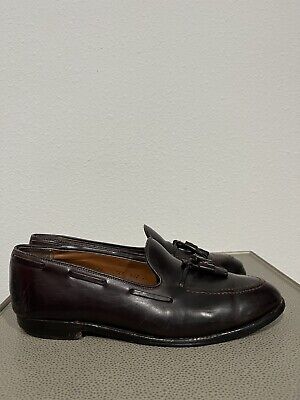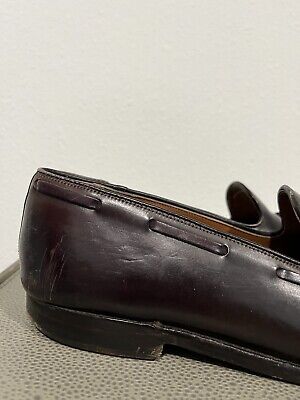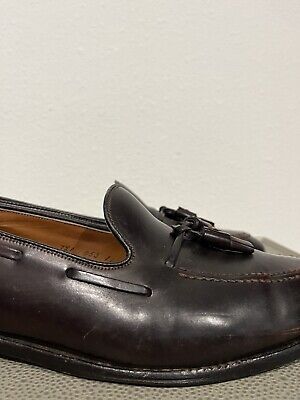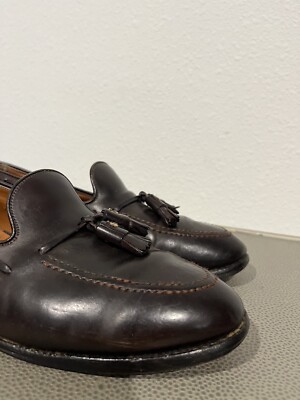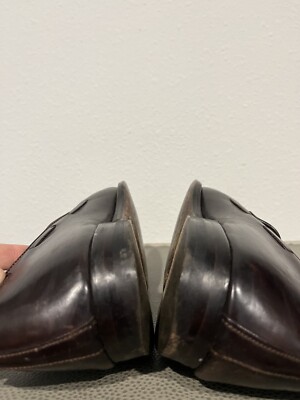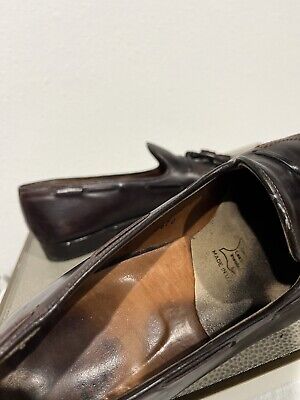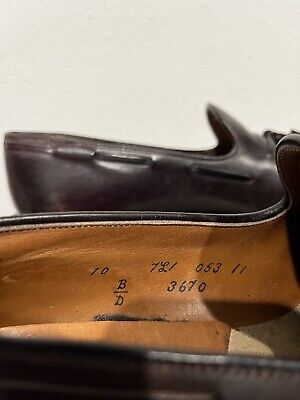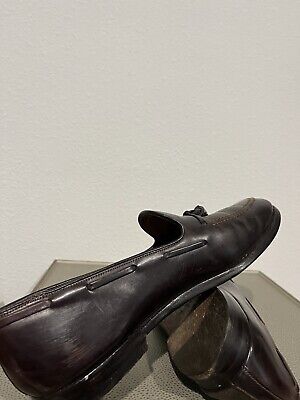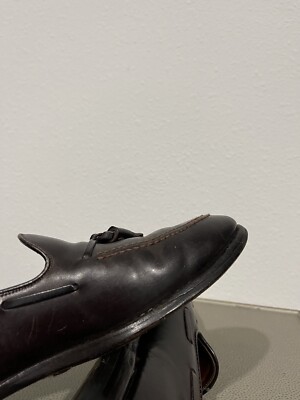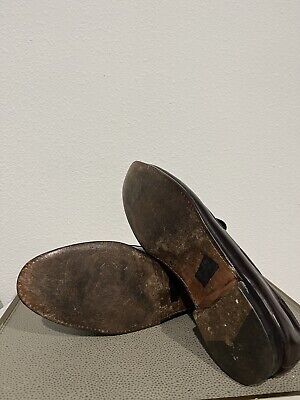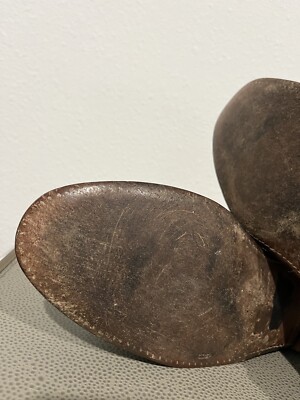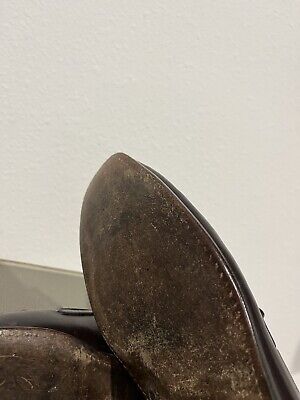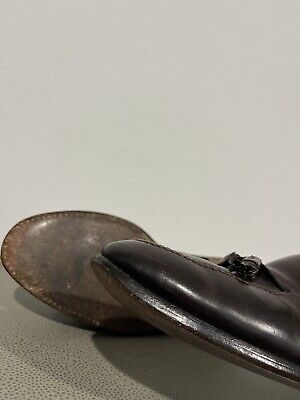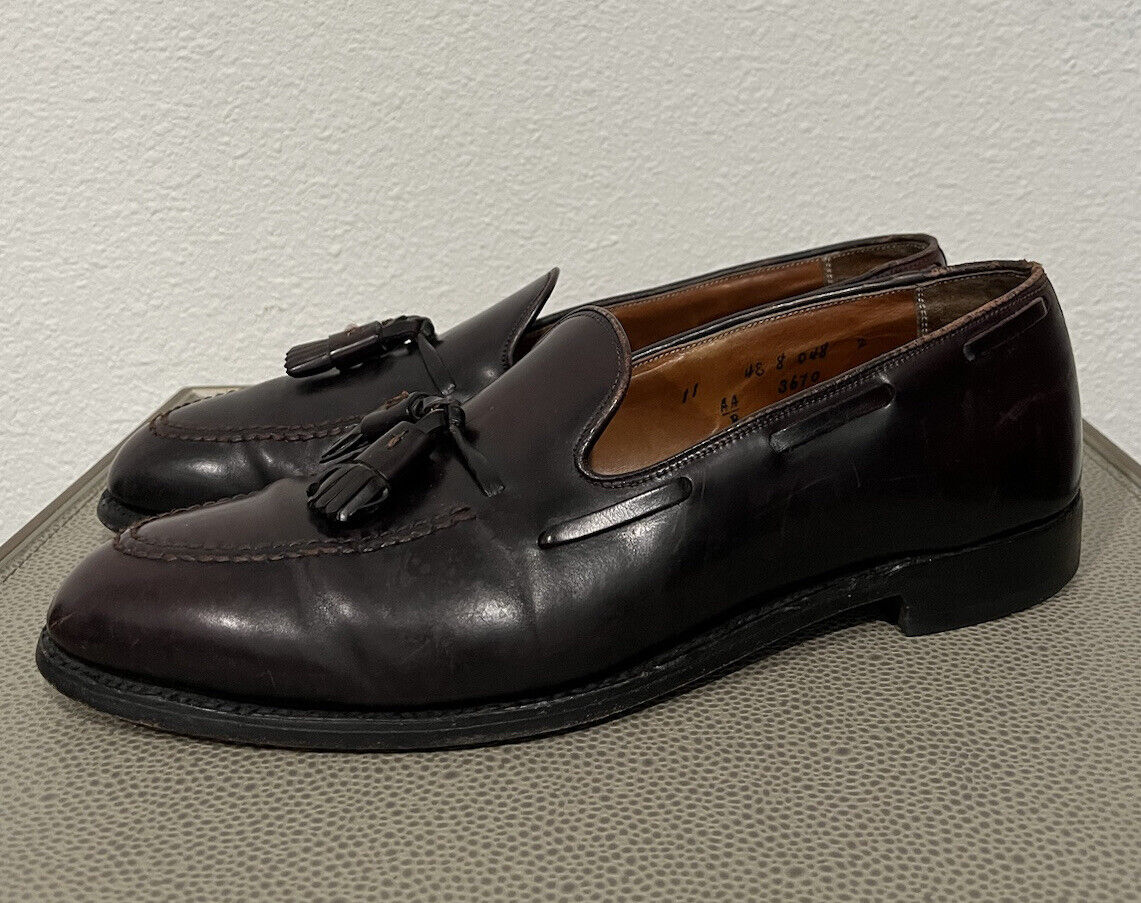 Alden Tasseled Loafer Shell Cordovan Size 11 AA/B 3670 *RARE* Aberdeen Style
Condition: Pre-owned
Size: 11 B
Start: 2023-06-27 2:06 PM
$499.99

Active

Times Listed: 1
Alden Tasseled Loafer Shell Cordovan Size 11 Aberdeen 3670 *RARE*. Condition is "Pre-owned". Overall great condition but has normal scuffing and signs of wear as shown. Recent resole so plenty of life left. Heel to toe: 12.4" Width at widest point: 4.1"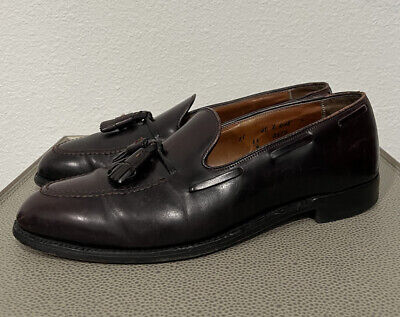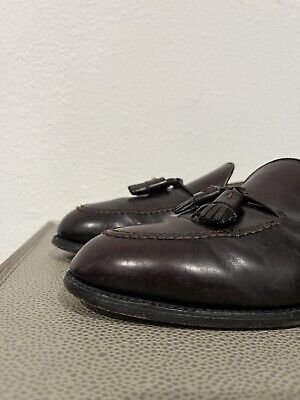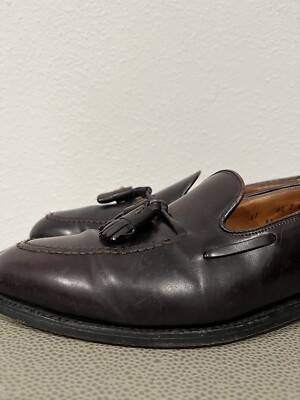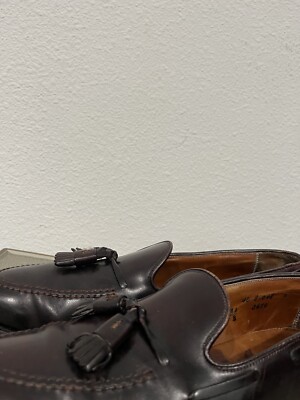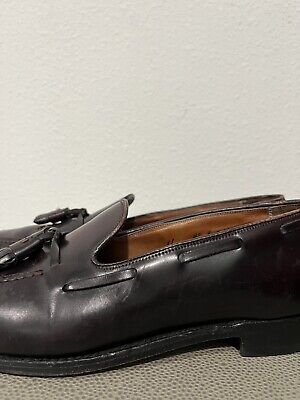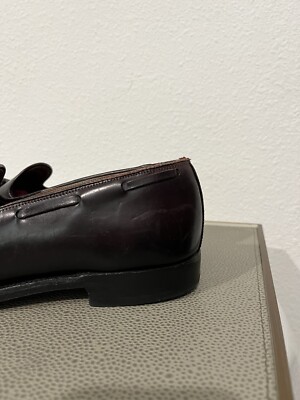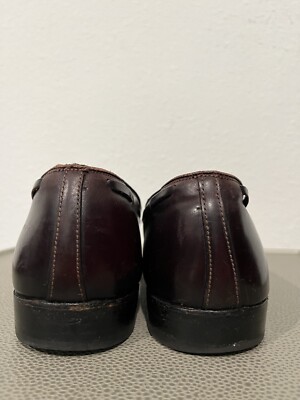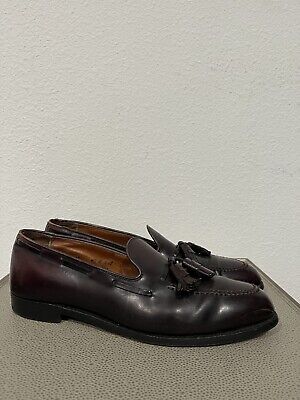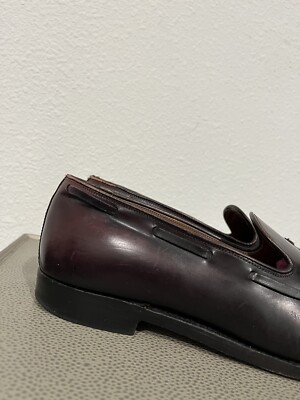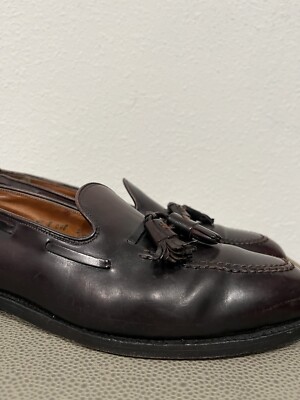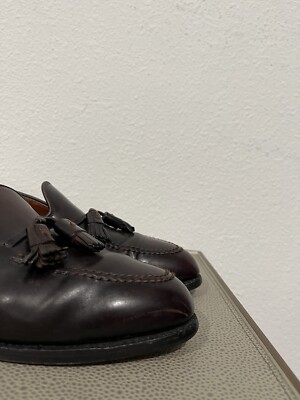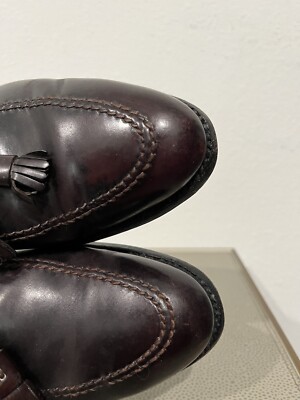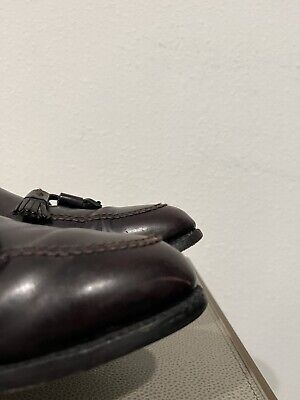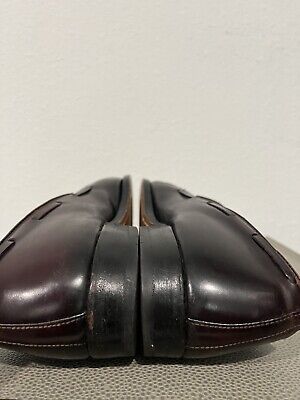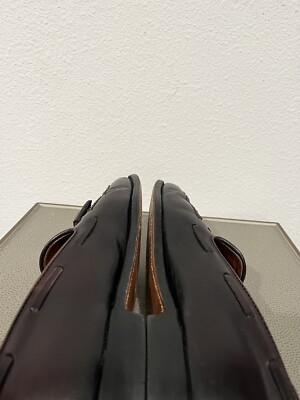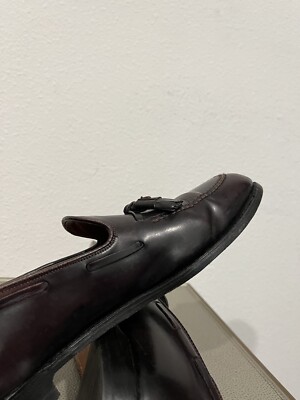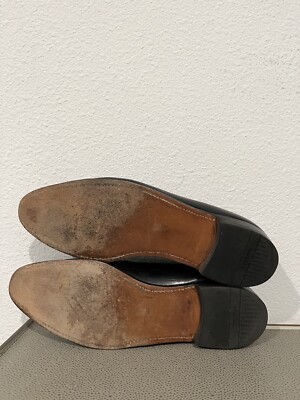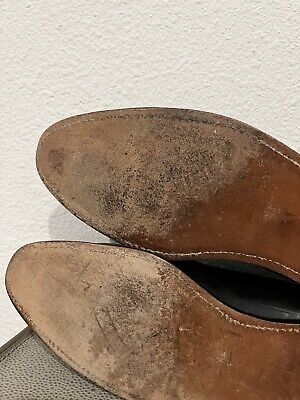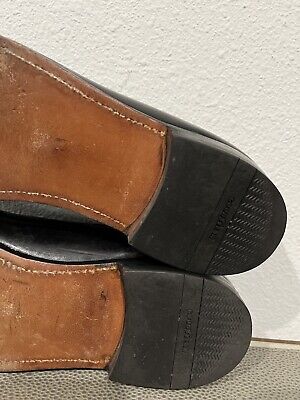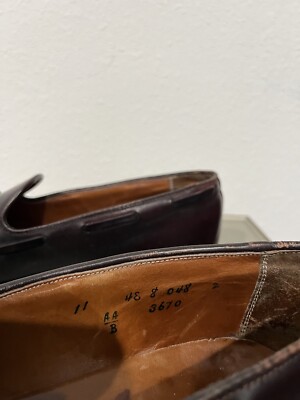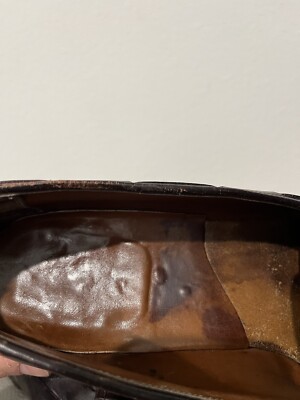 Alden Tasseled Loafer Shell Cordovan Size 11 D Aberdeen 3670 Color 6 *RARE*
Condition: Pre-owned
Size: 11 Medium (D, M)
Start: 2020-11-28 10:50 PM
$499.99

Active

Times Listed: 1
Alden Tasseled Loafer Shell Cordovan Size 11 D Aberdeen 3670 Color 6 *RARE*. Condition is "Pre-owned". Overall great condition. Cordovan is color 6, which is a rare find as most are in the standard color 8. Soles show normal wear and appear to have been resoled Please look carefully at both stock and actual photos before making a purchase. Please read the description and review photos carefully to avoid incorrect orders. If the size on the tag photo is different that the size listed in the title or description, please notify me immediately. All items will normally be shipped within two business day. USPS tracking will appear after a delay. Bid with confidence as I sell only authentic merchandise. Good luck and happy bidding!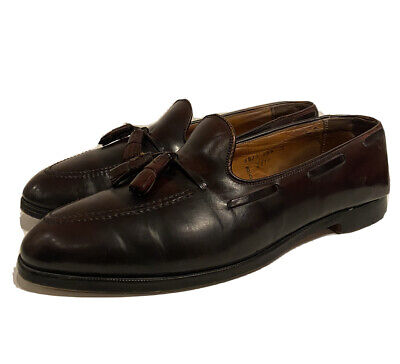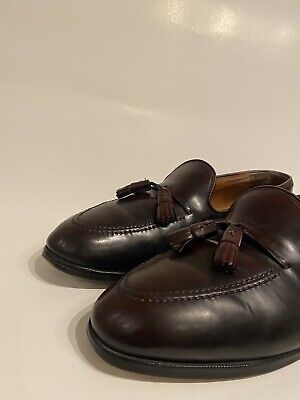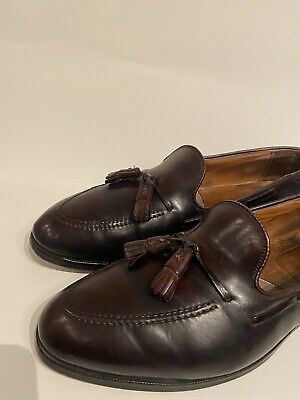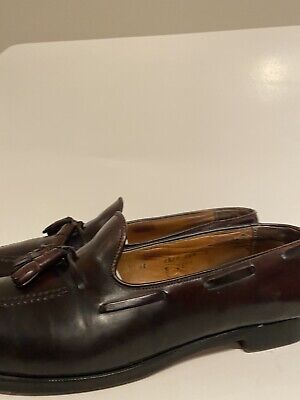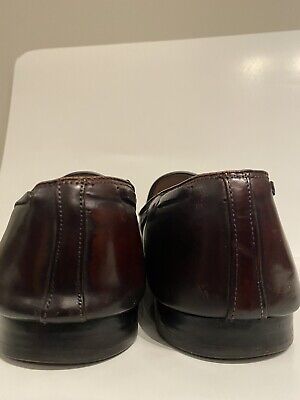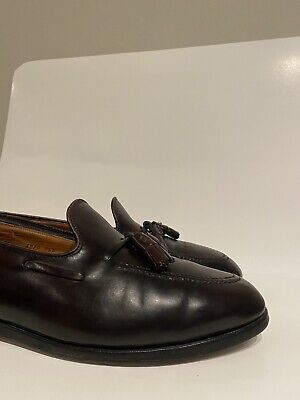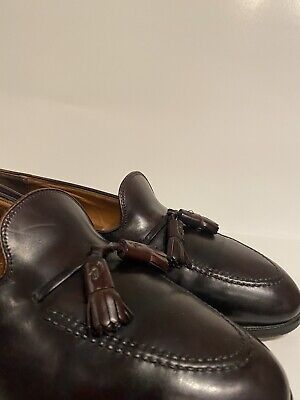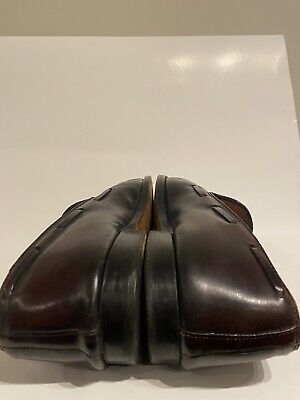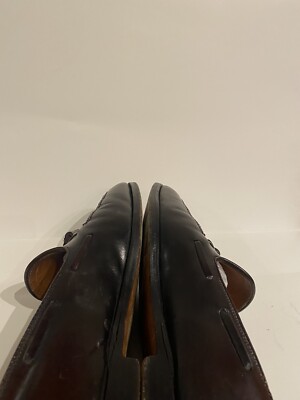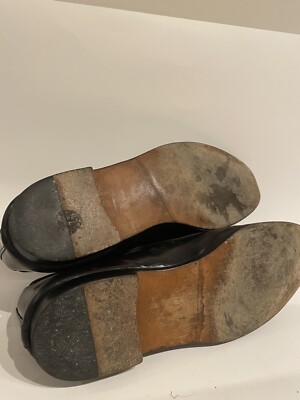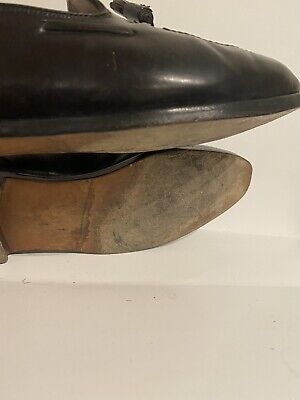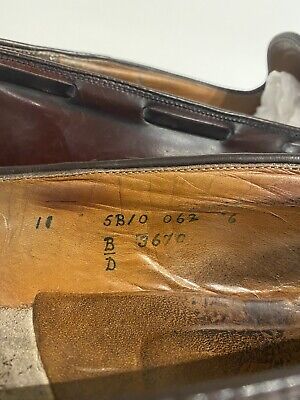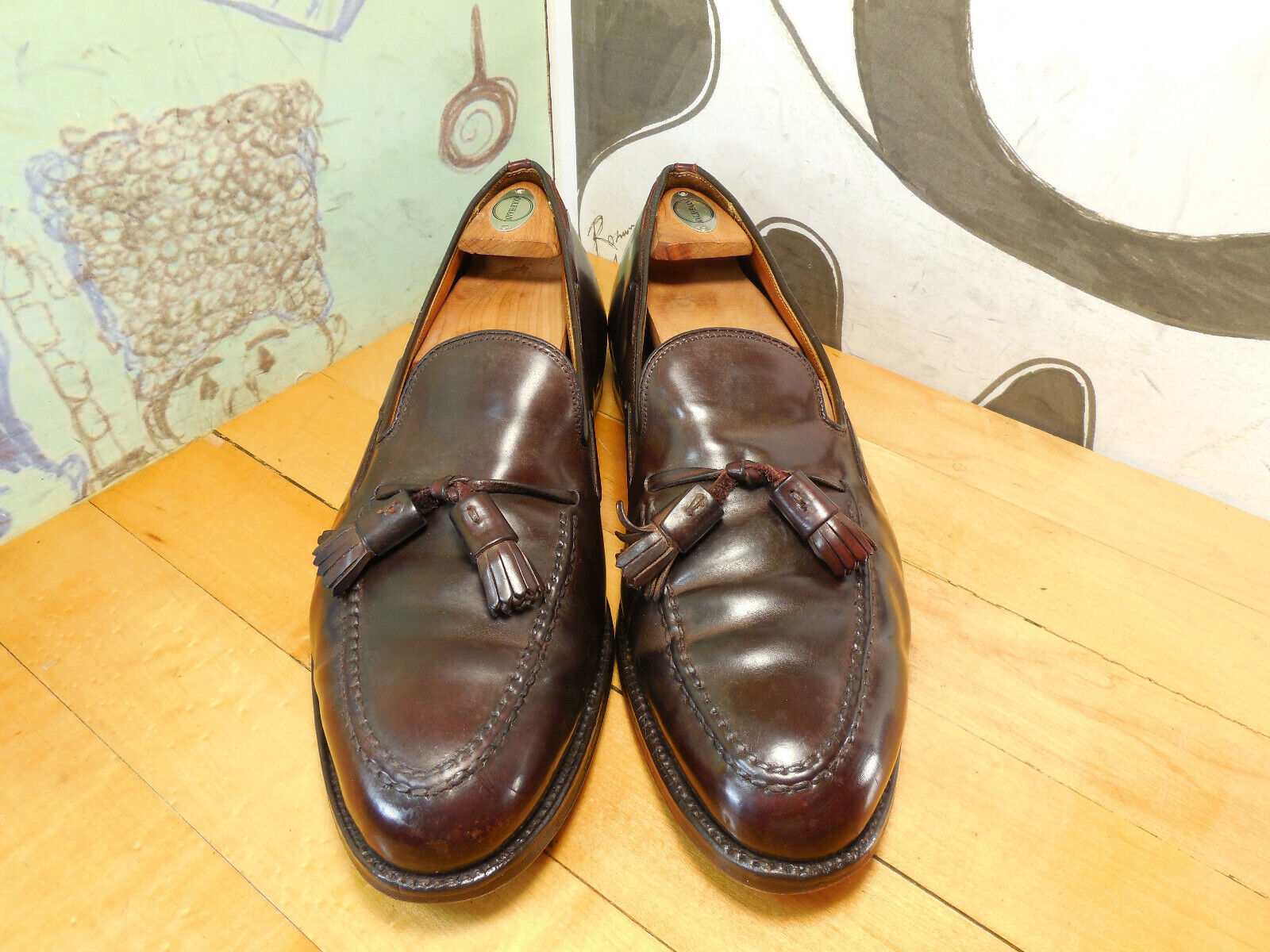 Alden Brown Shell Cordovan Tassel Loafers Men's 10.5A/C
Condition: Pre-owned
Size: 10.5 A/C
Start: 2020-06-29 11:03 PM
$250.00

Active

Times Listed: 1
Measurements on these shoes are: (in inches) Insole: 11 1/2 Toe to Heel of the Sole: 12 Width at the Widest Point of the Sole: 4 Shoe trees included. If for ANY reason you are not completely happy with your purchase PLEASE contact us. We will work with you. We want this to be a pleasant experience for you. We assure you that if there is any sort of problem with your item we will do our best to resolve it in a way that results in your satisfaction. We will always go above beyond to make sure your feet end up in a quality, good-looking pair of shoes. This is not only a SMART place to spend your money, but also a SAFE place to spend your money. If you give us the chance you'll be happy with your decision to SHOP OUR STORE! If you need MEASUREMENTS, please feel free to ask. We are happy to answer and will answer as quickly as we can. Shipping: Most listings will offer 2 shipping options: one option is shipping by weight. However, if you are pretty far away from the DFW area, this will not be a great option for you. The other option is a Flat Rate Box. This can sometimes be a more economical option. Both options are Priority Mail; you will be able to track your shipment you will receive your shoes in the same amount of time with both options. Please feel free to ask if you have any questions regarding shipping. International Shipping is handled through Global Shipping only. Most items ship withing 24 hours or less of payment being received. We are so confident in our product that we will gladly accept your return and pay return shipping if you are unhappy with your shoes. Our Goal is to offer a variety of Attractive, Quality, Vintage, Unique, Stylish, Practical, Useful, Shoes, Boots and products that, you will forget you didn't buy new... Or..your feet will Thank You for NOT buying them new. LOL!!! But Seriously..We also often offer New items or items that have VERY LITTLE use on them and are not far from new . We especially enjoy selling shoes and items that were so well made that they were designed to be resoled or serviced or repaired when the time comes which increases the return on your investment exponentially. Unfortunately in Our World Today most things are made to be disposable, out of inferior materials that don't take restitching, gluing or even a good buffing very well, forcing you to again buy a product meant to have a very short life span. And the cycle continues. At the end of the day we try to bring you a variety of items you need or want at a more than significant savings. In most cases we save our customers, easily, 50-80% compared to retail and you still end up with a Superior Product. In MOST cases, we sell pre-owned, shoes, that by definition are not perfect. We do, however, strive to offer a QUALITY product that with a little TLC, or maybe even a trip to the cobbler, will be an Attractive, Reliable, Quality product for you . I do my best to inspect my items before I offer them to my eBay community and offer you my Honest Opinion regarding the condition of the item, but pictures are an important part of my item description. I try to take pictures from may angles which will usually answer any question you might have. Please look closely at ALL pics and form your own opinion of the item. If you still have ANY question about the condition of the item please ask us We'll be Happy to reply. We want you to be Happy With Your Purchase. We also, often offer a Mud Run/Car Wash/Errand Day/Projects around the House, level shoe. These are Attractive, Quality Shoes that have many miles left in them for when you need something you're not afraid to get wet or dirty. From time to time, we might add a drop of glue to a shoe when needed for a minor repair. We have worked hard to perfect our craft and make these repairs lasting effective. The case for buying your footwear from me is not a difficult one to make. For the price of a bargain brand shoe, you are getting an Attractive , High Quality , Comfortable Shoe, that, in my honest estimation will last you much longer than that pair of bargain brand shoes, Purchased New!! Get your quality shoes from me, and save your money for more important things..Kids..Travel..you get the idea. In order to speak to the brands we sell here I eventually bought a new pair of the higher end brands that I hadn't owned new before. I like them.... NOW. About a year later and after using a shoe stretcher on them,(I couldn't stand it any more!, My little Piggies were Screaming!!). Now, with the personal knowledge I have of this level of shoe, and having handled possibly hundreds of this and other high end brands of shoes and boots, I can confidently say that I would only buy these pre-owned and broken in, even if I had to re-sole them... I HAVE in FACT bought several PAIRS of BOOTS and SHOES I had to resole before I wore them and have NEVER regretted my investment and I assure u My feet are ALWAYS happy with this process!! LOL!!! I pass this personal knowledge on to you...my fellow eBayers.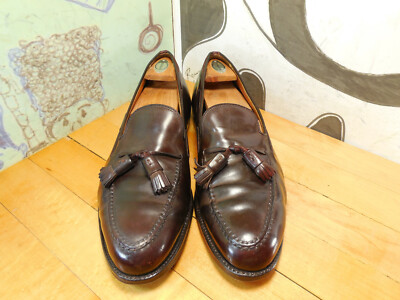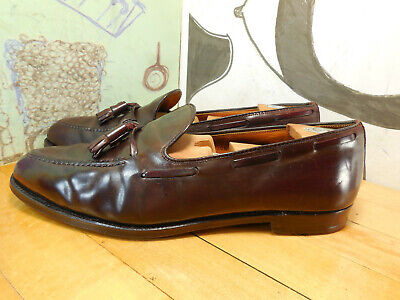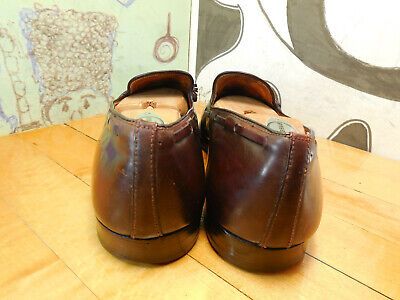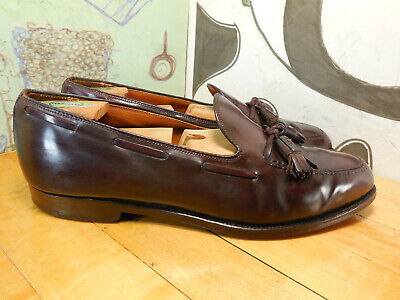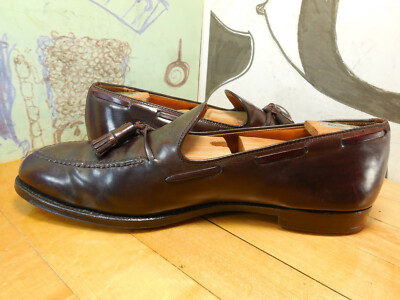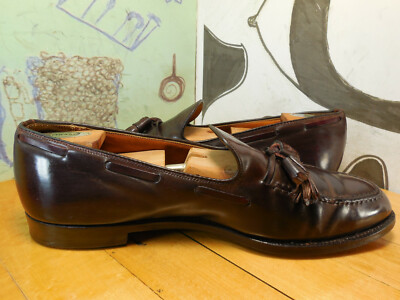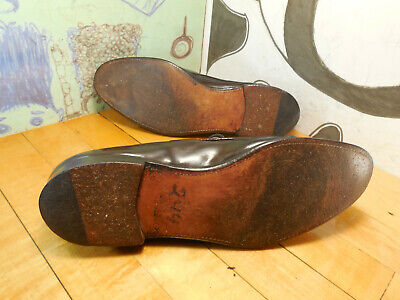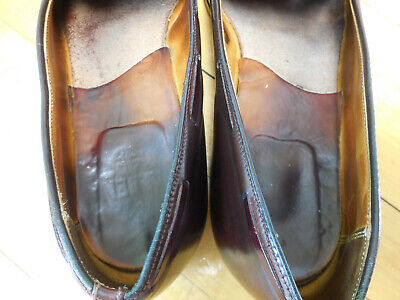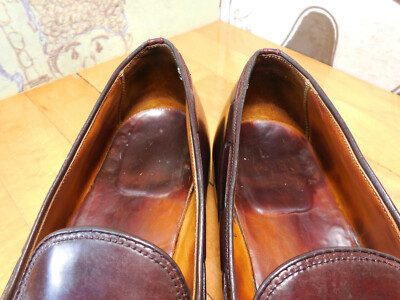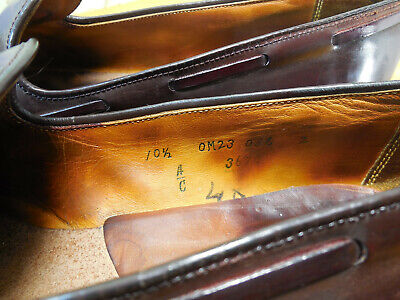 Alden Brown Cordovan Penny Loafer 10 B/D
Condition: Pre-owned
Size: 10
End: 2023-11-29 10:03 PM
Duration: 7 days
$122.50

Sold

Times Listed: 2
Beautiful Cordovan loafers by Alden. These were restored by Alden recently so soles are very fresh. Recently polished with Saphire cream. Shoe bags are included but not the trees. Happy to answer any questions.