Alden 4060 Color 8 Shell Cordovan Cap Toe Boot
Additional Model Details:
Double Leather Outsole

360 Flat Welt
Alden 4060 eBay Sales (last 50):
When you click on links to make a purchase, this can result in this site earning a commission. Please see our affiliate disclosure policy.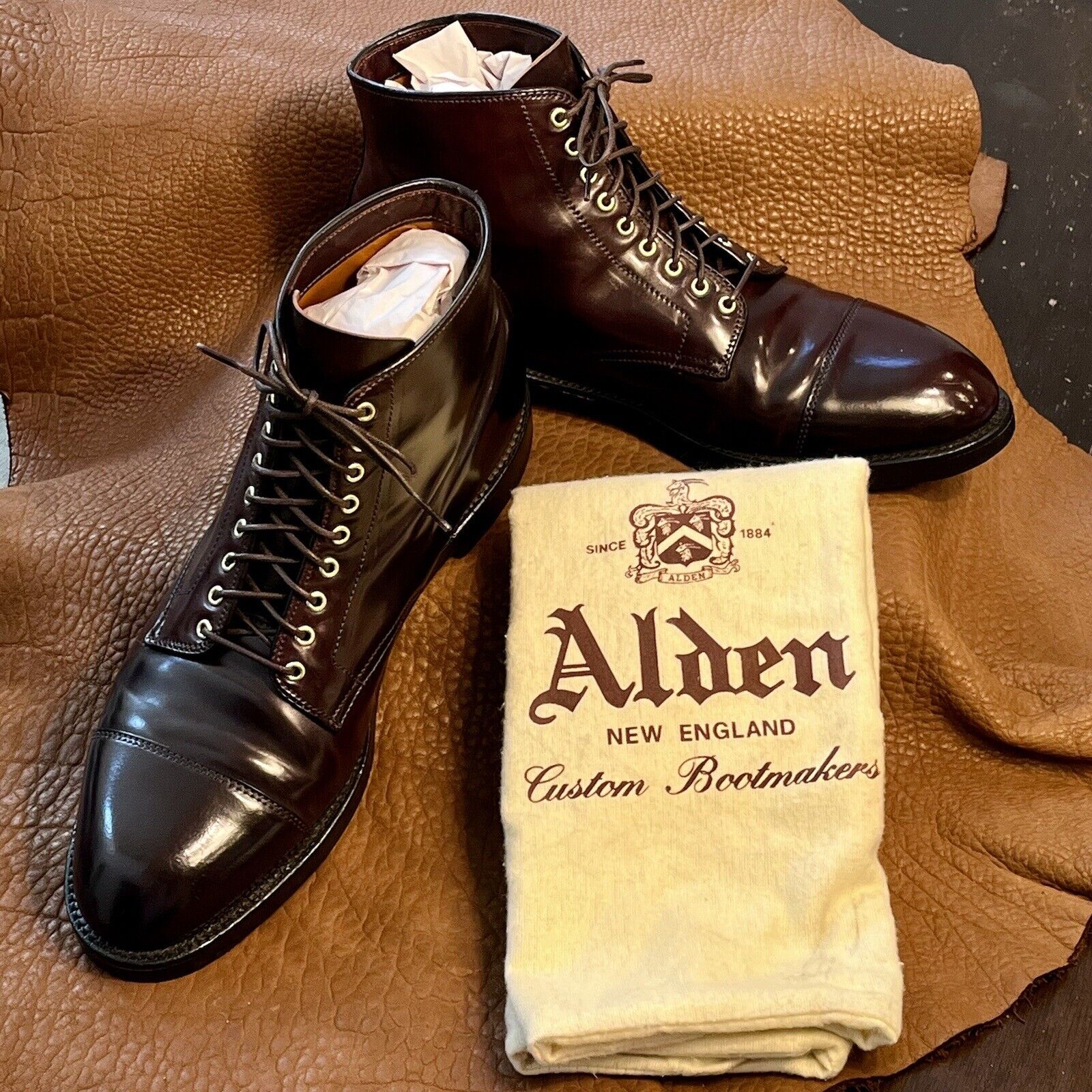 Alden Bootmaker Edn Color 8 Shell Cordovan 4060 Cap Toe Boot 10.5D Grant Last
Condition: Pre-owned
Size: 10.5 D
Start: 2023-09-18 9:55 PM
$598.96

Active

Times Listed: 2
They've been worn and have some undulations and pimples but looking good in that ageless Alden shell way. Second picture is closeup under natural light to try and show condition and color. Made on the Grant last. Retails 898 new. I got these used and do not know their history. Looks like someone may have added a Vibram half sole. ===== From Alden: The 4060 is our Alden Bootmaker Edition Color 8 Shell Cordovan cap toe boot on the Grant Last. Popular for its sleek design, this straight tip boot comes with 9 matched agatine eyelets. Alden Shell Cordovan boots are tanned with a traditional, pure vegetable tanning process and are hand finished. This process takes a full six months to complete in the single tannery still producing genuine shell cordovan today. The resulting leather is soft, supple, and made to last. As time goes on, this Cap Toe Boot will assume the contours of your foot, providing an excellent fit that feels like it was custom-tailored to you. Each Alden New England boot offers breathable comfort that lasts all day long. A layer of cork underneath the insole provides both insulation and resilience. A tempered steel shank is expertly contoured within each boot and triple ribbed for extra strength. The shank provides a backbone to keep the shape of a fine welt boot and additionally offers remarkable support for lasting comfort. Bootmaker Edition Color 8 Shell Cordovan cap toe boot 9 Matched Agatine Eyelets Double oak leather outsoles Grant last ================== Disclaimer: Shoe trees and other accessories are not included in the sale unless otherwise specified above. Text description and pictures constitute the complete description. You are responsible for accurate sizing relative to a given manufacturer or last, regardless of any advice given here. No returns, including for fit, comfort, or appearance that has been addressed by the descriptions. Please carefully review photos and ask any questions prior to bid or purchase.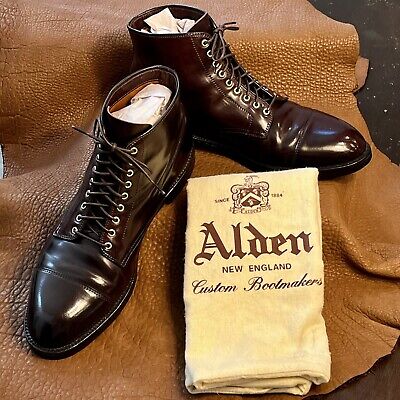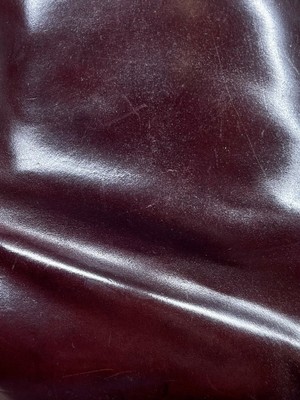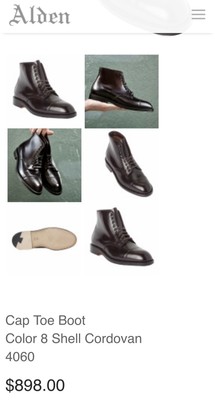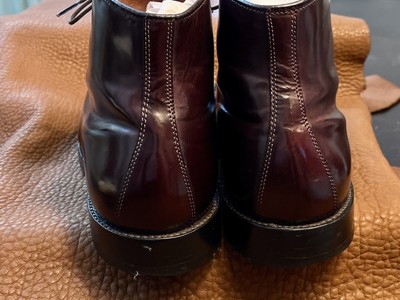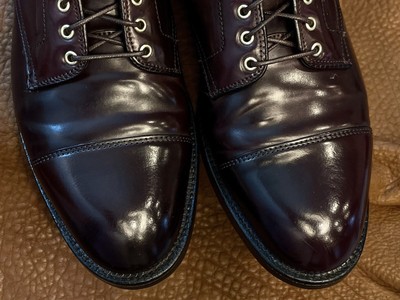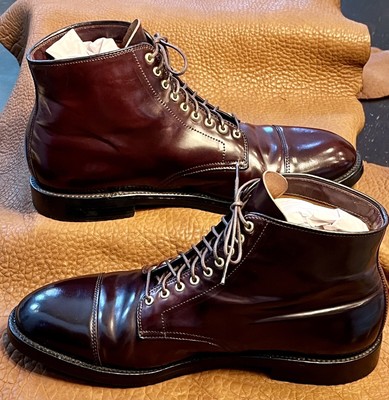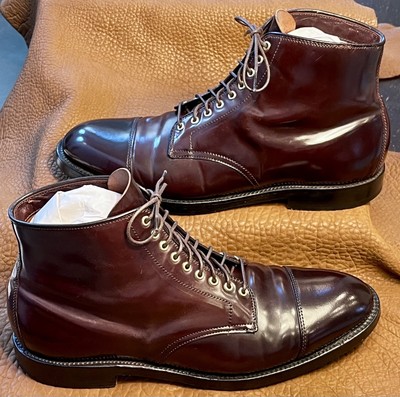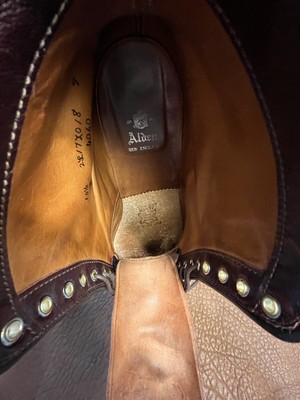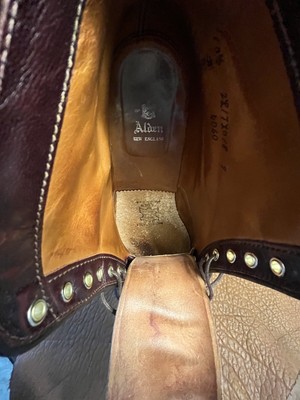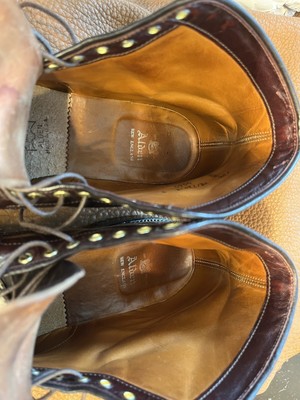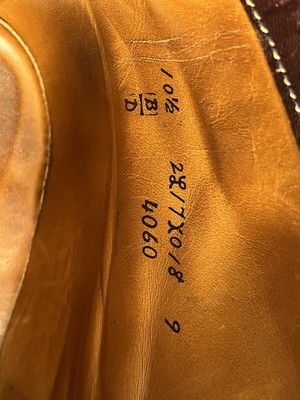 Alden Cordovan shell sz 9 B/D
Condition: Pre-owned
Size: 9 D
End: 2023-09-11 9:44 PM
Duration: 6 days, 17 hr, 45 min
$350.00

Sold

Times Listed: 10
Style 4060. Color 8. Grant last. Only worn a handful of times. Size 9 B/D
Alden Shell Cordovan Cap Toe Boot / Boots / Shoes Model 4060 - 9.5 B/D
Condition: Pre-owned
Size: 9.5 D
End: 2023-05-21 4:52 PM
Duration: 1 days, 17 hr, 36 min
$249.95

Sold

Times Listed: 2
Alden Shell Cordovan Cap Toe Boot / Boots / Shoes Model 4060 - 9.5 B/D ALDEN PREMIUM QUALITY SHELL CORDOVAN BOOTS FROM ALDEN IN VERY NICE PRE-OWNED CONDITION - PLEASE SEE ALL PHOTOS - MINOR SCUFFS FROM NORMAL WEAR - PLEASE LOOK AT ALL PHOTOS SIZE MEN 9.5 B/D See my other listings for more great items! I ONLY ACCEPT PAYPAL AS PER EBAYS NEW RULES Winning bidder to pay actual shipping rate - see shipping calculator txzj pxzj428 txzj-11 txzj34 txzj99 txzj115
Alden Shell Cordovan, Color 8, style 4060 cap toe, size 9 grant last
Condition: Pre-owned
Size: 8
End: 2023-05-10 2:00 PM
Duration: 0 hr, 29 min
$400.00

Sold

Times Listed: 9
Alden Cordovan Color 8, style 4060 cap toe, size 9 grant last. Worn about 10 times and just weren't the right last for my oddly shaped foot. Nearly new, and amazing boots. Please know your Alden last sizing. Message with questions. I bought these new for $890+ tax from Alden of New York
Alden Shell Cordovan Cap Toe Boot - Color 8 - Model 4060 - 7.5 D - Rare
Condition: Pre-owned
Size: 7.5 D
End: 2023-04-14 4:26 AM
Duration: 2 hr, 26 min
$0.99

Not Sold

Times Listed: 5
Alden Shell Cordovan Cap Toe Boot - Color 8 - Model 4060 - 7.5 D - Rare https://aldenmadison.com/collection/cap-toe-boot-color-8-shell-cordovan-4060/