Alden 4065 Black Shell Cordovan Cap Toe Boot
Additional Model Details:
Double Leather Outsole

360 Flat Welt
Alden 4065 eBay Sales (last 50):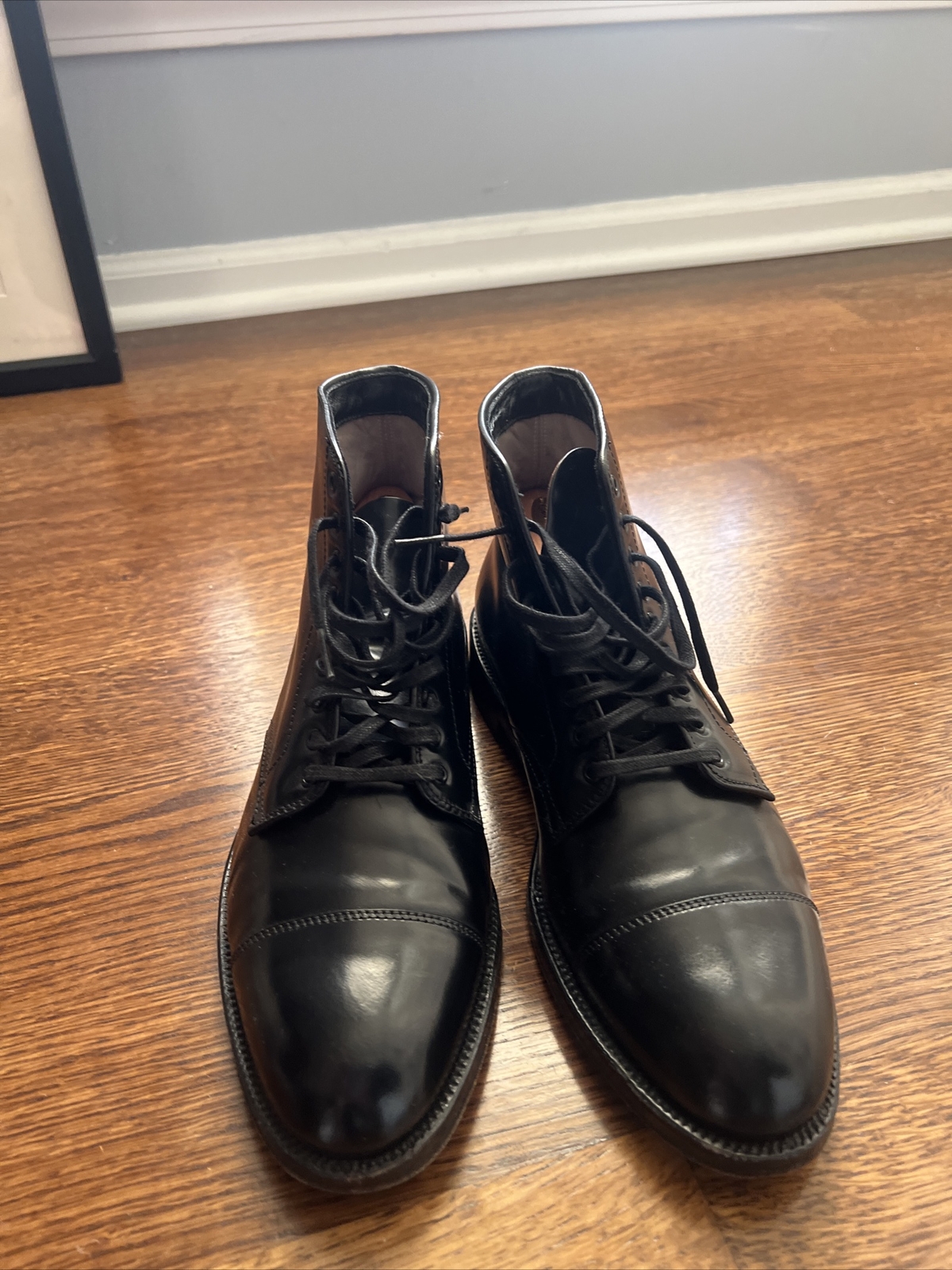 Alden 4065 Cap Toe Shell Cordovan boots 9 B/D; (Grant Last)
Condition: Pre-owned
Size: 9 D
Start: 2022-11-28 4:28 PM
$232.50

Active

Times Listed: 2
Alden 4065 (Grant Last) Cap Toe shell cordovan boots 9 B/D. Worn fewer than 10 times. No returns. Please understand your size with Alden. Grant last Custom Bootmaker Edition Cap Toe Boot Black Shell Cordovan Leather 9 Matched Agatine Eyelets 360 Degree Goodyear Welt Double Oak Leather Outsoles The Alden Custom Bootmaker Edition Black Shell Cordovan cap toe boot is on the Alden Grant last. This, in combination with double oak leather outsoles and dovetail heels, creates an elegant silhouette ready for a day at the office or a night out. Alden shell cordovan shoes are finished by Alden's master craftsman. They are admired by the finest boot and shoemakers throughout the world. Using the centuries-old method of pure vegetable tanning and hand finishing, the single tannery still producing genuine shell cordovan today is indeed practicing a rare art. The tanning process takes a full six months to complete and produces leather that is soft and supple, yet very durable. Unsurpassed for breathable comfort and long wear, it assumes over time the contours of your foot shape giving a truly custom quality to the fit. Beneath the insole is a layer of cork, providing additional resilience and insulation. Every Alden New England shoe carries a tempered steel shank, precisely contoured and triple ribbed for extra strength. Truly the backbone of a fine welt shoe or boot, the shank provides the proper support and shape required to give comfort throughout the day. Oak tanned leather bends are cut into outsoles at factory for maximum control of quality. Shoe mart is proud to offer this model, crafted not only with good looks, but with the integrity of fine shoemaking, a special addition to your wardrobe.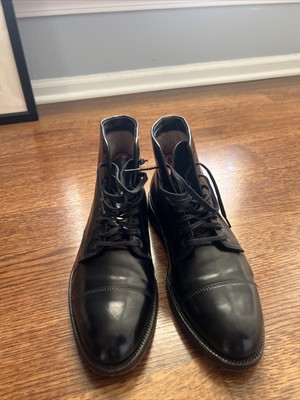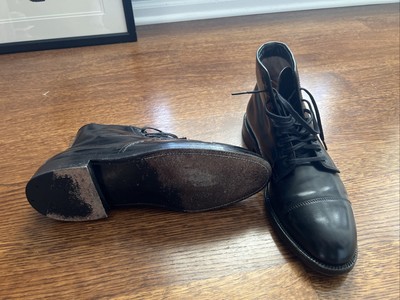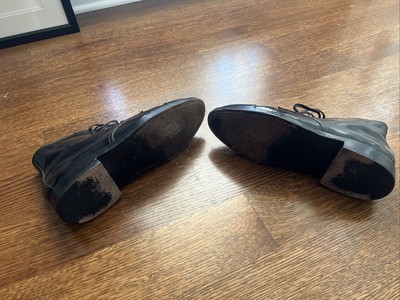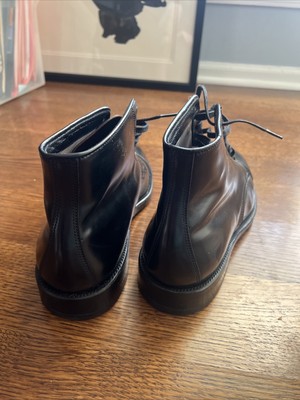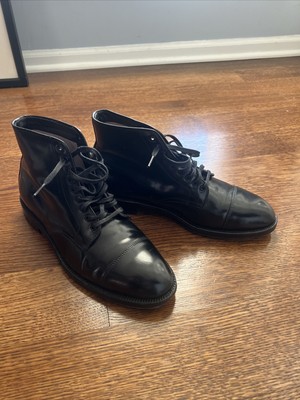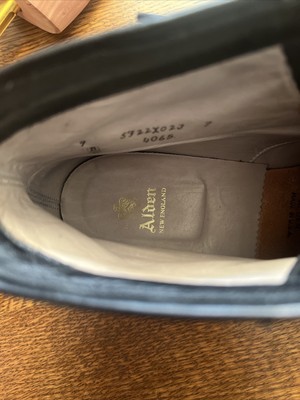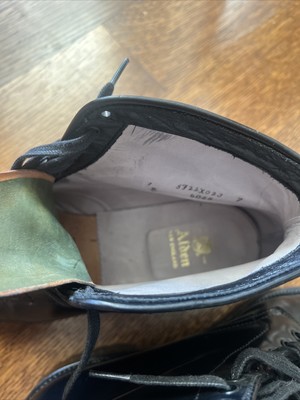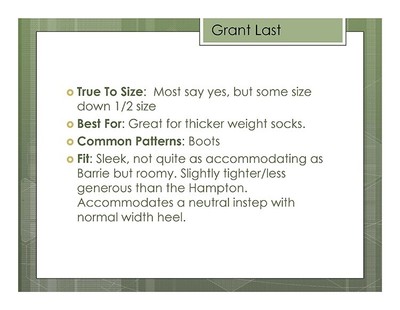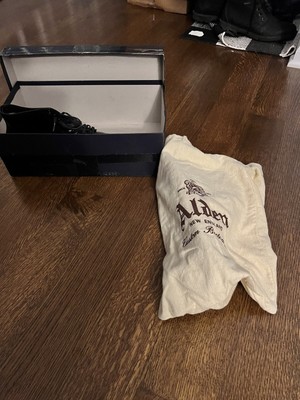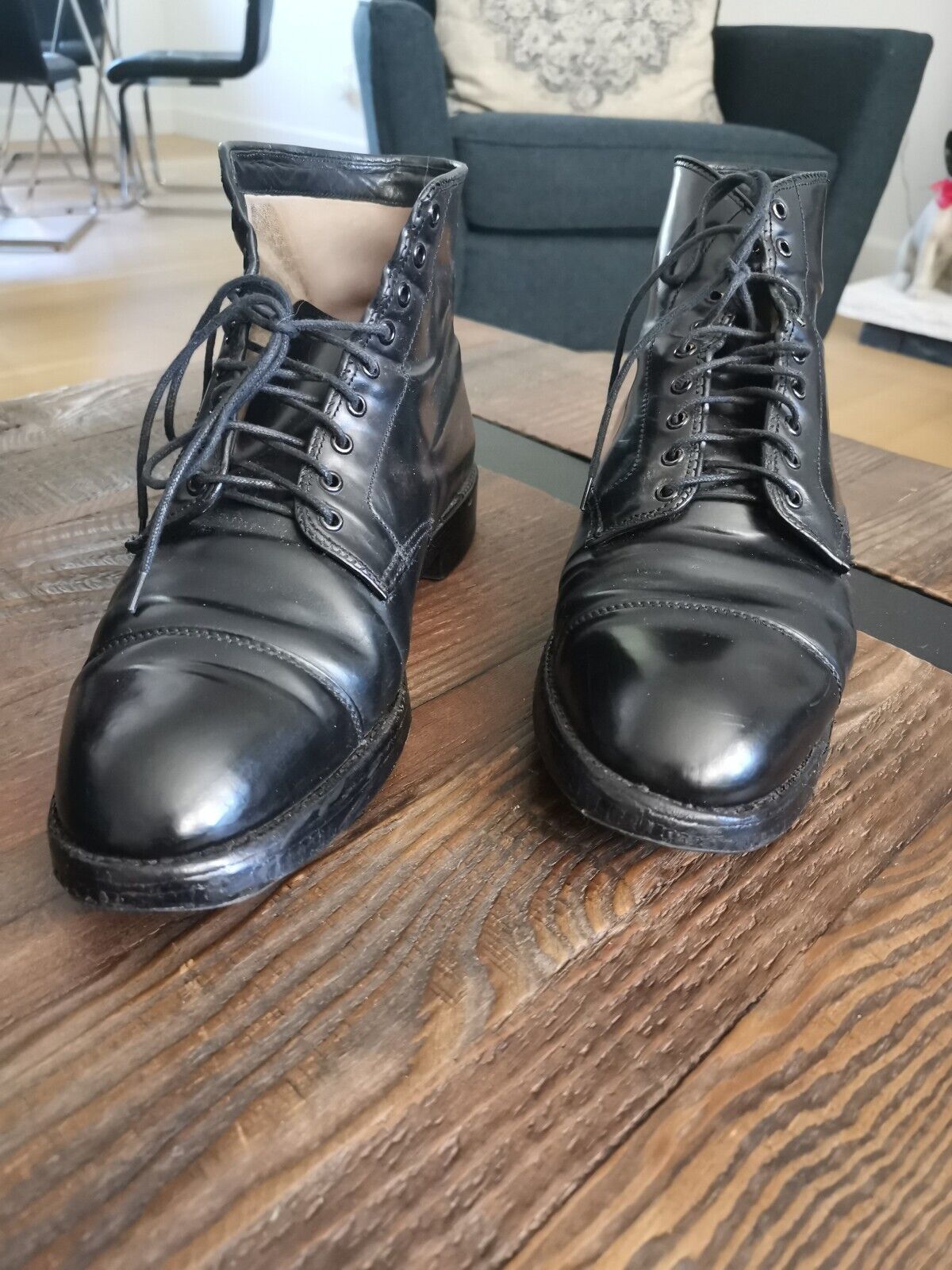 Alden Black Shell Cordovan 8D Cap Shoes
Condition: Pre-owned
Size: 8
Start: 2022-06-24 6:58 PM
475.00 CAD

Active

Times Listed: 1
Alden Black Shell Cordovan 8D Cap Shoes. Pre-owned pair of Alden Black Shell Cordovan shoes, size 8D. Original receipt included. Purchased at Alden Shoes, New York, $750.15 usd. Original box, and shoe bags included. Shoe tree not included. See photos. Excellent condition. Please review photos and feel free to reach out if you have any questions. NO local pickup.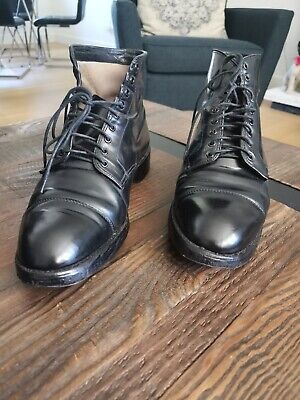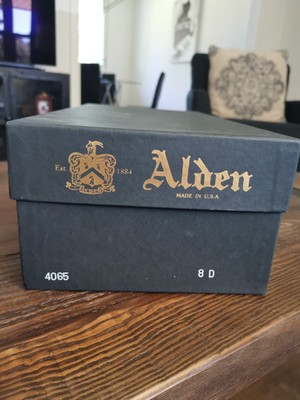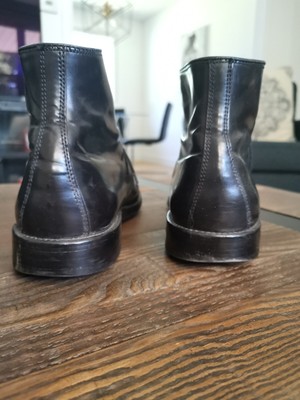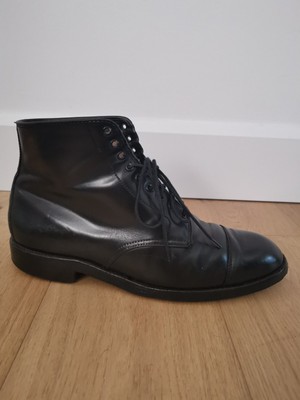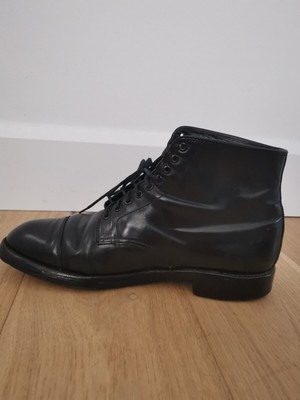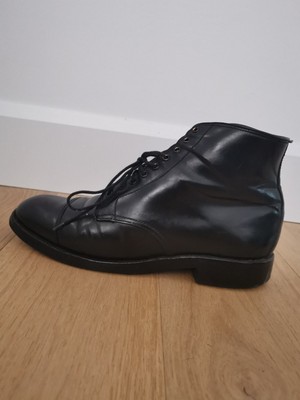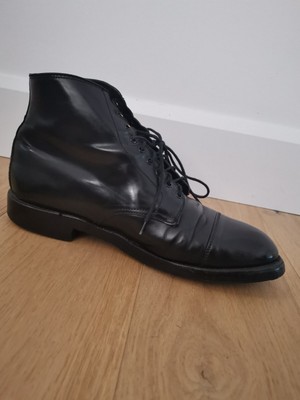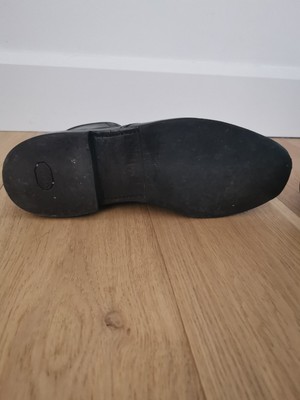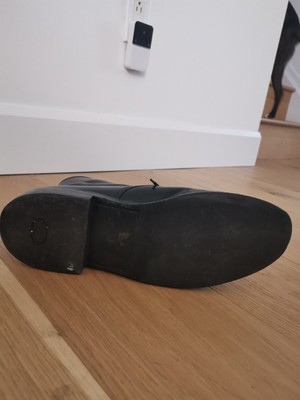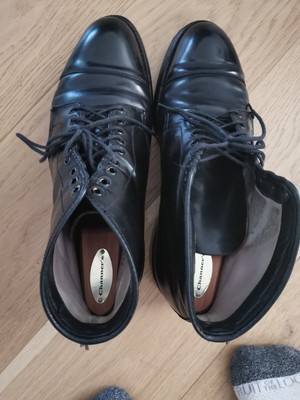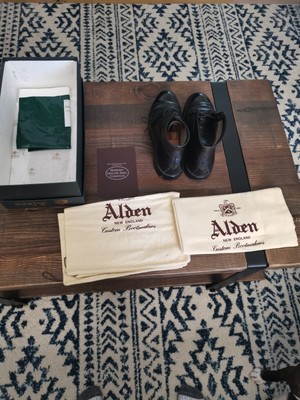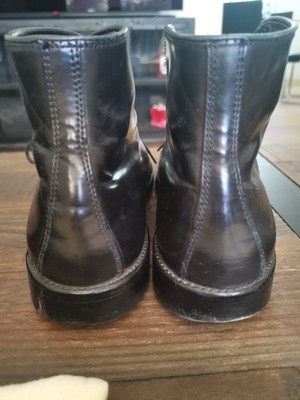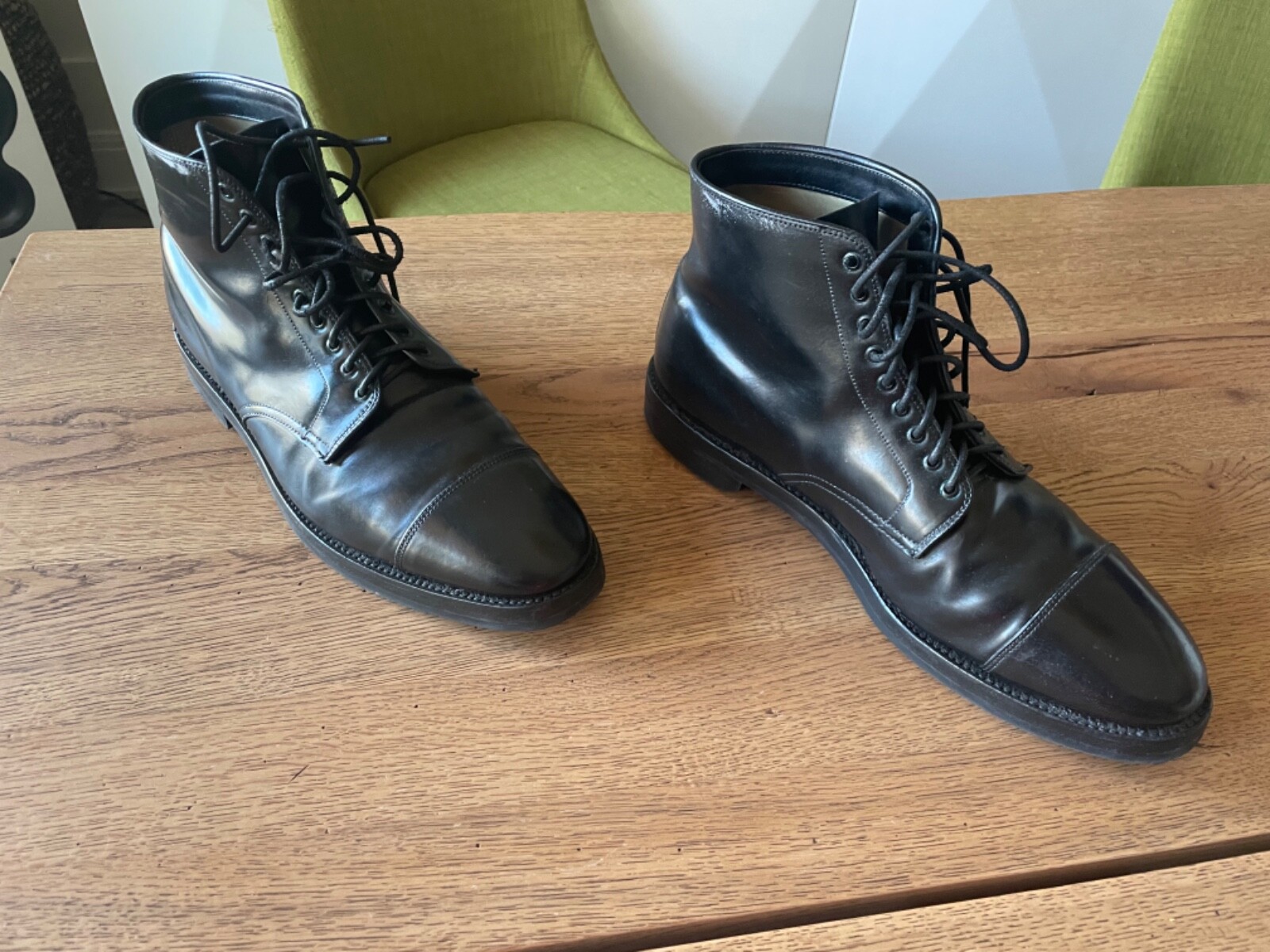 Alden for J Crew Cap Toe Boot in Black Shell Cordovan 12 US 11 UK
Condition: Pre-owned
Size: 12 D
Start: 2020-12-22 10:24 PM
$625.00

Active

Times Listed: 1
Gorgeous Alden cordovan dress boot. Resoled with dainite and a leather mid sole. The boots shoe a few minor marks on the uppers, and some green around the eyelets where they need a thorough cleaning. These are not fully broken in but will be extremely comfortable once the leather mid sole conforms to your foot - these have less than 10 miles on them !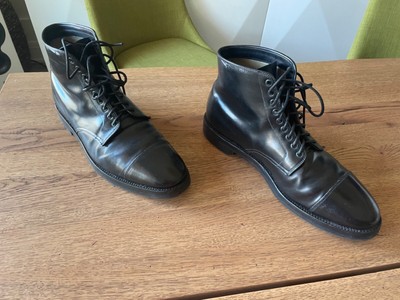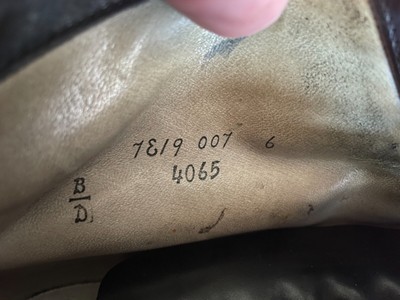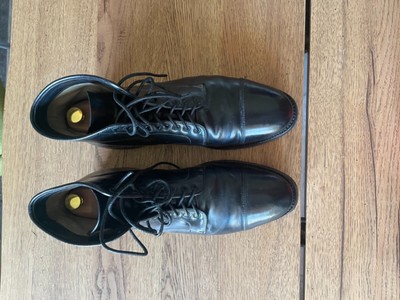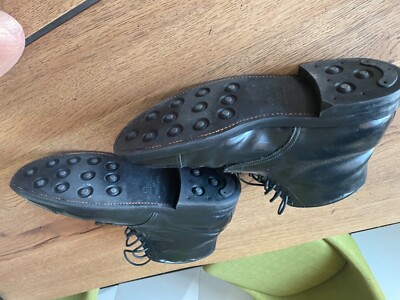 Alden Mens 12 US B/D 4065 Cap Toe Boot Black Shell Cordovan Custom Bootmaker Ed.
Condition: Pre-owned
Size: 12 B/D
End: 2022-11-17 4:29 AM
Duration: 211 hr, 33 min
$365.00

Sold

Times Listed: 1
"The Alden Custom Bootmaker Edition Black Shell Cordovan cap toe boot is on the Alden Grant last. This, in combination with double oak leather outsoles and dovetail heels, creates an elegant silhouette ready for a day at the office or a night out." 5655
ALDEN 13D BLACK SHELL CORDOVAN CAP TOE GRANT LAST BOOTS 4065
Condition: Pre-owned
Size: 13 D
End: 2022-11-12 2:58 PM
Duration: 12 days, 18 hr, 38 min
$398.00

Sold

Times Listed: 1
shoeslikeclockwork Shoes LIke Clockwork ALDEN 13D BLACK SHELL CORDOVAN CAP TOE GRANT LAST BOOTS 4065 Marked Size: 13D Condition Grade: 6 Model: 4065 Last: Grant Measurements: 13 5/18" by 4 1/2" Notes: Boots show creasing at the vamps and surface marks and scuffs at the toes and at the back heel area of both shoes. The original soles are in decent condition with about 60% of their original life remaining. Heels good with some edge wear showing to the rubber part of the heels. Shipping All customs duty, import fees, taxes, and other fees associated with importing footwear are the sole responsibility of the buyer. International Shipping is by USPS Priority International Mail unless otherwise agreed. As a commercial vendor we do not mark shipments with a low value or as a "Gift". All international shipments are fully insured up to the stated value of the shipment. Listing Notes Please note that shoe trees, shoe bags, shoe boxes, and other accessories are not included unless otherwise stated. Any stated color is an approximation, as how a color appears on screen and in person varies greatly depending on the settings, screen, and lighting conditions. Due to ebay's limited "Item Specifics" options, some colors are not available to be selected. For example, there is no "Burgundy" color option, so intead the color "Red" is selected for a burgundy shoe. Grade Chart Grade Description 10 Brand New 9 Like New, or Display Item 8 Used Several Times Only 7 Minor Scratches and/or Marks 6 Moderate Amount of Scratches and/or Marks 5 Many Scratches and/or Marks 4 Used a lot. Many Noticeable Scratches/or Marks 3 Heavily Used, Serviceable with Repair 2 Very Heavily Used, Serviceable with Repair 1 Obviously Damaged, May not be Repairable - ------ V Vintage Visit our store! 〉 © shoeslikeclockwork _gsrx_vers_1436 (GS 9.0.5 (1436))