Alden 4330CY Color 8 Shell Cordovan Norwegian Front Blucher
Additional Model Details:
Commando Outsole

360 Pre-Stitched Reverse Welt

Extended Welt Sole

Alden of Carmel AF-26
Alden 4330CY eBay Sales (last 50):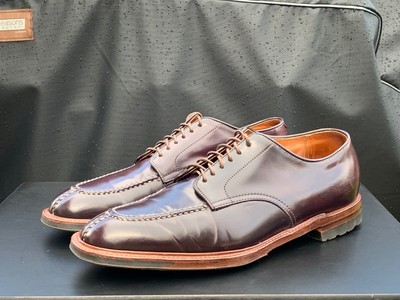 EUC Alden AF26 Color 8 Horween Shell Cordovan NST Blucher Shoes Plaza 11.5D
Condition: Pre-owned
Size: 11.5
$525.00

Active

Times Listed: 1
You are bidding on (1) pair of Alden AF26 NST Bluchers from Alden of Carmel, which are made out of Horween Color 8 Shell Cordovan. Condition: Used condition without the original box but will come shoe bags. Kept with shoetrees in between wears (not included in the auction) and treated with Saphir Cordovan cream when needed (also not included in auction). Men's Size: 11.5D Last: Plaza Any other questions feel free to ask and I'll get back to you as soon as possible. More pictures can be taken upon request. Shipping will be $20.00 to ship via FedEx or UPS to anywhere in the 48 Continental United States only with insurance for the purchase price. Please check out my other auctions. No Returns Accepted. I only accept PayPal with confirmed address within the United States Only.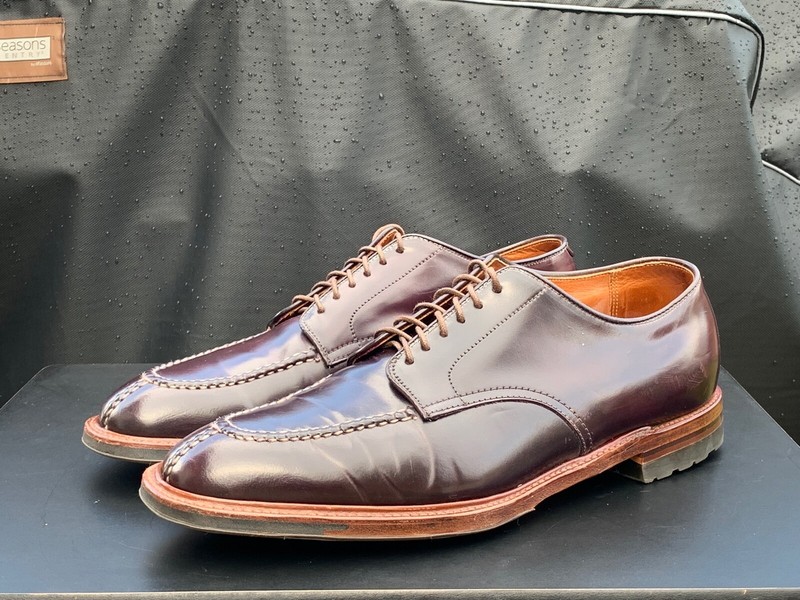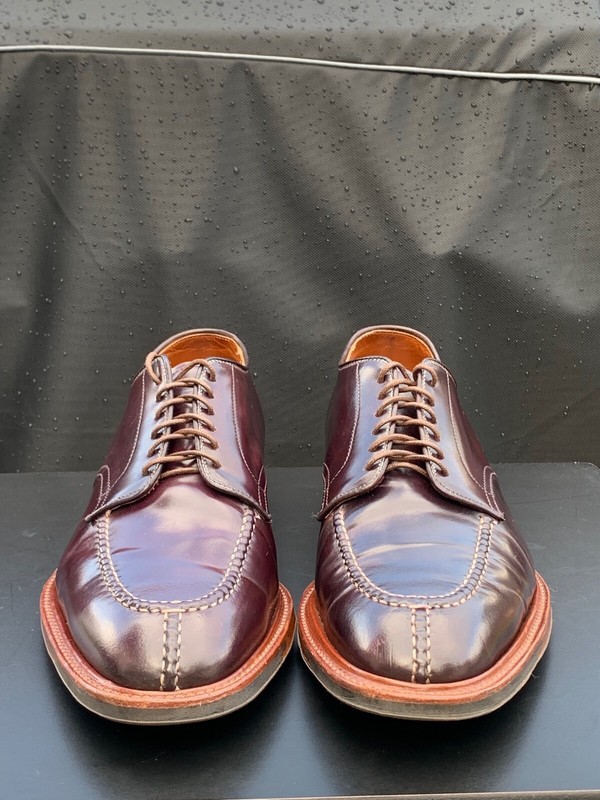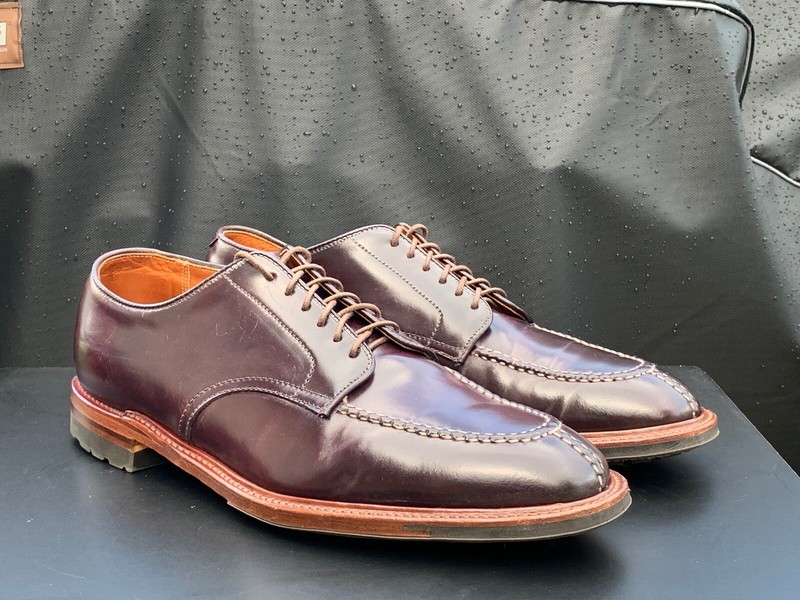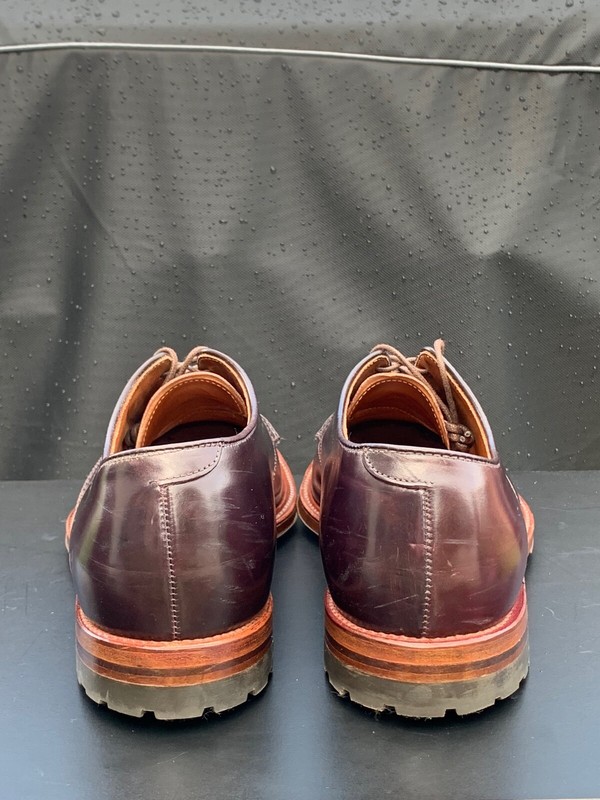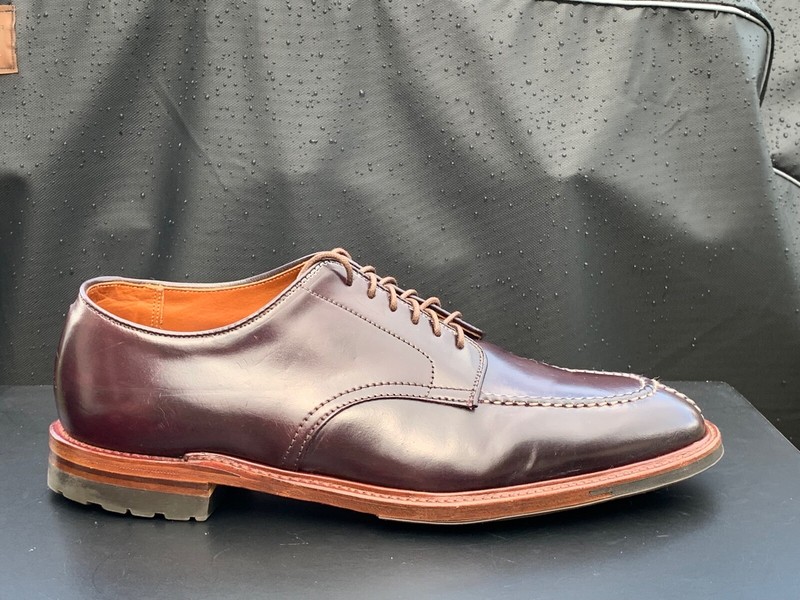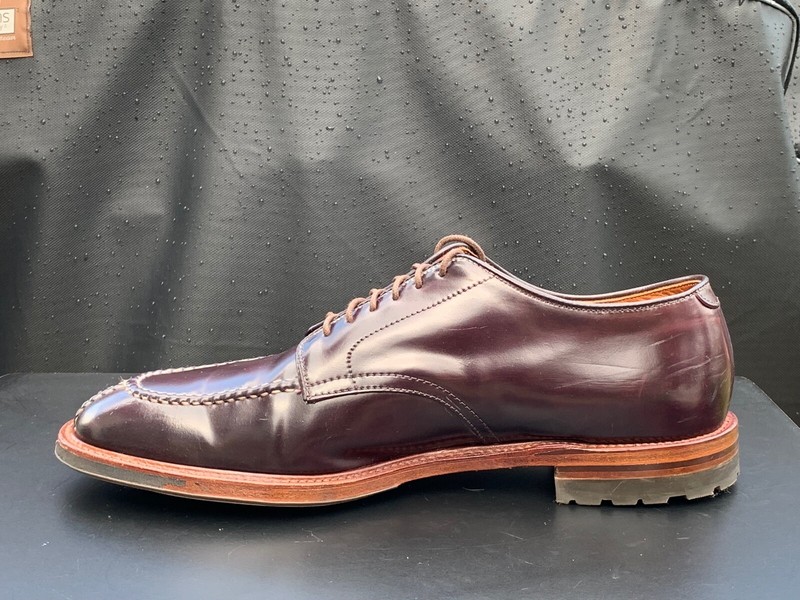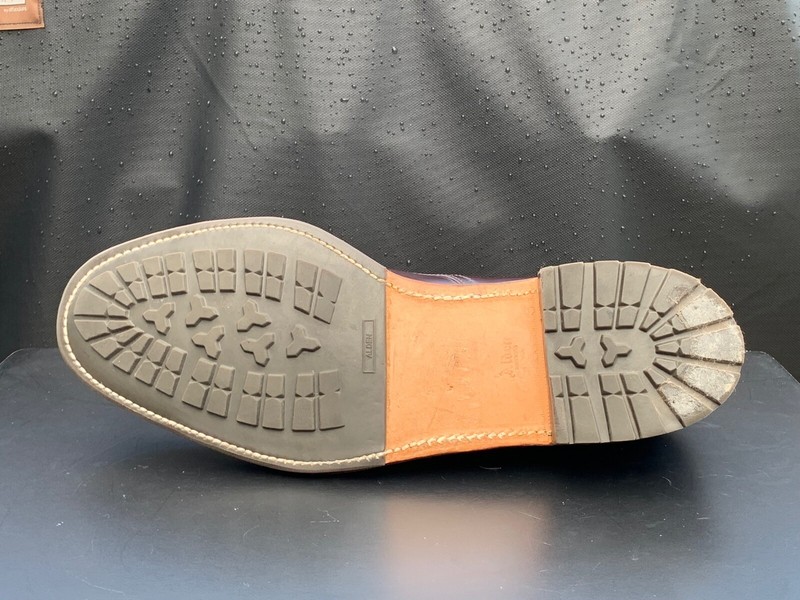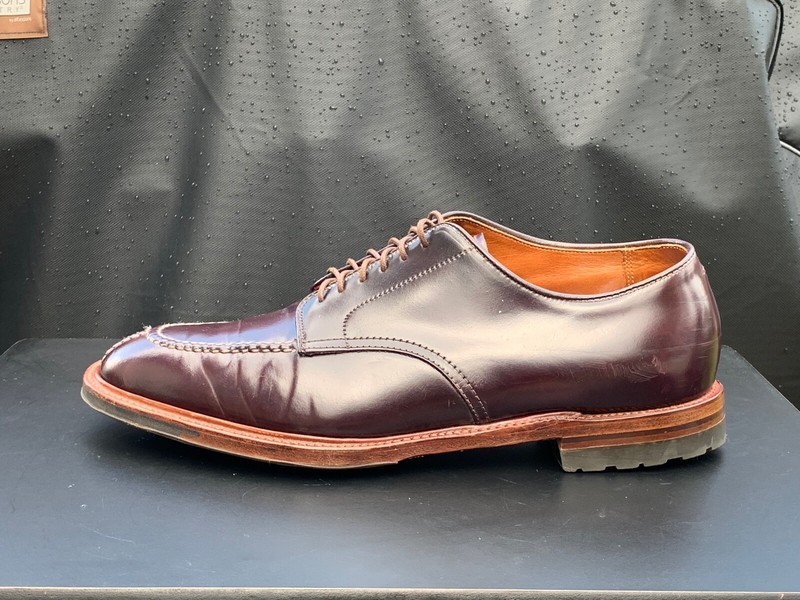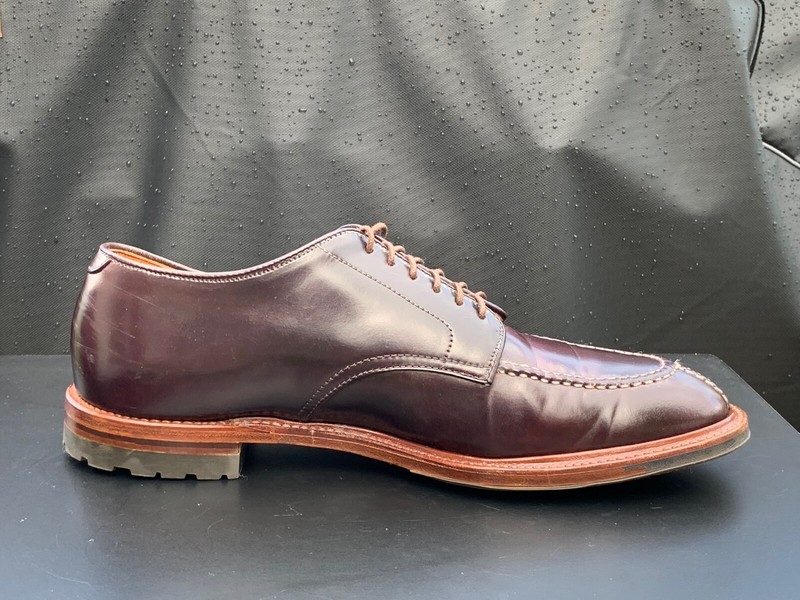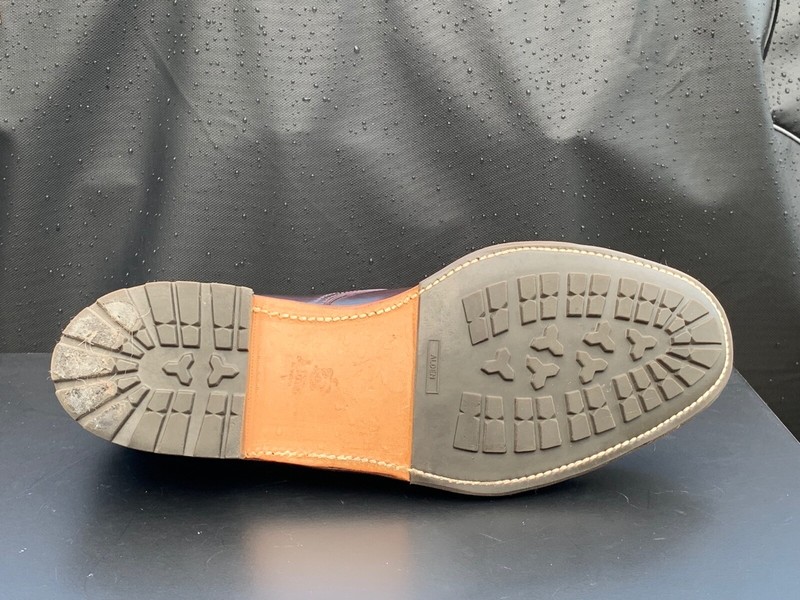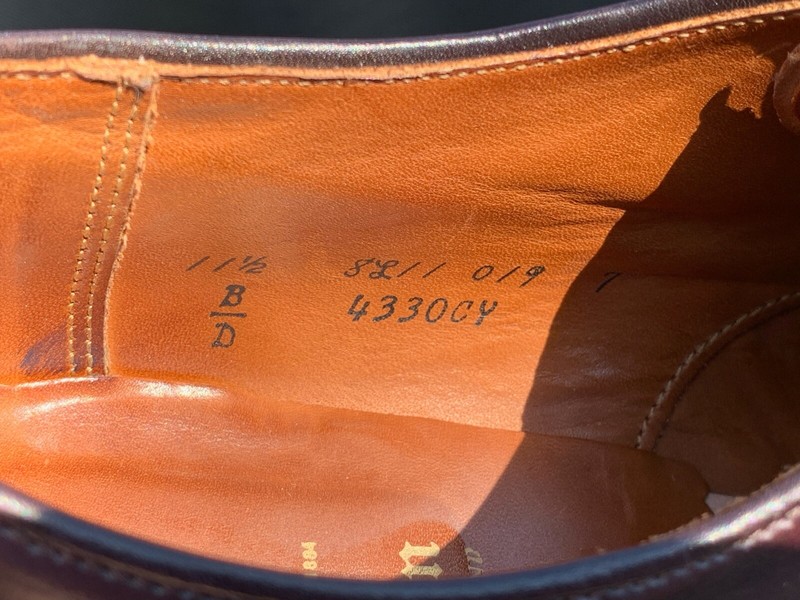 Alden 11.5 Plaza NST shoe - Color 8 Shell Cordovan - Commando Sole
Condition: Pre-owned
Size: 11.5 D
End: 2021-05-24 4:06 AM
Duration: 7 days
$430.00

Sold

Times Listed: 1
Alden 11.5 Shell Cordovan Color 8 NST shoes crafted on the Plaza last with Commando & a 270 storm welt. These shoes have been worn approx. 2-3 days (full work days) and are in excellent condition. Part of a large collection and got little use. Shoes may have residual residue on inside of tongue from tongue pads I install on all my shoes. These shoes are sold for $835.00 retail. This particular pair has beautiful thick shell cordovan. Plaza Last270 storm WeltAntique Welt and Sole EdgeCommando Soles6 Blind Eyelets Shoes sold as pictured. No returns or refunds so please know your Alden Plaza Last sizing. $20 for USPS Priority mail within the CONUS.
BOX & BAGS | ALDEN 11.5D #8 SHELL CORDOVAN COMMANDO NST SHOES 4330 CY
Condition: Pre-owned
Size: 11.5 D
End: 2021-01-26 2:04 PM
Duration: 18 days, 19 hr, 17 min
$400.00

Sold

Times Listed: 1
Marked Size: 11.5D Condition Grade: 7 Model: 4330 CY Last: Plaza Notes: Inside rear quarters show slight scuffing from walking. Comes with original box and bags. Please note that shoe trees, shoe bags, shoe boxes, and other accessories are not included unless otherwise stated. Any stated color is an approximation, as how a color appears on screen and in person varies greatly depending on the settings, screen, and lighting conditions. Grade Chart Grade Description 10 Brand New 9 Like New, or Display Item 8 Used Several Times Only 7 Minor Scratches and/or Marks 6 Moderate Amount of Scratches and/or Marks 5 Many Scratches and/or Marks 4 Used a lot. Many Noticeable Scratches/Marks 3 Heavily Used, Serviceable with Repair 2 Very Heavily Used, Serviceable with Repair 1 Obviously Damaged, May not be Repairable - - V Vintage Visit Our Store!© shoeslikeclockwork _gsrx_vers_856 (GS 7.0.20 (856))
Alden Color 8 Shell Cordovan Norwegian Front Blucher, Commando, Plaza, 10.5D
Condition: Pre-owned
Size: 10.5
End: 2021-01-24 4:48 AM
Duration: 1 hr, 12 min
$475.00

Sold

Times Listed: 1
Alden color #8 shell cordovan Norwegian Front Blucher, Plaza last, size 10.5 D. Features include 270 degree antique storm welt, antique sole edge, six eyelets, commando outsoles, and authentic hand-sewing on the vamps. Purchased from Alden of Carmel model AF26. Worn several times, and in very good condition. Shoes will ship with Alden dust bags. Shipped with USPS Priority Mail within the continental U.S. only. Please know your Alden Plaza last size before purchasing. No returns accepted.
WORN 5X | ALDEN 11.5D #8 SHELL CORDOVAN COMMANDO NST SHOES 4330 CY
Condition: Pre-owned
Size: 11.5 Medium (D, M)
End: 2021-01-06 4:00 AM
Duration: 7 days, 9 hr, 25 min
$550.00

Not Sold

Times Listed: 4
Marked Size: 11.5D Condition Grade: 6 Model: 4330 CY Last: Plaza Notes: Inside rear quarters show slight scuffing from walking. Comes with original box and bags. Please note that shoe trees, shoe bags, shoe boxes, and other accessories are not included unless otherwise stated. Any stated color is an approximation, as how a color appears on screen and in person varies greatly depending on the settings, screen, and lighting conditions. Grade Chart Grade Description 10 Brand New 9 Like New, or Display Item 8 Used Several Times Only 7 Minor Scratches and/or Marks 6 Moderate Amount of Scratches and/or Marks 5 Many Scratches and/or Marks 4 Used a lot. Many Noticeable Scratches/Marks 3 Heavily Used, Serviceable with Repair 2 Very Heavily Used, Serviceable with Repair 1 Obviously Damaged, May not be Repairable - - V Vintage Visit Our Store!© shoeslikeclockwork _gsrx_vers_856 (GS 7.0.20 (856)) _gsrx_vers_856 (GS 7.0.20 (856)) _gsrx_vers_856 (GS 7.0.20 (856))