Alden 45218C Color 8 Shell Cordovan Indy Boot
Additional Model Details:
Commando Outsole

360 Flat Welt

Dr Jones Boot
Alden 45218C eBay Sales (last 50):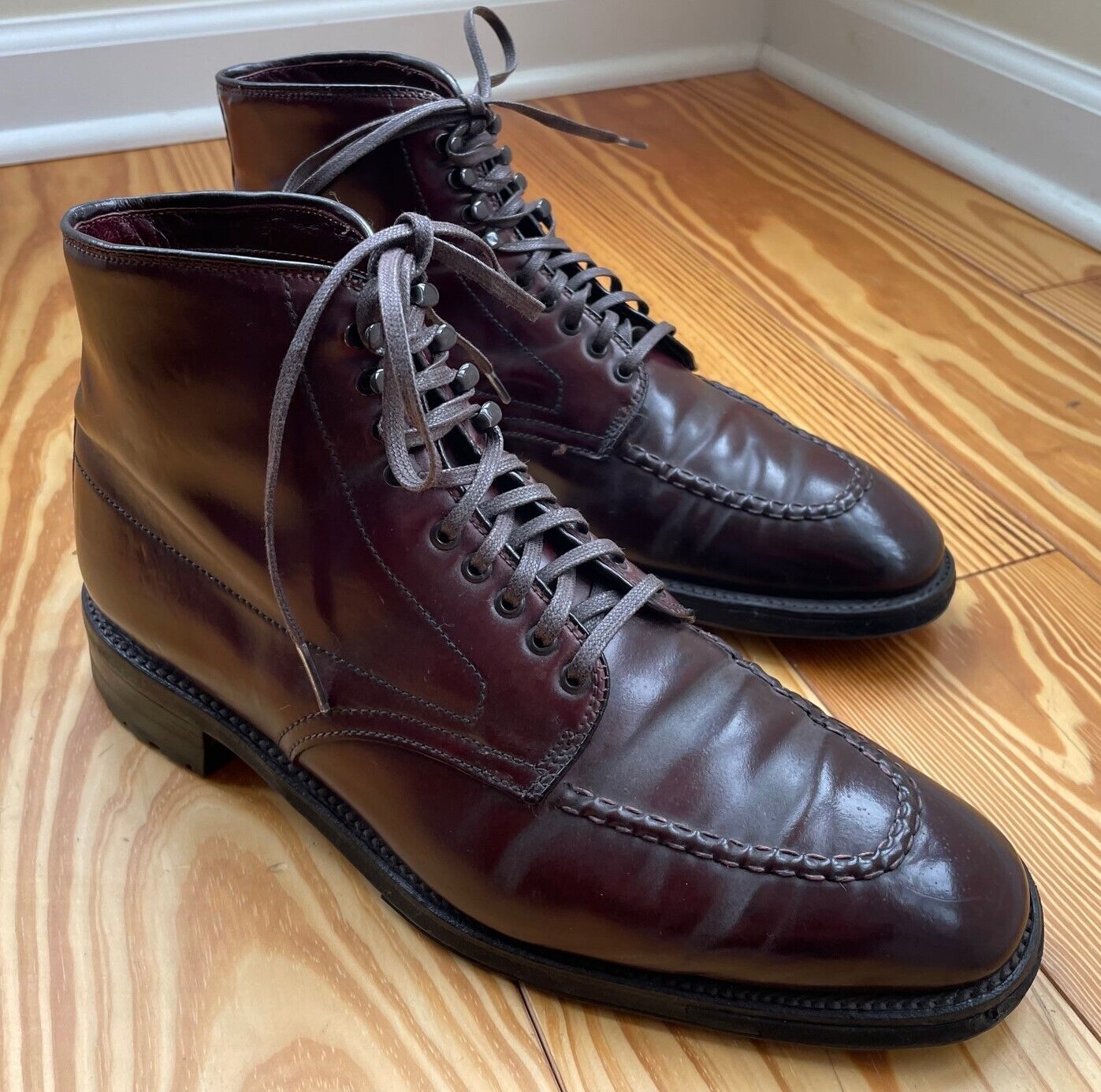 Alden x Frans Boone Color 8 Cordovan Indy Boots Plaza Last Size 10D $950+
Condition: Pre-owned
Size: 10.5 D
Start: 2023-02-13 6:41 PM
$599.95

Active

Times Listed: 1
Alden x Frans Boone Color 8 Cordovan Indy Boots on the Plaza Last Size 10D Timeless and versatile color 8 shell cordovan leather On the plaza last - one of Alden's most sleek (and in my opinion, upscale-looking) lasts Overall, they're in excellent condition. The leather (upper) has started taking on a beautiful patina and does not have any significant scratches / abrasions. The soles are showing some wear. Depending on how frequently you plan to wear them you may want to consider sending them to Alden for resoling ($149). I've factored this into my selling price as well as how much they currently retail for (~$950). All in all, I've take care of these by the book - highest end care products, and always stored with cedar shoe trees. Only reason I'm selling is that I need a half-size larger. I didn't want to attempt stretching these, and I was fortunate to find another pair. Hoping these will go to someone who has cherished them as much as I have. They'll last forever if you take care of them properly. They also come with their original Alden dust bags. Per Frans Boone (https://www.fransboonestore.com/products/alden-x-fransboone-8-cordovan-boot?variant=623740092426): Here they are again, the plaza lasted color #8 "Indy" Cordovan boot on a commando sole. A real classic in our collection, and one of our most desired store exclusives. The stock is pretty limited so get yours while you can. Horween #8 Shell Commando Sole Plaza last D and E widths Made In USA Please know your size prior to purchasing. Don't hesitate to reach out with any questions. -Jeff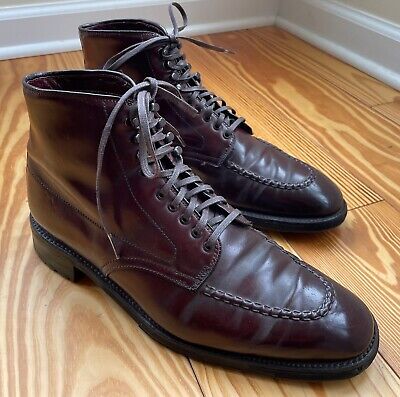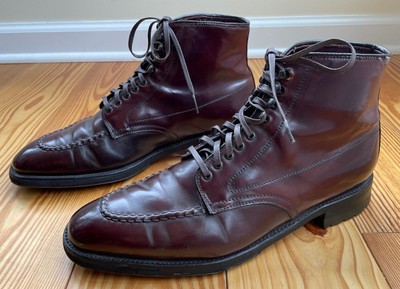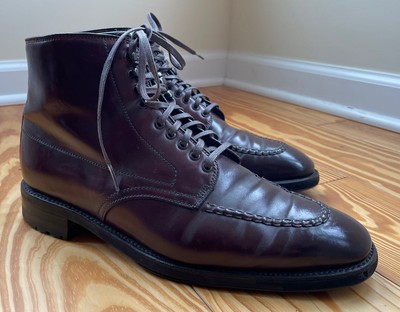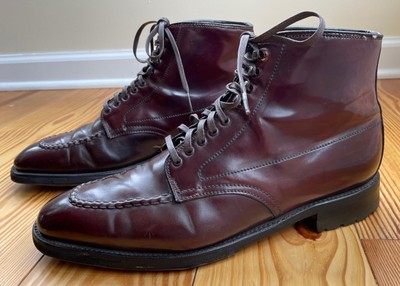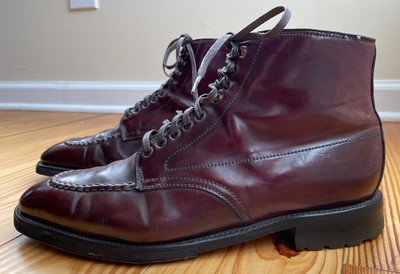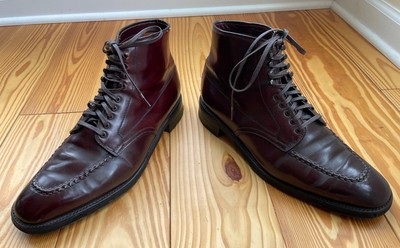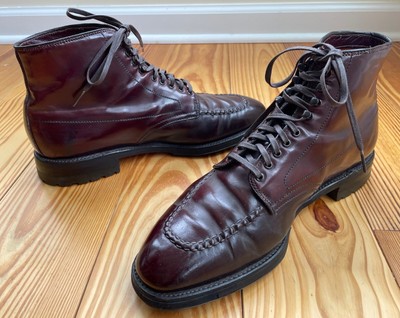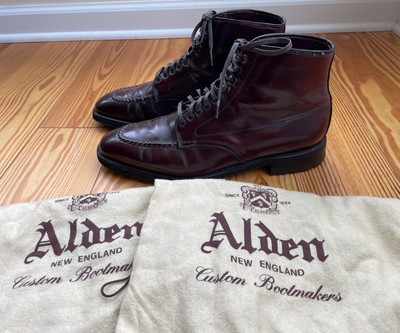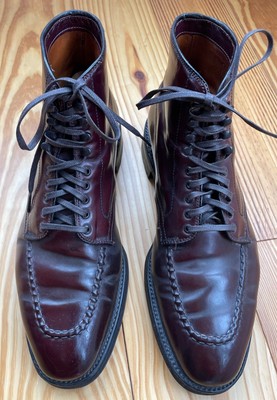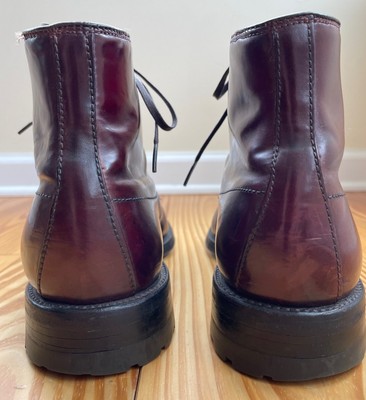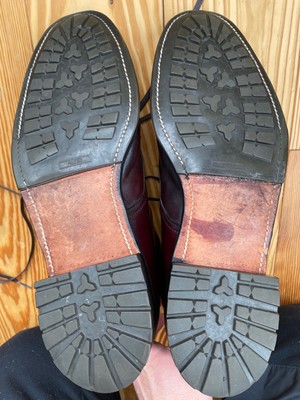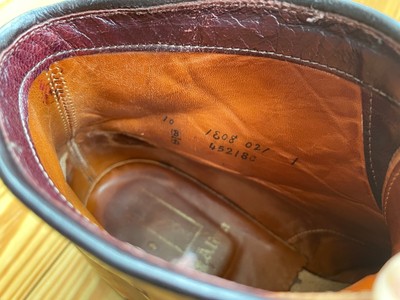 Alden Frans Boone Indy Boots Cordovan Horse Leather 11 C/E, New, Color 8, Rare
Condition: New
Size: 11
End: 2023-03-01 6:45 PM
Duration: 75 days, 15 hr, 47 min
945.00 EUR

Not Sold

Times Listed: 5
Alden Frans Boone Indy Boots Cordovan Pferdeleder 11 C/E, neu, Color 8, Rar. Zustand und Details siehe bitte Photos Commando Sohle Boots sind ungetragen und bisher nicht poliert, man sieht es am Cordovan, Fettaustritt als Qualitätsmerkmal Einmal auf Teppich angezogen Schuhe werden ohne Schuhspanner verkauft!!!! Da Privatverkauf keine Rücknahme oder Umtausch und keine Garantie oder Gewährleistung Alle angebotenen Artikel stammen aus meinem Privatvermögen und sind jahrelang gesammelt worden.
Alden Cordovan Indie Boots 8.5D 45218C
Condition: Pre-owned
Size: 9 NA
End: 2022-11-27 3:35 PM
Duration: 26 days, 13 hr
$1125.61

Not Sold

Times Listed: 1
Description If you have any questions' please contact us. shipping method Fedex (3-7days) DHL(3-7days) EMS(3-7days) Comes with Tracking number to all. We will ship your item within 2-10 business days' after your payment. Transaction matters Packing state We will carefully pack your items with the most appropriate protection materials to avoid your items from getting damaged during transport to you. Feedback: You will receive a positive feedback from our store as soon as you successfully complete your order and payment. We would very much appreciate if you could leave us one' too! We are a Japanese store specializing in Japanese high-quality products. Please let us hear from you with any inquiries you may have about our products. Happy shopping! To overseas buyers-Notes: Please be aware of customs fees - such as taxes and duties - when your order arrives. Since these fees vary from location to location' CUSTOMS FEES ARE NOT INCLUDED IN THE ITEM PRICE OR SHIPPING CHARGES. Please check with your local customs office for more information on the fees in your area. Refusal to pay these fees can result in an undeliverable order. Please note - we cannot undervalue orders' or mark them as a gift.
ALDEN X FRANS BOONE 12 D COLOR 8 SHELL CORDOVAN DR. JONES INDY BOOT BURGUNDY
Condition: Pre-owned
Size: 12 D
End: 2022-06-13 10:09 PM
Duration: 57 days, 16 hr, 37 min
$500.00

Sold

Times Listed: 14
For your consideration a used pair of Alden moccasin toe boots made for Frans Boone. Built atop a commando rubber outsole, 360 flat welt, dark edge trim, and tonal welt stitching. Made from burgundy, color 8 Horween shell cordovan. Open-lacing style, blind eyelets and metal speedhooks. Tagged a size US 12, D width. Shaped over the Plaza last. Rare opportunity to own a rare makeup. Outsole Measurements: 13 5/16 x 4 9/16" Price includes USPS priority mail shipping, and tracking. Feel free to contact me with any questions or offers. All shipments are typically sent out within 24 hours. International bidders welcome please contact me if you have any shipping questions
Alden X Frans Boone Shell Cordovan Boots 10.5 D Burgundy Color 8 Damaged
Condition: Pre-owned
Size: 10.5 Medium (D, M)
End: 2019-10-08 4:51 PM
Duration: 6 days, 17 hr, 47 min
$364.99

Sold

Times Listed: 1
SECOND PICTURE SHOWS EYELET DAMAGE, UNNOTICEABLE WHILE WEARING. PRE-OWNED ALDEN #8 SHELL CORDOVAN BOOTS LIGHT COLOR SHELL FROM MY PERSONAL COLLECTION PLAZA SIZE 10.5 B/D I DO NOT ACCEPT RETURNS ON SHOES OR BOOTS. ALDEN SHOE BAGS INCLUDED SHOE TREES NOT INCLUDED FREE SHIPPING TO THE USA EBAY'S GLOBAL SHIPPING PROGRAM FOR OVERSEAS BIDDERS 100% AUTHENTIC OR YOUR MONEY BACK