Alden 54222 Natural Chromexcel Short Wing Tip Blucher
Additional Model Details:
Single Leather Outsole

270 Flat Welt
Alden 54222 eBay Sales (last 50):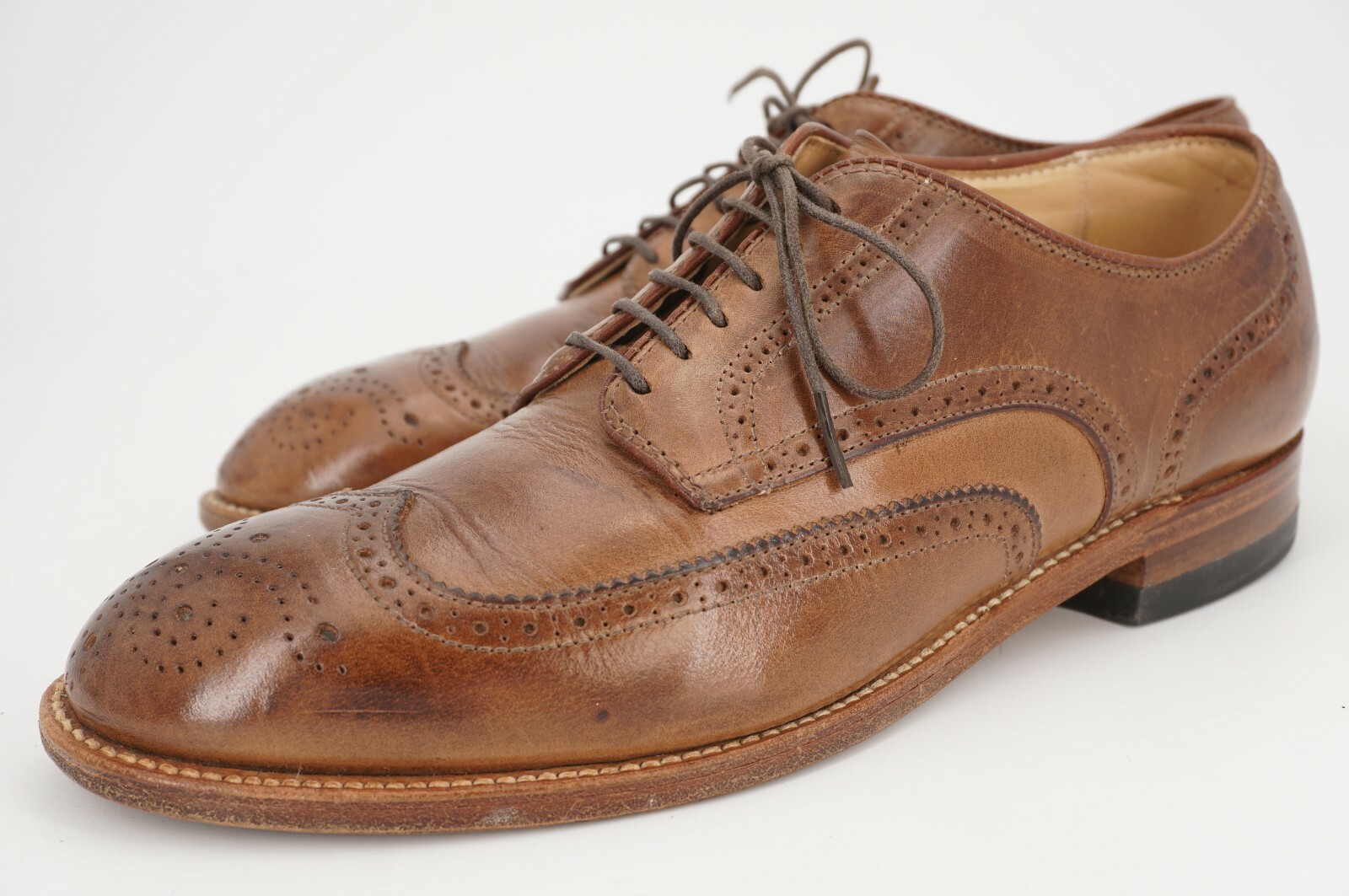 $560 | ALDEN 8 D NATURAL LONGWING WINGTIP GUNBOAT MODIFIED LAST
Condition: Pre-owned
Size: 8 D
Start: 2022-10-23 4:55 AM
$229.00

Active

Times Listed: 20
For your consideration a used pair of Alden longwings. Made on a double leather flex welt oiled outsole, 360 reverse welt, brown edge trim, and matching welt stitching. Made Horween natural chromexcel leather and finished with metal eyelets. This model retails for $560 new from the site. Shaped over the Modified last tagged 8, D width Outsole Measurements: 11 7/8 x 4 1/8" Price includes USPS priority mail shipping, and tracking. Feel free to contact me with any questions or offers. All shipments are typically sent out within 24 hours. International bidders welcome please contact me if you have any shipping questions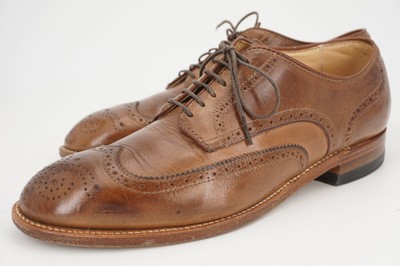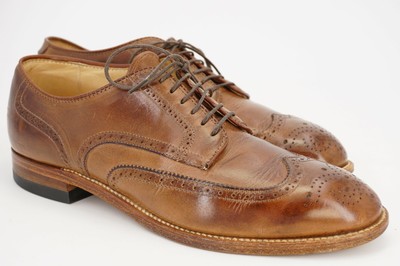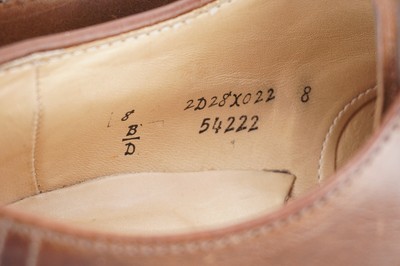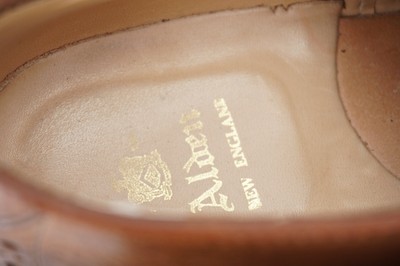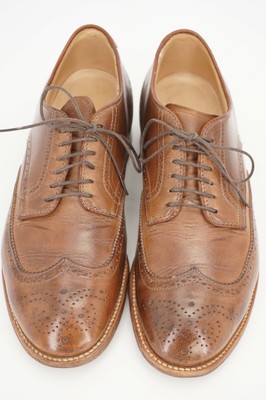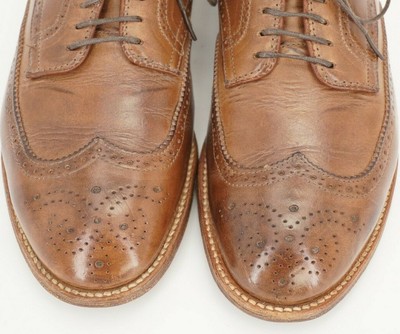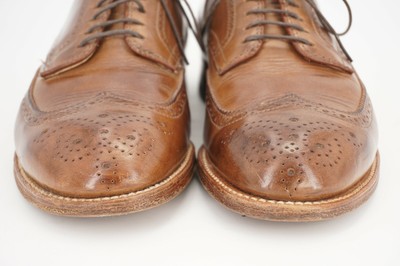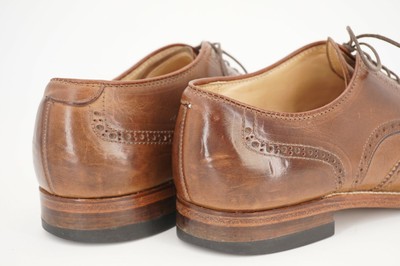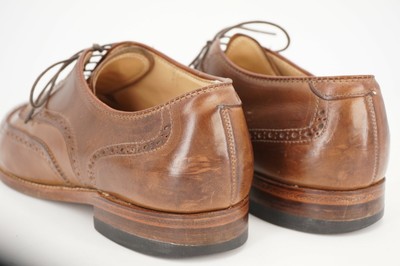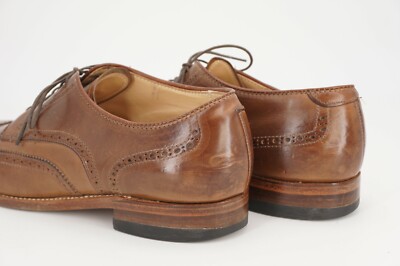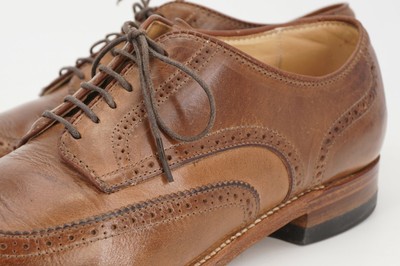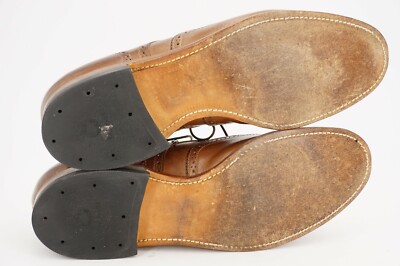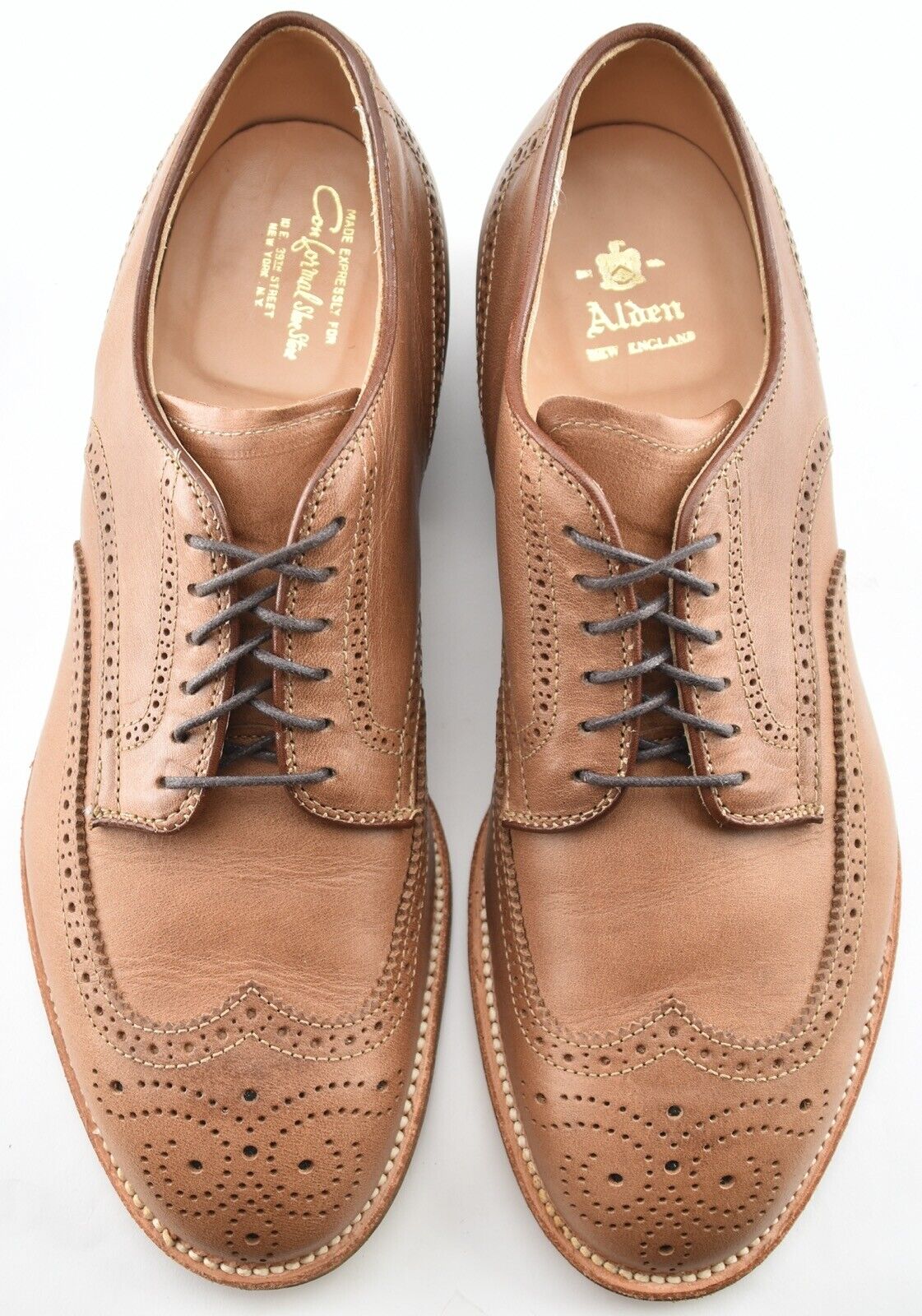 WORN 1x w BOX MODIFIED LAST | ALDEN 8.5E NATURAL CHROMEXCEL SHOES
Condition: Pre-owned
Size: 8.5 E
Start: 2022-08-25 12:15 AM
$424.00

Active

Times Listed: 1
shoeslikeclockwork WORN 1x w BOX MODIFIED LAST | ALDEN 8.5E NATURAL CHROMEXCEL SHOES Marked Size: 8.5E Condition Grade: 8 Model: 54222 Last: Modified Measurements: 12" by 4 3/8" Notes: Very lightly worn and in very good cosmetic condition, these shoes show light creasing at vamps and faint marks at the back heel area of both shoes.These shoes are built on the modified last for the shoe store Conformal shoes, now known as Moulded Shoe in New York City. Original soles and heels excellent with light surface wear only. Comes with original box and bags. Please note that shoe trees, shoe bags, shoe boxes, and other accessories are not included unless otherwise stated. Any stated color is an approximation, as how a color appears on screen and in person varies greatly depending on the settings, screen, and lighting conditions. Grade Chart Grade Description 10 Brand New 9 Like New, or Display Item 8 Used Several Times Only 7 Minor Scratches and/or Marks 6 Moderate Amount of Scratches and/or Marks 5 Many Scratches and/or Marks 4 Used a lot. Many Noticeable Scratches/Marks 3 Heavily Used, Serviceable with Repair 2 Very Heavily Used, Serviceable with Repair 1 Obviously Damaged, May not be Repairable - - V Vintage Visit Our Store! 〉 © shoeslikeclockwork _gsrx_vers_856 (GS 7.0.20 (856))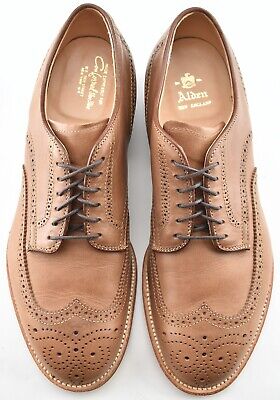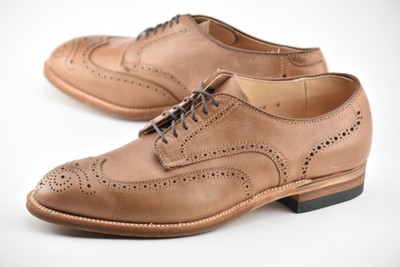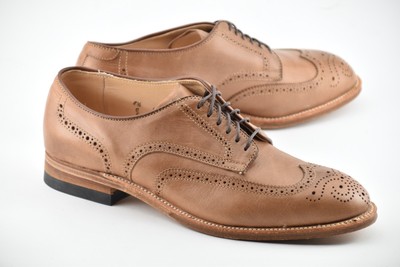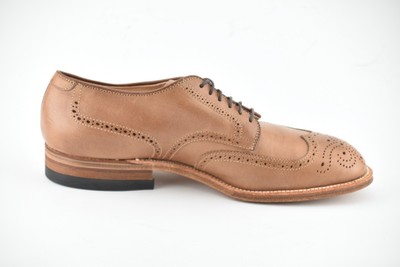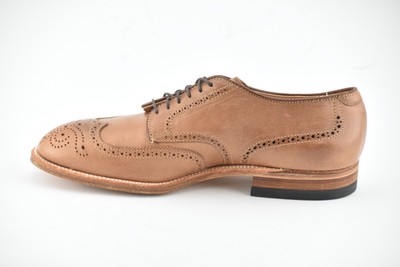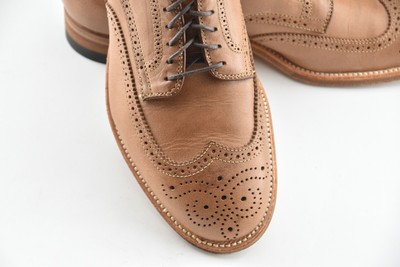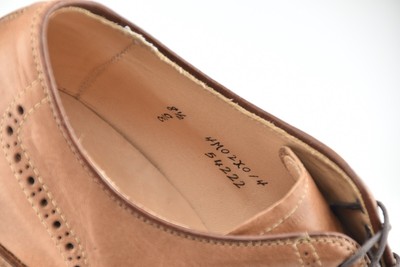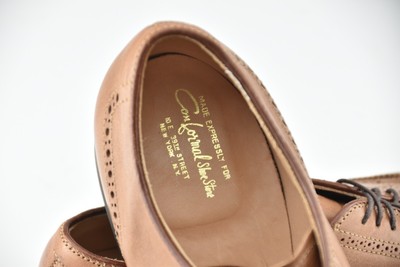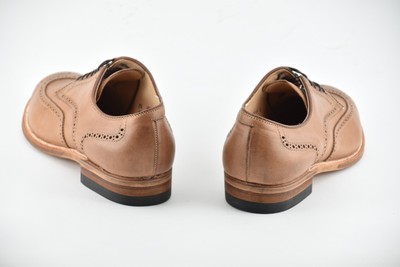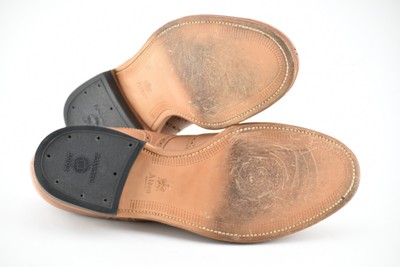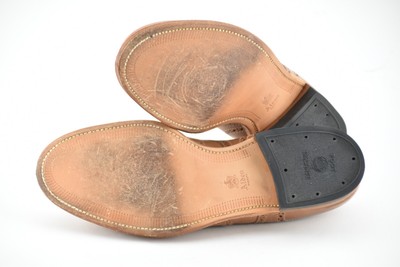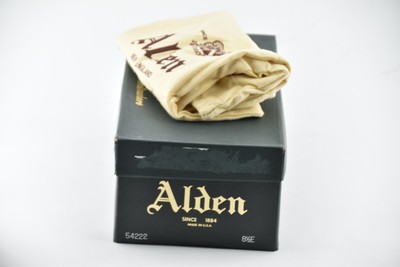 Alden Wingtips #54222 Sz 8D Natural
Condition: Pre-owned
Size: 8 D
End: 2020-10-27 8:49 PM
Duration: 0 hr, 9 min
$100.00

Sold

Times Listed: 1
This is a really nice pair of made in the USA Alden wingtips in size 8D. They have been worn, but taken care of and look great. They are a very nice natural color with some caramel tones. Please let me know if you have any questions.
Alden natural chromexcel wingtips, Modified last, 11.5 EEE
Condition: Pre-owned
Size: 11.5 Extra Wide (EE+)
End: 2017-07-20 2:48 PM
Duration: 7 days
$151.15

Sold

Times Listed: 2
For your consideration, my Alden shortwing wingtip bluchers, on the Modified last, in size 11.5 EEE. They have a vibram topy sole. I bought these new from Moulded Shoe in NYC, and have worn them a handful of times. The sizing isn't quite right for me, and I'm going back to 11 EEE. NOTE that I used Saphir renovateur cream on them, and to my eye it darkened them just a bit (compared to my other natural chromexcel shoes.) Shoe trees NOT included. Thanks for looking!
Alden Modified Last Shortwings In Natural Chromexcel
Condition: Pre-owned
Size: 10.5 Medium (D, M)
End: 2015-09-26 3:31 PM
Duration: 6 days, 21 hr, 16 min
$400.00

Sold

Times Listed: 1
This is my favorite makeup that I purchased from ALDEN. The shortwing looks pretty cool on the modified last. The fitting properties of this last are really unique as well. Very very comfortable...this shoe can be dressed up or down, looks great with jeans or khakis. Very little wear on these shoes...I purchased a bunch of Aldens and later realized I have very narrow feet. I would estimate less then 12 wears on these shoes. I purchased them new for 600.00 retail from moulded shoe. Thanks for looking! Posted with eBay Mobile