Alden 587 Brown Pebble Grain Long Wing Blucher
Additional Model Details:
Single Leather Outsole

270 Flat Welt

Foot Balance heel
Alden 587 eBay Sales (last 50):
When you click on links to make a purchase, this can result in this site earning a commission from the eBay Partner Network.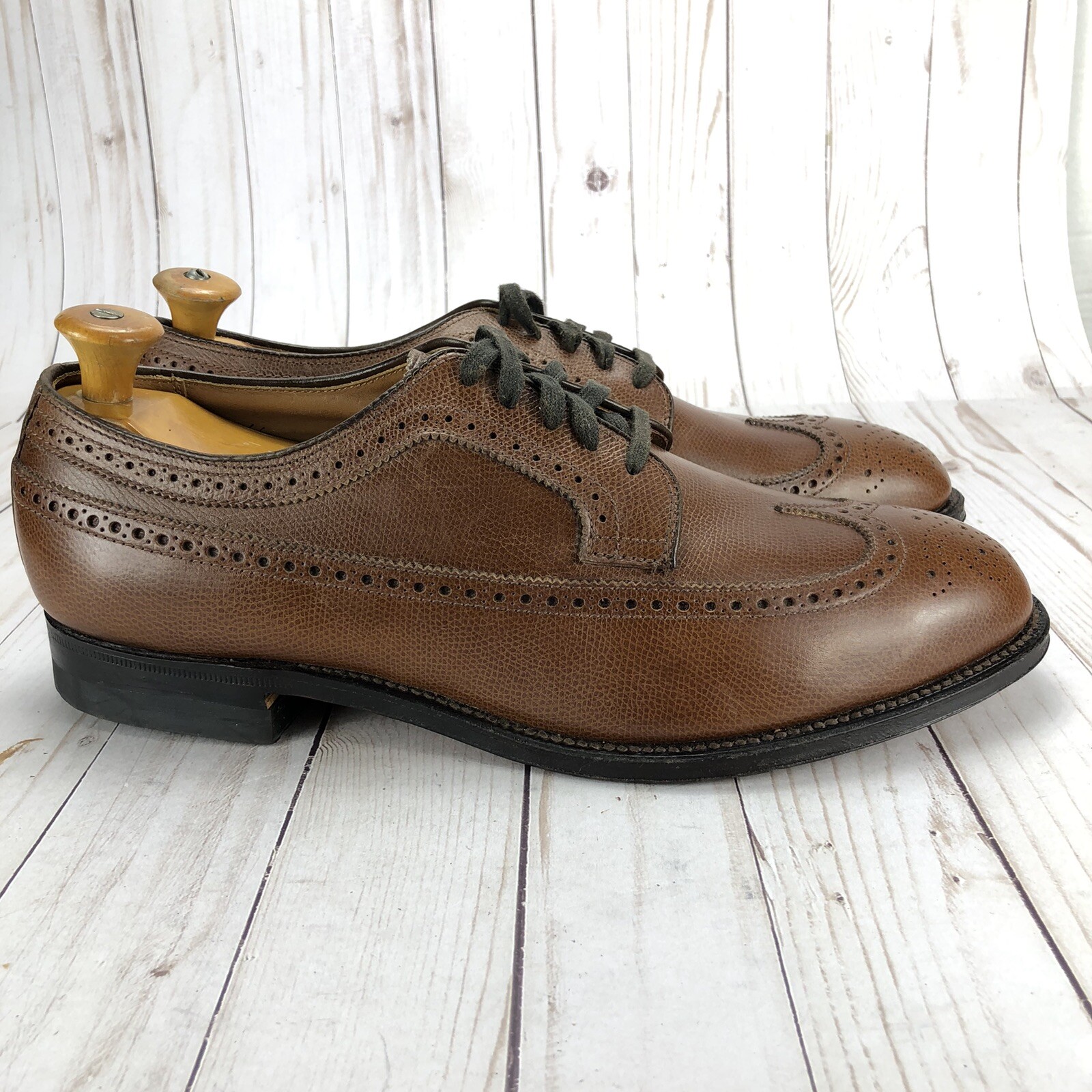 Vintage Eneslow Apex Alden Shoes Longwing Derby Brown Pebble Mens Size 11 C/E
Condition: Pre-owned
Size: 11 C
Start: 2023-03-03 6:51 PM
$260.00

Active

Times Listed: 1
Vintage Mens Brown Pebble Eneslow Apex Alden Longwing Derby Shoes Size: EU45/UK10/US11 Width: C/E Color: Tobacco Brown Style: Derby Shoes Overall Condition: These shoes are used but remain in like new with some minor marks. Please see picture for more details of the condition of these shoes. If you have any questions please do not hesitate to ask, thanks for looking and good luck. SHOE TREES ARE NOT INCLUDE Materials: Pebble Leather Toe Style: Longwing Tip Includes: None Made In USA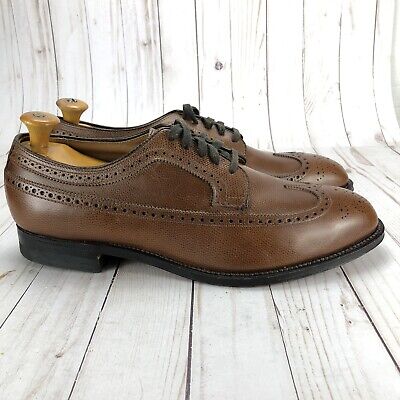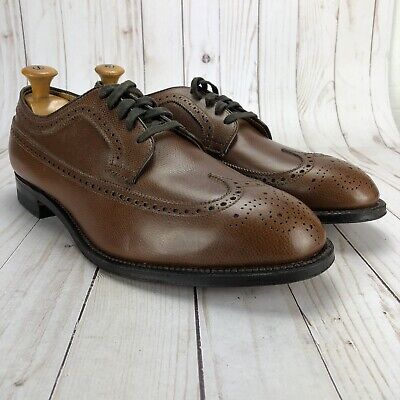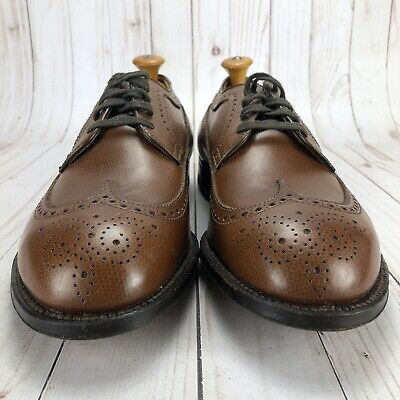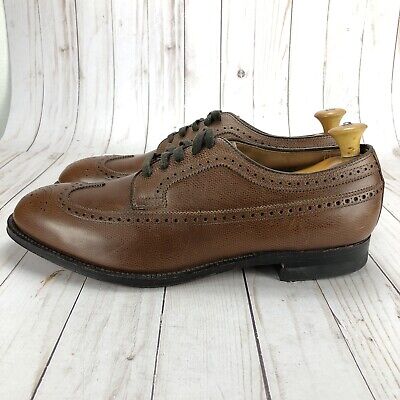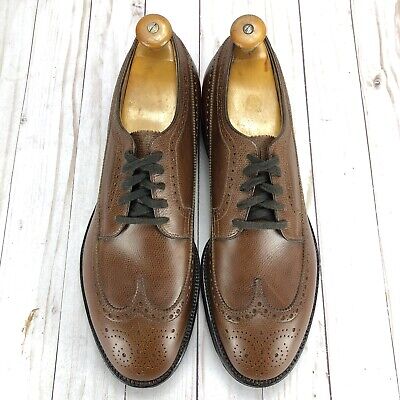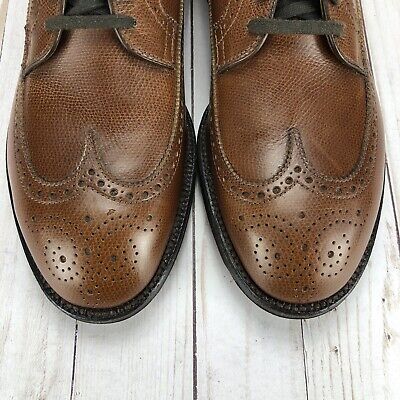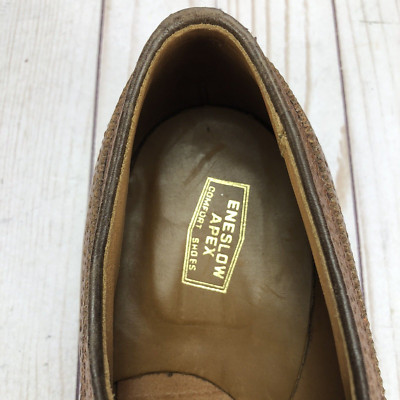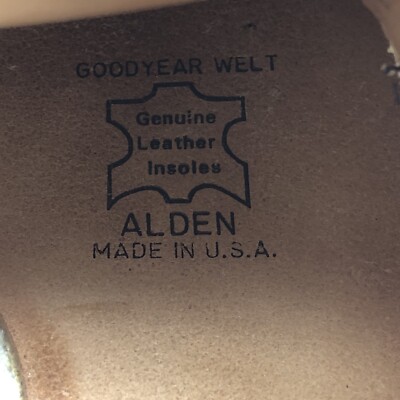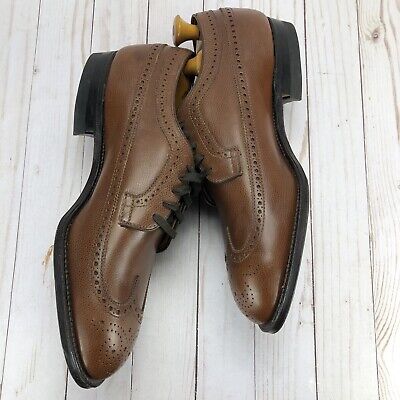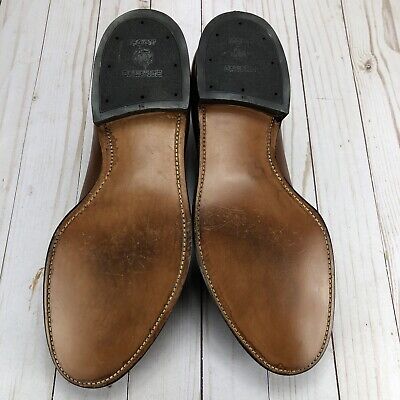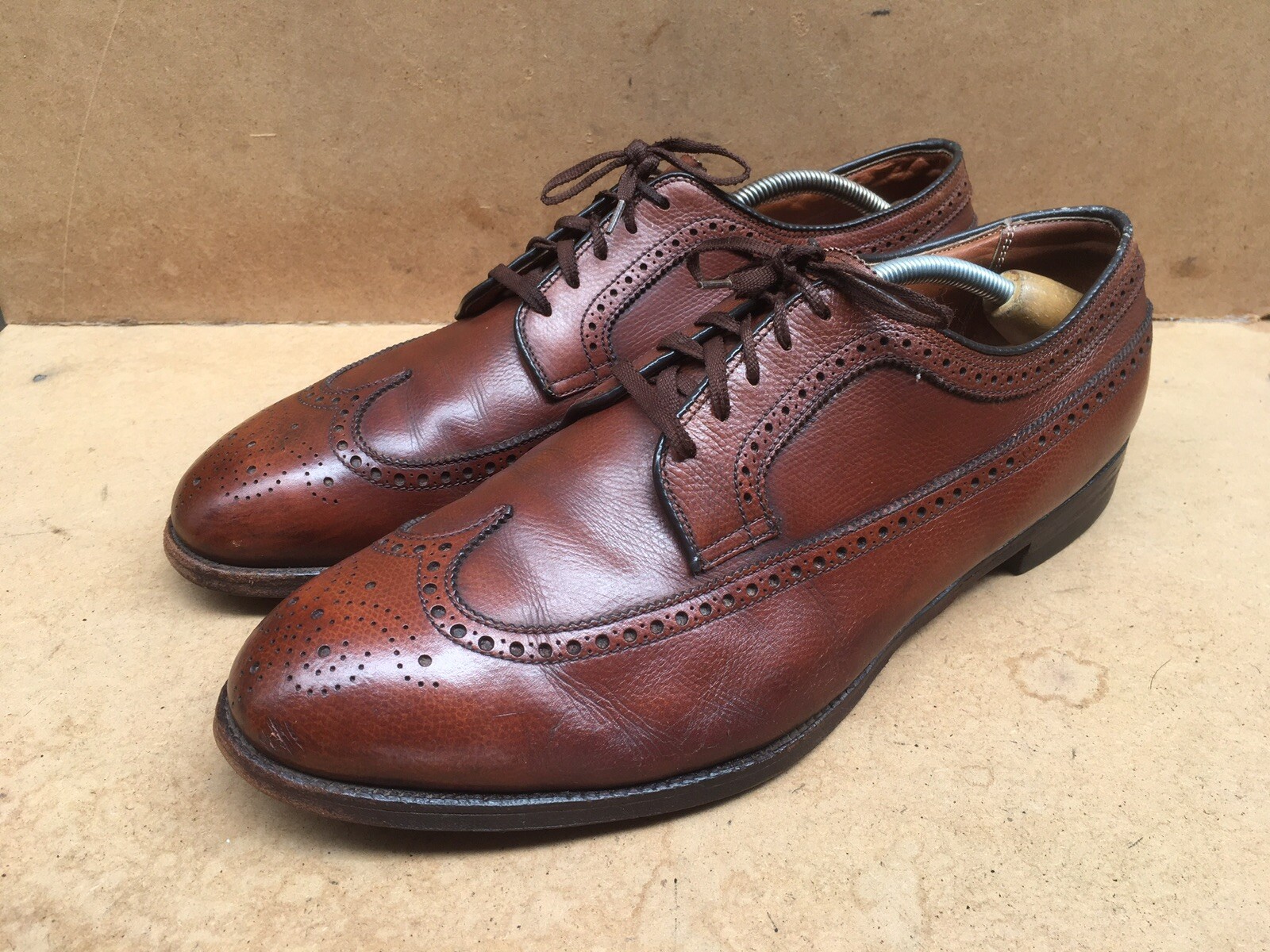 Alden 587 Brown Pebble Grain Long Wing Tip Blucher Mens Shoes Size USA 12 B/D
Condition: Pre-owned
Size: 12 B/D
Start: 2021-02-19 2:06 AM
$110.00

Active

Times Listed: 1
Shoes are pre owned and quite worn. Upper leather may show signs of scratches, scuffs, dings and some blemishes. Little leather cracking on the side barely noticeable due to applied shoe care. Interior of the shoe may show some signs of wear and inner sole has been replaced. Please see all pictures for full description of the shoe. Ask questions if interested. Shipping Arrival of the item will take 5 days after shipping. Currently shipping from kenya.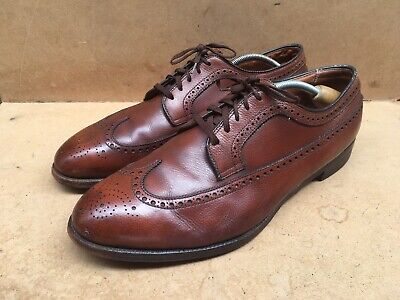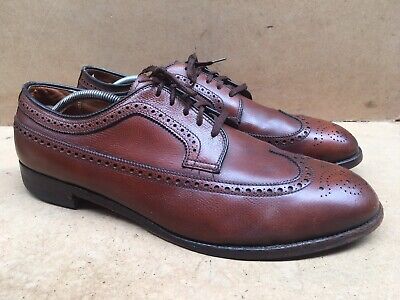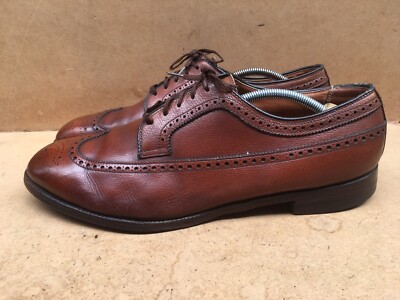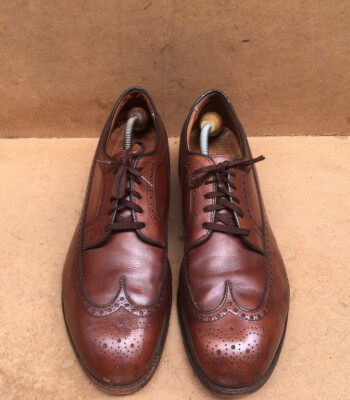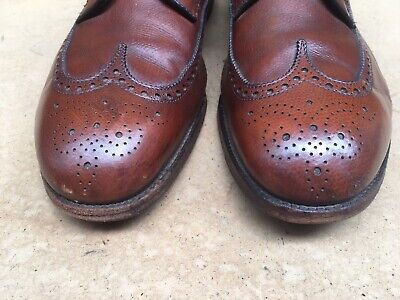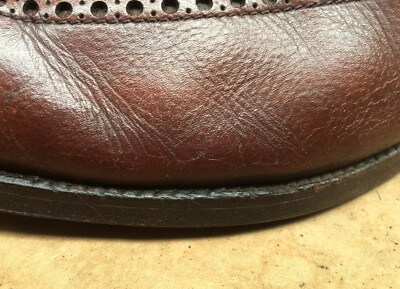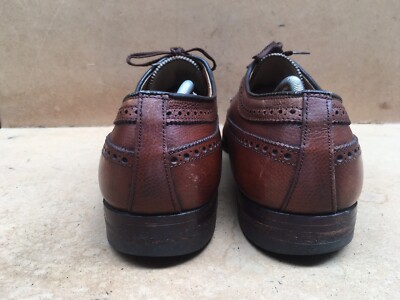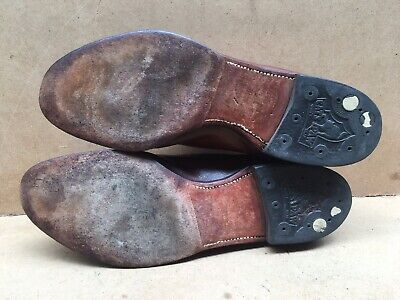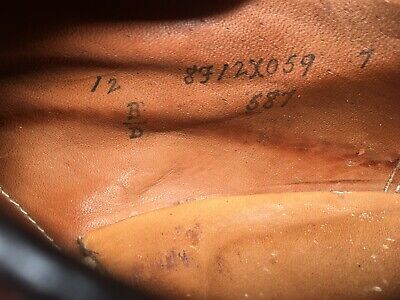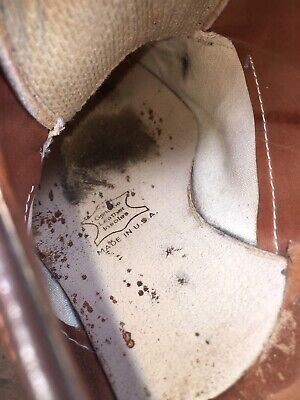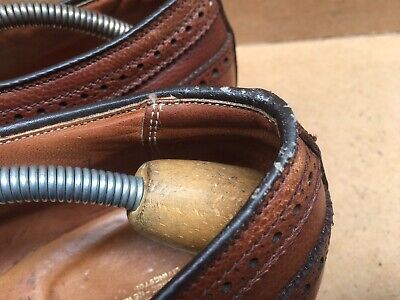 Rare Vintage Alden 587 Brown Pebble Grain Calf Longwing Blucher Shoes Men 11 B/D
Condition: Pre-owned
Size: 11 B/D
End: 2023-10-07 6:41 PM
Duration: 1 hr, 16 min
$219.99

Sold

Times Listed: 2
For sale is a pair of Rare Vintage Alden 587 Brown Pebble Grain Calf Leather Longwing Blucher Dress Shoes Men's 11 B/D. From Alden Model Project: "Modified Last (runs 1/2 size larger) Single Leather Outsole 270 Flat Welt Foot Balance Heel" For your consideration is a rare pair of vintage Longwing 'Gunboat' Brogues from the Famed American Shoemaker, Alden. This is the 587 style, and features an eye-catching brown Pebble Grain Calfskin. With top of the line materials, a timeless profile/last, and rugged Goodyear Welted Construction, these shoes will (and have) last(ed) years and provide dependable style. These shoes feature a supple Pebble Grain Light Brown Calfskin Leather upper, classic longwing brogue blucher dress shoe design (style 587), flat braided brown laces, leather lining, cushioned leather sockliner (with another added leather overlay), leather insole, leather midsole, leather outsole, stacked leather and rubber Cat's Paw heel (famed for their durability and quality grip), and Goodyear Welted Construction. For reference, here are the approximate measurements (taken along the outsole): Length - about 12.75" Width (at the ball of foot) - 4.375" These shoes have seen a fair amount of wear, but have been maintained well. The added worn leather overlay portion on the sockliner stumped me (as the why it was added), and I attempted to remove it to no avail (a cobbler might have more luck with a de-bonding solution). As can be seen from the Cat's Paw Heels, these shoes were likely re-heeled at some point, but it was done very well, and the addition of Cat's Paw Heels adds value to these shoes (given the increasing rarity of these heels for use, and their known superior grip and aesthetic benefits). I have cleaned and conditioned these shoes, inside and out, with Weimans Leather Wipes, deep cleaned and conditioned with Lexol Cleaner and Conditioner, and polished them with Saphir Beaute du Cuir Shoe Cream. They come from a pet and smoke-free home. Shoe trees are not included. If you have any questions, please feel free to ask! Also, feel free to check out our account for other quality offerings! (Including multiple other shoes in this exact size!).
Alden Shoes Mens 11E NWOT Brown Pebble Grain Leather Long Wing Blucher #587 USA
Condition: New without box
Size: 11 E
End: 2023-08-28 11:57 PM
Duration: 182 hr, 6 min
489.27 AUD

Not Sold

Times Listed: 5
When ordering from the US, parcels may be subject to import tax and duty charges, which the buyer is responsible to pay. Alden Shoes Mens 11E NWOT Brown Pebble Grain Leather Long Wing Blucher #587 USA This product data sheet is originally written in English. Search Feedback Contact Us MENU STORE CATEGORIES Men's Blazers Sport Coats Men's Outerwear Men's Sport Coats and Blazers European Origin Blazers Sport Coats Coats Jackets Pants Shirts Suit Separates Sweaters American Traditional Blazers Sport Coats Coats Jackets Pants Polo Shirts Shirts Suit Separates Everyday Wear Blazers Sport Coats Coats Jackets Pants Polo Shirts Shirts Women's Coats Jackets Blazers Pants Sweatshirts Shoes Accessories Belts Ties Formal Accessories Kids Other Home About us Ending Soon New Arrivals Feedback Contact Us STORE CATEGORIES Men's Blazers Sport Coats Men's Outerwear Men's Sport Coats and Blazers European Origin Blazers Sport Coats Coats Jackets Pants Shirts Suit Separates Sweaters American Traditional Blazers Sport Coats Coats Jackets Pants Polo Shirts Shirts Suit Separates Everyday Wear Blazers Sport Coats Coats Jackets Pants Polo Shirts Shirts Women's Coats Jackets Blazers Pants Sweatshirts Shoes Accessories Belts Ties Formal Accessories Kids Other USEFUL LINKS About us New Arrivals Feedback Contact Us Alden Shoes Mens 11E NWOT Brown Pebble Grain Leather Long Wing Blucher #587 USA Click Thumbnails to Enlarge Contact Us for expert support Store Newsletter Sign up to receive special insider notifications of deals, promotions, and new items! SIGN UP View Ratings Visit Store PRODUCT DESCRIPTION Excellent secondhand condition. No rips, tears, or stains. Appears as if never used; like NWOT. Information: Made in: United States Material: 100% Leather Alden made for Bond Shoes, Massachusetts Alden is stamped on the insole at the arch Measurements: Length of Outsole: 12 1/2 inches (31.8 cm) Tip to tip Width of Outsole: 4 3/8 inches (11.1 cm) at widest point Measurements are taken with the garment lying flat Notice PLEASE Please check measurements carefully versus something you own that fits well. It's the best way to get well dressed happily on eBay. Many items fit differently although they might have the same 'size' tag. A vintage size M shirt will often be smaller than a modern one. Italian suits are generally much tighter fitting than American 'classic' styles, which leave some movement/turkey stuffing room. And even similar items from the same manufacturer can differ greatly year to year or based on how they were altered by a previous owner. So please PLEASE check your measurements. RETURNS We have a 30 day return policy for any reason. Contact us with questions before or after purchasing, and we'll figure out what gets you well dressed. Feedback We want you to be happy customers here for life. Please feel free to ask questions and follow us to get notifications of our sales and new items. Payment Note that purchases from outside of the US and US Territories may be subjected to your specific locality's taxes, customs duties, and fees. These are beyond our control and the buyer's responsibility. In no case will we falsify or otherwise seek to evade legal customs documents and authorities. Contact Us Contact us before leaving negative feedback - we want you to be happy with your purchase and it's best to work together quickly to make that happen. *If you have any questions or concerns, please reach us via eBay message. KEEP IN TOUCH! WE WILL NOTIFY YOU ABOUT NEW PRODUCTS AND SPECIAL OFFERS. Newsletter Excellent secondhand condition. No rips, tears, or stains. Appears as if never used; like NWOT. Information: Made in: United States Material: 100% Leather Alden made for Bond Shoes, Massachusetts Alden is stamped on the insole at the archMeasurements: Length of Outsole: 12 1/2 inches (31.8 cm) Tip to tip Width of Outsole: 4 3/8 inches (11.1 cm) at widest point Measurements are taken with the garment lying flat Style Derby Pattern Solid Handmade No Toe Shape Round Toe Country/Region of Manufacture United States Upper Material Leather Theme American Theme Business Theme Classic Lining Material Leather Department Men Type Dress Season Fall Season Spring Season Summer Season Winter Brand Alden Outsole Material Leather Vintage No Closure Lace Up UK Shoe Size 10.5 AU Shoe Size 10.5 Customized No EU Shoe Size 45 UPC Does Not Apply Features Arch Support Features Limited Edition Features Orthopedic Color Brown US Shoe Size 11 Insole Material Leather Shoe Width E
Alden Shoes Mens 14EE Brown Pebble Grain Leather Long Wing Blucher #587 USA
Condition: Pre-owned
Size: 14 EE
End: 2023-08-20 1:36 AM
Duration: 191 hr, 24 min
$180.00

Not Sold

Times Listed: 1
Search Feedback Contact Us MENU STORE CATEGORIES Men's Blazers Sport Coats Men's Outerwear Men's Sport Coats and Blazers European Origin Blazers Sport Coats Coats Jackets Pants Shirts Suit Separates Sweaters American Traditional Blazers Sport Coats Coats Jackets Pants Polo Shirts Shirts Suit Separates Everyday Wear Blazers Sport Coats Coats Jackets Pants Polo Shirts Shirts Women's Coats Jackets Blazers Pants Sweatshirts Shoes Accessories Belts Ties Formal Accessories Kids Other Home About us Ending Soon New Arrivals Feedback Contact Us STORE CATEGORIES Men's Blazers Sport Coats Men's Outerwear Men's Sport Coats and Blazers European Origin Blazers Sport Coats Coats Jackets Pants Shirts Suit Separates Sweaters American Traditional Blazers Sport Coats Coats Jackets Pants Polo Shirts Shirts Suit Separates Everyday Wear Blazers Sport Coats Coats Jackets Pants Polo Shirts Shirts Women's Coats Jackets Blazers Pants Sweatshirts Shoes Accessories Belts Ties Formal Accessories Kids Other USEFUL LINKS About us New Arrivals Feedback Contact Us Alden Shoes Mens 14EE Brown Pebble Grain Leather Long Wing Blucher #587 USA Click Thumbnails to Enlarge Contact Us for expert support Store Newsletter Sign up to receive special insider notifications of deals, promotions, and new items! SIGN UP View Ratings Visit Store PRODUCT DESCRIPTION Very nice pre-owned condition. No rips, tears, or stains. Appear gently used. Information: Made in: United States Material: 100% Leather MSRP (estimated): $575 Model: 587 Measurements: Length of Outsole: 13 7/8 inches (35.2 cm) Tip to tip Width of Outsole: 4 3/4 inches (12.1 cm) at widest point Measurements are taken with the garment lying flat Notice PLEASE Please check measurements carefully versus something you own that fits well. It's the best way to get well dressed happily on eBay. Many items fit differently although they might have the same 'size' tag. A vintage size M shirt will often be smaller than a modern one. Italian suits are generally much tighter fitting than American 'classic' styles, which leave some movement/turkey stuffing room. And even similar items from the same manufacturer can differ greatly year to year or based on how they were altered by a previous owner. So please PLEASE check your measurements. RETURNS We have a 30 day return policy for any reason. Contact us with questions before or after purchasing, and we'll figure out what gets you well dressed. Feedback We want you to be happy customers here for life. Please feel free to ask questions and follow us to get notifications of our sales and new items. Payment Note that purchases from outside of the US and US Territories may be subjected to your specific locality's taxes, customs duties, and fees. These are beyond our control and the buyer's responsibility. In no case will we falsify or otherwise seek to evade legal customs documents and authorities. Contact Us Contact us before leaving negative feedback - we want you to be happy with your purchase and it's best to work together quickly to make that happen. *If you have any questions or concerns, please reach us via eBay message. KEEP IN TOUCH! WE WILL NOTIFY YOU ABOUT NEW PRODUCTS AND SPECIAL OFFERS. Newsletter