Alden 668 Brown Calfskin Tassel Loafer
Additional Model Details:
Single Leather Outsole

270 Flat Welt
Alden 668 eBay Sales (last 50):
When you click on links to make a purchase, this can result in this site earning a commission from the eBay Partner Network.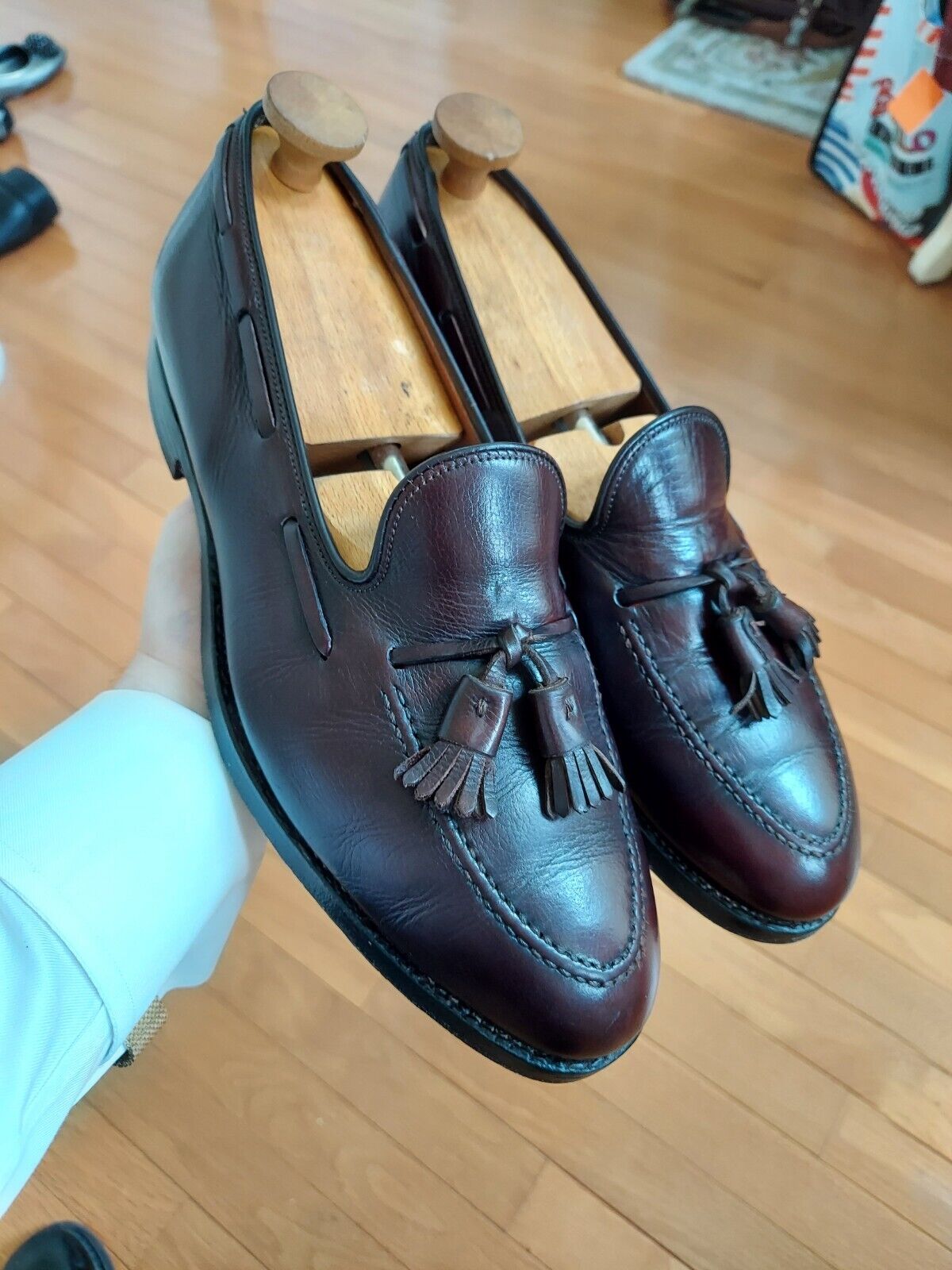 Rare Vintage Alden 668 Reddish Brown Calf Moc Toe Tassel Loafers Shoes 10 B/D
Condition: Pre-owned
Size: 10 B/D
Start: 2023-12-07 5:32 PM
$149.99

Active

Times Listed: 2
For sale is a pair of Rare Vintage Alden 668 Reddish Brown Calf Moc Toe Tassel Loafers Dress Shoes Shoes Men's 10 B/D. For your consideration is a rare pair of vintage Moc Toe Tassel Loafers from the Famed American Shoemaker, Alden. These pair notably feature the pre-crest 4A logo (can just make it out on the one sockliner). This is the 668 style (likely the forerunner to the 663), and features a Brown (almost tumbled grain) Calfskin; with wear it has gained a slight reddish patina. With top of the line materials, a timeless profile/last, and rugged Goodyear Welted Construction, these shoes will (and have) last(ed) years and provide dependable style. These shoes feature a supple and richly patinaed Reddish Brown calfskin leather upper (with slight tumbled leather effect), classic Alden Moc Toe Tassel Loafers Dress Shoes design, leather lining, leather sockliner, leather insole, leather midsole, leather outsole, stacked leather and rubber heel, and Goodyear Welted Construction. For reference, here are the approximate measurements (taken along the outsole): Length - 12" Width (at the ball of foot) - just over 4" These shoes have seen a large amount of wear, but have been maintained exceptionally well. They also appear to have been resoled at some point. I am impressed with the resole quality as well, as the sides are Tapered to match the width of the welt, it's added thickness will add to the life of the shoe, and it is re-welted (a step many cobblers skip, when adding a new leather piece in this way). I have cleaned and conditioned these shoes, inside and out, with Weimans Leather Wipes, deep cleaned and conditioned with Lexol Cleaner and Conditioner, and polished them with Neutral Saphir Beaute du Cuir Shoe Cream (to maintain the distinct patina). They come from a pet and smoke-free home. Shoe trees are not included. MSRP: $629.00 If you have any questions, please feel free to ask! Also, feel free to check out our account for other quality offerings! (Including multiple other shoes in this exact size!).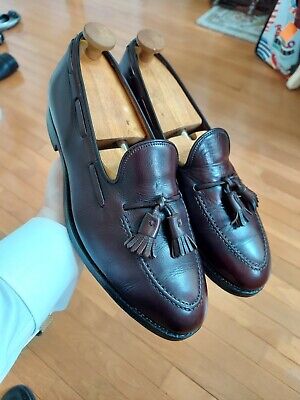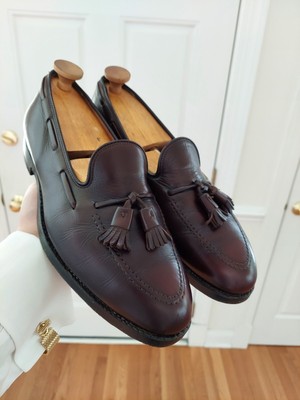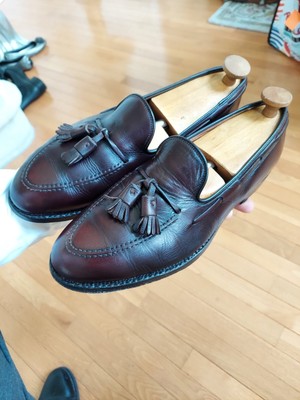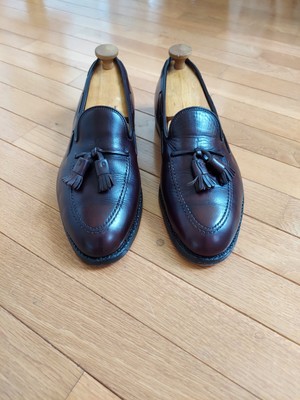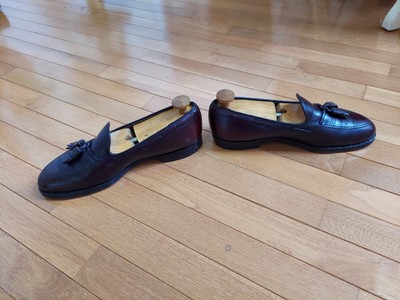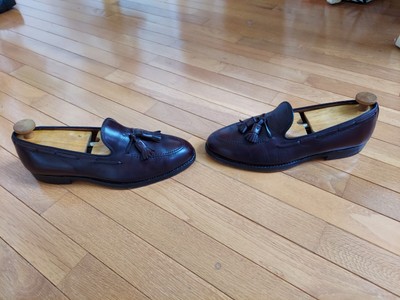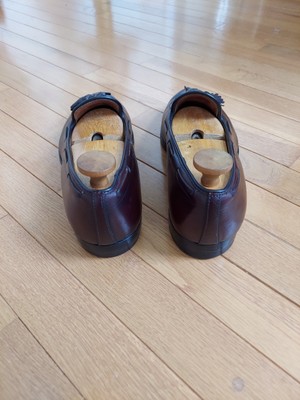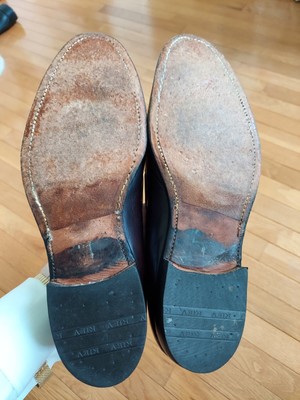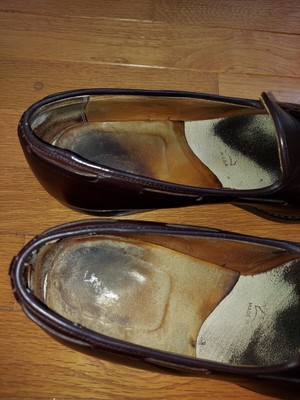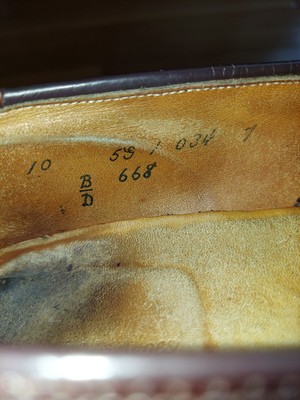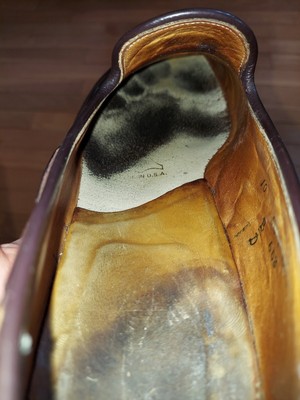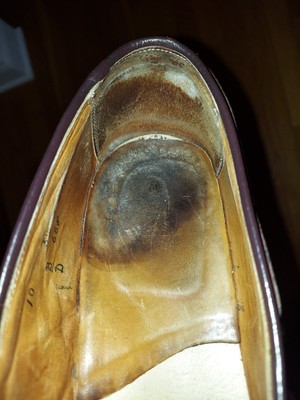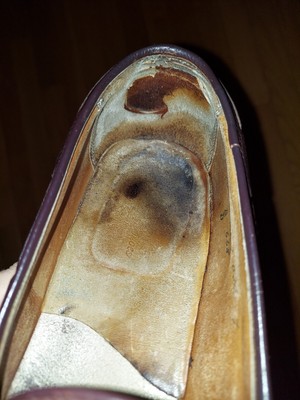 Alden for Mark Shale Shoes Tassel Loafers Model 668 Sz 9.5 A/C
Condition: Pre-owned
Size: 9.5
End: 2023-09-04 6:08 PM
Duration: 5 days
$39.00

Sold

Times Listed: 6
No box (but of course, will be shipped in a box). Pre owned but look good. I have some other men's' items (as well as another pair of Aldens and unique shoes for men), so check it out if you have a minute.
Alden Tassel Loafers 668 Calfskin Brown Sz 9.5 B/D Comb. Last House of Walsh VTG
Condition: Pre-owned
Size: 9.5 B/D (heel/Fore combination last)
End: 2023-07-02 1:56 PM
Duration: 23 hr, 57 min
$105.00

Sold

Times Listed: 1
Vintage ALDEN #668 Brown Calfskin Tassel Loafers in size 9 1/2 B?D combination last heel/toe-fore, made for The House of Walsh, a fine Clothing and accessory shop in western Massachusetts that featured the finest in men's attire. These are of course made in the USA, they show light to moderate use, the interiors are in very good condition, the uppers have a few superficial nics, the heels and soles show some use but are solid and the back of the heel has minor roll off. Please ask any questions before buying, the basic inside measurement with metal tape as best as I can see is 10 5/8 inches, please zoom in on all pictures for a great look at these fine shoes from every angle. Thanks, Alden are finely crafted to the highest standard.
Alden #668 Burgundy Calfskin Tassel Loafers Men's 10 D Made in USA
Condition: Pre-owned
Size: 10 D
End: 2022-10-19 7:29 AM
Duration: 12 days, 15 hr
$50.00

Sold

Times Listed: 1
Please refer to pictures and message for details.
Alden #668 Burgundy Calfskin Tassel Moccasin Loafers Men's Size- 10 D
Condition: Pre-owned
Size: 10 D
End: 2022-09-02 11:12 PM
Duration: 24 days, 23 hr, 39 min
$55.00

Sold

Times Listed: 1