Alden 6841 Cigar Shell Cordovan Full Strap Loafer
Additional Model Details:
Single Leather Outsole

270 Flat Welt
Alden 6841 eBay Sales (last 50):
When you click on links to make a purchase, this can result in this site earning a commission from the eBay Partner Network.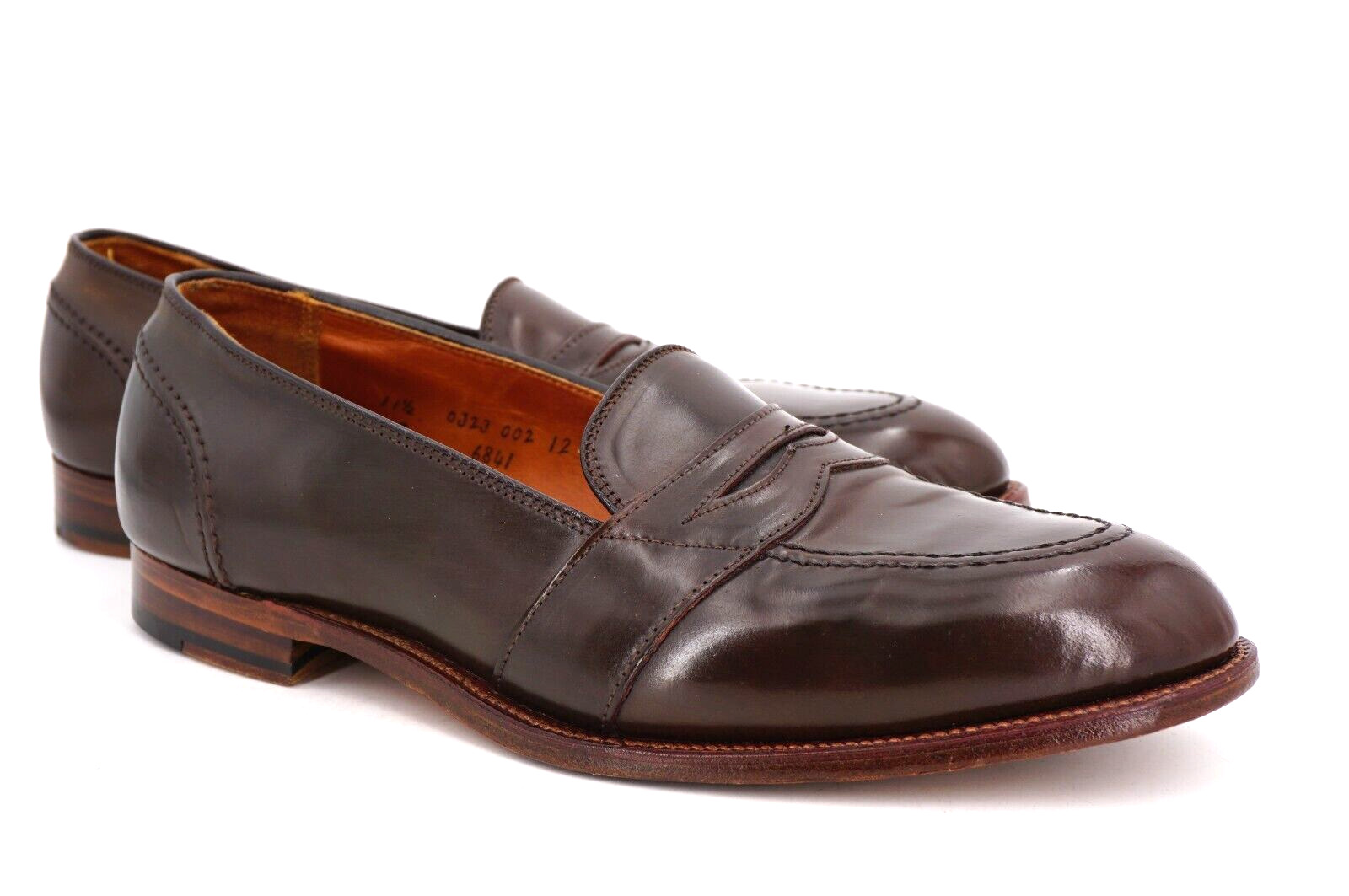 WORN 15x $852 ALDEN 11.5 E BROWN SHELL CORDOVAN FULL STRAP PENNY LOAFER ABERDEEN
Condition: Pre-owned
Size: 11.5 E
Start: 2023-05-30 5:23 PM
$548.00

Active

Times Listed: 1
For your consideration a lightly used pair of Alden full strap penny loafers. Made on a single leather outsole, flat welt, black edge trim, and matching welt stitching. Made from high shine, smooth cigar Horween shell cordovan. Shaped over the Aberdeen last tagged a size US 11.5, E width. Outsole Measurements: 12 3/4 x 4 1/2" Price includes USPS priority mail shipping, and tracking. Feel free to contact me with any questions. All shipments are typically sent out within 24 hours. International bidders welcome please contact me if you have any shipping questions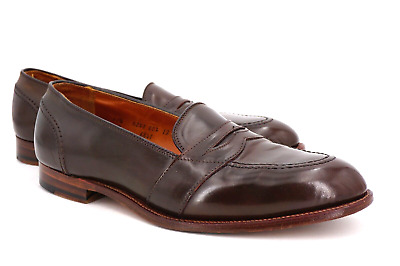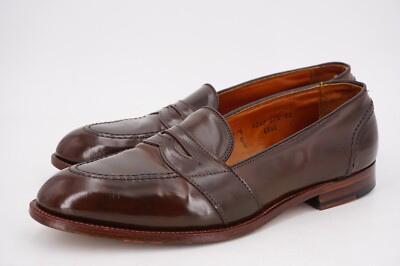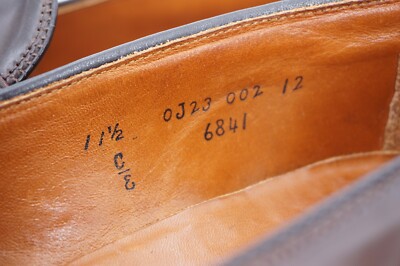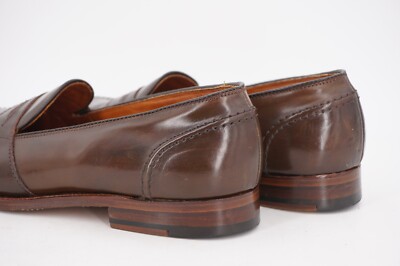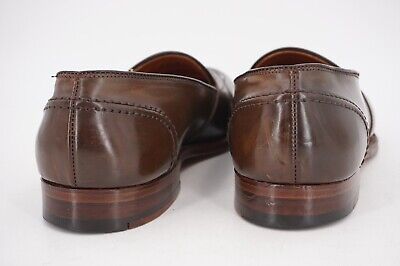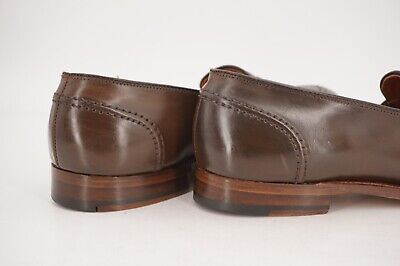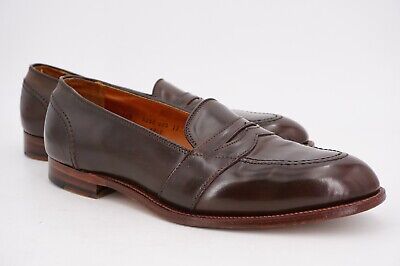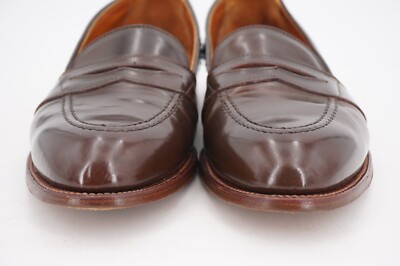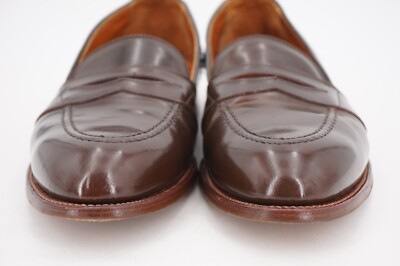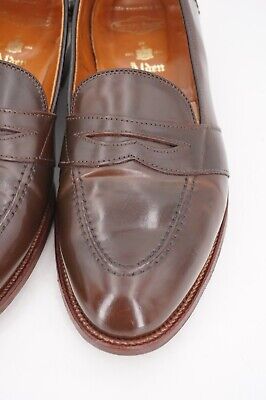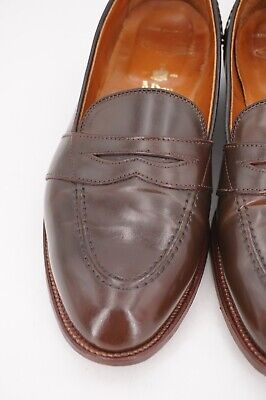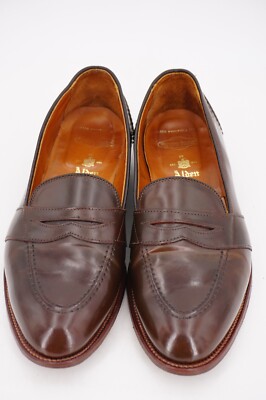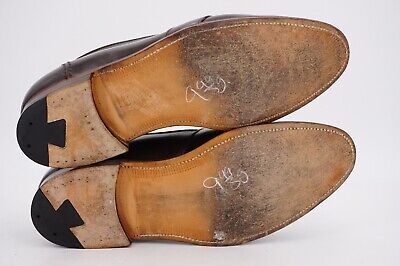 WORN 5x | ALDEN 10D CIGAR SHELL CORDOVAN FULL STRAP LOAFER 6841 ABERDEEN
Condition: Pre-owned
Size: 10 D
End: 2023-11-02 1:50 AM
Duration: 26 days, 9 hr, 15 min
$648.00

Sold

Times Listed: 1
shoeslikeclockwork Shoes LIke Clockwork WORN 5x | ALDEN 10D CIGAR SHELL CORDOVAN FULL STRAP LOAFER 6841 ABERDEEN Marked Size: 10D Condition Grade: 7 Model: 6841 Last: Aberdeen Measurements: 12 5/16" by 4 1/2" Notes: Shoes are in good pre-owned condition and show light creasing at the vamps. There are a few light surface marks at the inside toe area of both shoes and light marks at the back heel area of both shoes. Original soles and heels show light wear only. Comes with replacement Alden box and Alden shoe bags. Shipping All customs duty, import fees, taxes, and other fees associated with importing footwear are the sole responsibility of the buyer. International Shipping is by USPS Priority International Mail unless otherwise agreed. As a commercial vendor we do not mark shipments with a low value or as a "Gift". All international shipments are fully insured up to the stated value of the shipment. Listing Notes Please note that shoe trees, shoe bags, shoe boxes, and other accessories are not included unless otherwise stated. Any stated color is an approximation, as how a color appears on screen and in person varies greatly depending on the settings, screen, and lighting conditions. Due to ebay's limited "Item Specifics" options, some colors are not available to be selected. For example, there is no "Burgundy" color option, so intead the color "Red" is selected for a burgundy shoe. Grade Chart Grade Description 10 Brand New 9 Like New, or Display Item 8 Used Several Times Only 7 Minor Scratches and/or Marks 6 Moderate Amount of Scratches and/or Marks 5 Many Scratches and/or Marks 4 Used a lot. Many Noticeable Scratches/or Marks 3 Heavily Used, Serviceable with Repair 2 Very Heavily Used, Serviceable with Repair 1 Obviously Damaged, May not be Repairable - ------ V Vintage Visit our store! 〉 © shoeslikeclockwork _gsrx_vers_1480 (GS 9.1.1 (1480))
Alden Men's 6845 - Full Strap Slip On - Black Shell Cordovan Size 9
Condition: Pre-owned
Size: 9 D
End: 2023-09-29 1:12 AM
Duration: 21 hr, 50 min
$120.00

Sold

Times Listed: 1
Alden Full Strap Penny Loafer Black Shell Cordovan leather uppers Vegetable Tanned Leather Insoles Single Oak Leather Outsoles Dovetail heels Aberdeen Last Alden Full strap slip-on penny loafer in Black shell cordovan. Using the centuries-old method of pure vegetable tanning and hand finishing, the single tannery still producing genuine shell cordovan today is indeed practicing a rare art. The final patina is also a lengthy finishing procedure achieved by years of know how at the Alden factory in handling this very special material. Vegetable tanned leather insoles provide comfort and long wear; it assumes over time the contours of your foot shape giving a truly custom quality to the fit. Beneath the insole is a layer of cork, providing additional resilience and insulation. Every Alden New England shoe carries a tempered steel shank, precisely contoured and triple ribbed for extra strength. Truly the backbone of a fine welt shoe or boot, the shank provides the proper support and shape required to give comfort throughout the day. Oak tanned leather bends are cut into outsoles at factory for maximum control of quality, crafted not only with good looks, but with the integrity of fine shoemaking, a special addition to your wardrobe.
Alden 6841 Cigar Shell Cordovan Full Strap Loafers 10 D w/ Box & Bags
Condition: Pre-owned
Size: 10 D
End: 2023-09-23 4:02 PM
Duration: 0 hr, 10 min
$329.99

Sold

Times Listed: 1
In great pre-owned condition with some marks from wear Comes with box and bags Please see pictures
READ DESCR | ALDEN 9E CIGAR SHELL CORDOVAN ANTIQUE EDGE FULL STRAP LOAFERS SHOES
Condition: Pre-owned
Size: 9 E
End: 2023-08-18 11:23 PM
Duration: 8 days, 19 hr, 17 min
$224.00

Sold

Times Listed: 1
shoeslikeclockwork Shoes LIke Clockwork READ DESCR | ALDEN 9E CIGAR SHELL CORDOVAN ANTIQUE EDGE FULL STRAP LOAFERS SHOES Marked Size: 9E Condition Grade: 1 Model: 6841 Last: Aberdeen Measurements: 12 1/8" by 4 1/4" Notes: Please note that these shoes have small surface tears that have formed at the side of the instep/strap on both shoes and at the back heel area of both shoes, in total there are 4 surface tears (2 on each shoe, each shown in photos 9 through 12). Shoes show creasing at the vamps and scuffing to the front toe area of both shoes. There are marks and scuffs to the back heel area of both shoes. Light water spotting present at both vamps. The footbeds have a noticeable imprint from previous use, and the soles are in fair condition and are beginning to feel soft with only about 25% of their original life remaining. The original heels are in good condition with light edge wear only. Shipping All customs duty, import fees, taxes, and other fees associated with importing footwear are the sole responsibility of the buyer. International Shipping is by USPS Priority International Mail unless otherwise agreed. As a commercial vendor we do not mark shipments with a low value or as a "Gift". All international shipments are fully insured up to the stated value of the shipment. Listing Notes Please note that shoe trees, shoe bags, shoe boxes, and other accessories are not included unless otherwise stated. Any stated color is an approximation, as how a color appears on screen and in person varies greatly depending on the settings, screen, and lighting conditions. Due to ebay's limited "Item Specifics" options, some colors are not available to be selected. For example, there is no "Burgundy" color option, so intead the color "Red" is selected for a burgundy shoe. Grade Chart Grade Description 10 Brand New 9 Like New, or Display Item 8 Used Several Times Only 7 Minor Scratches and/or Marks 6 Moderate Amount of Scratches and/or Marks 5 Many Scratches and/or Marks 4 Used a lot. Many Noticeable Scratches/or Marks 3 Heavily Used, Serviceable with Repair 2 Very Heavily Used, Serviceable with Repair 1 Obviously Damaged, May not be Repairable - ------ V Vintage Visit our store! 〉 © shoeslikeclockwork _gsrx_vers_1480 (GS 9.1.1 (1480))