Alden 740 Black Shell Cordovan Tassel Loafer
Additional Model Details:
Single Leather Outsole

270 Flat Welt
Alden 740 eBay Sales (last 50):
When you click on links to make a purchase, this can result in this site earning a commission from the eBay Partner Network.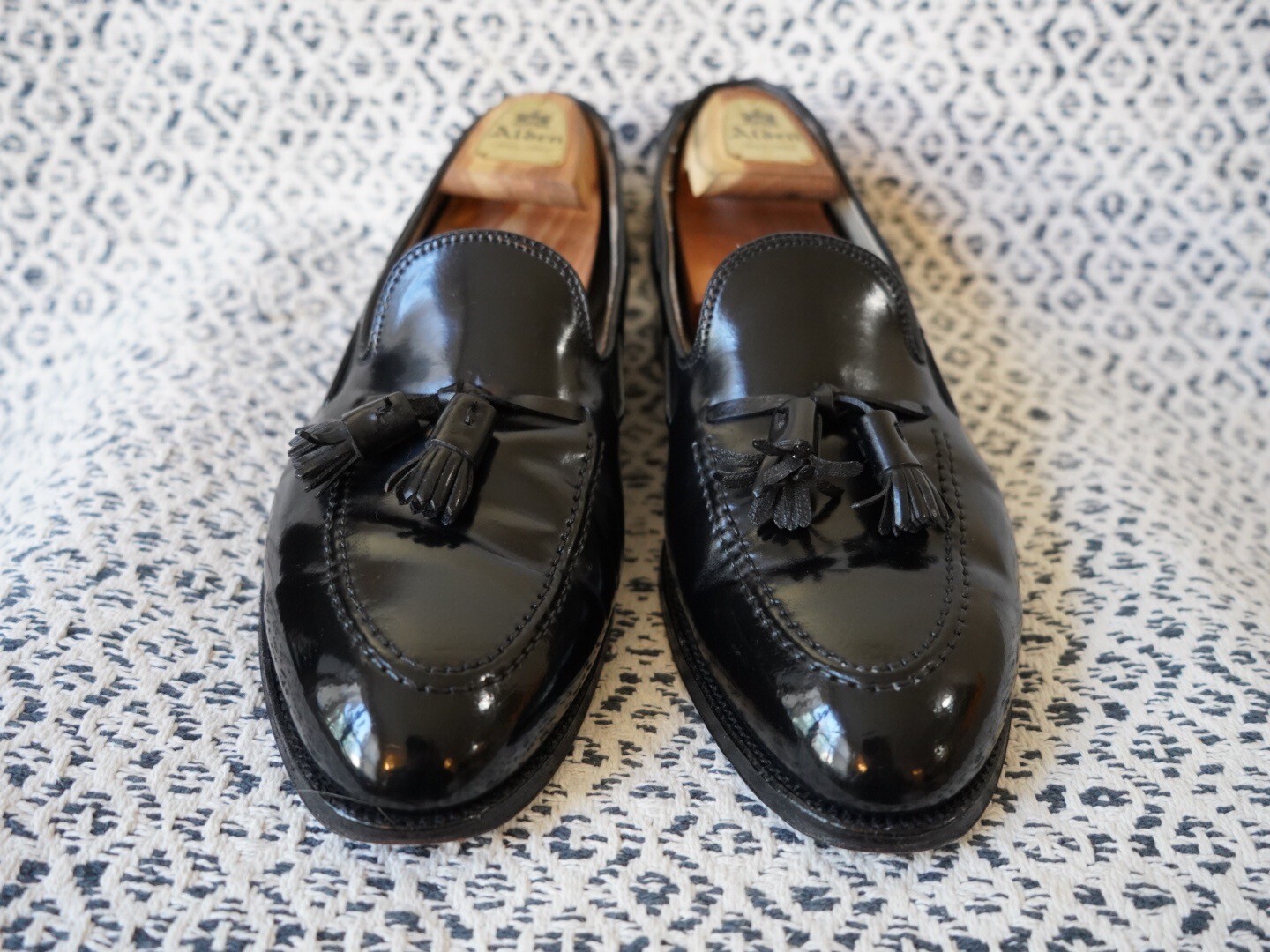 MINT! Alden Brooks Brothers 740 Shell Cordovan Black leather tassel loafers 10D
Condition: Pre-owned
Size: 10 D
Start: 2023-11-28 7:21 PM
$320.00

Active

Times Listed: 1
MINT condition Alden for Brooks Brothers 740 Shell Cordovan tassel loafers with beautiful shine. Size: 10D Condition: Excellent condition with no notable flaws. Soles have been just slightly worn out. Some minor scratches may exist around the shoes. For details, please check the pictures. Shoe trees NOT included.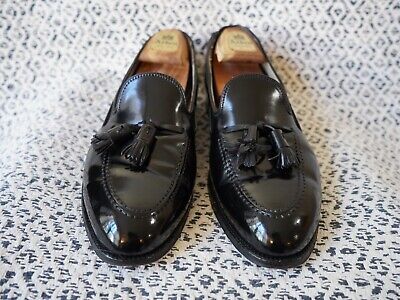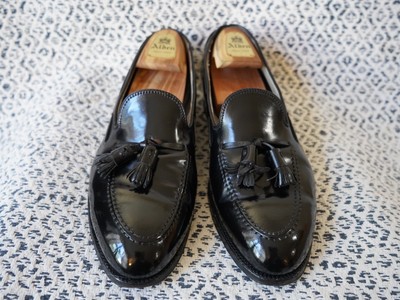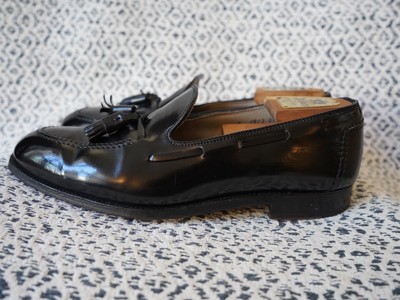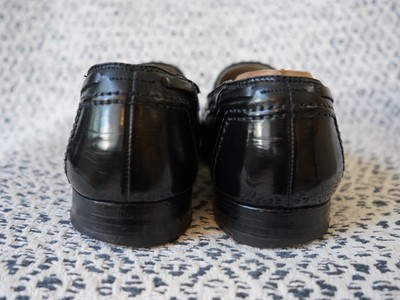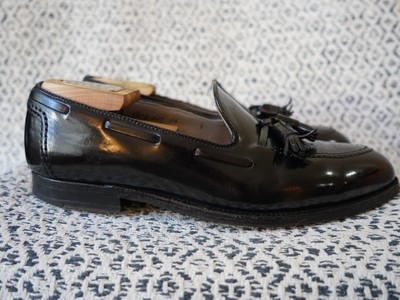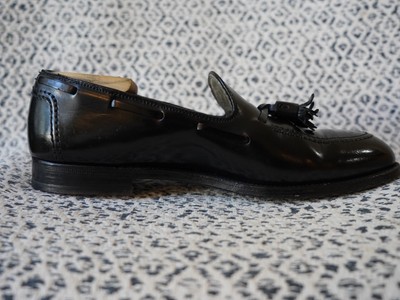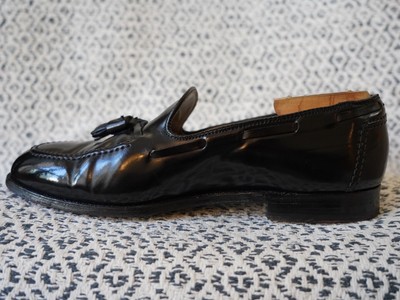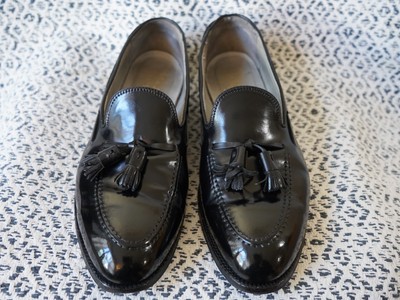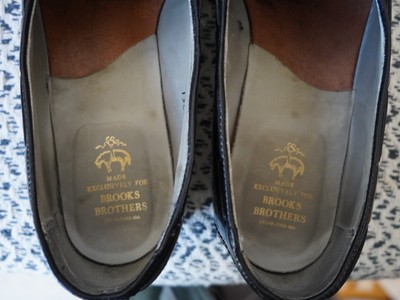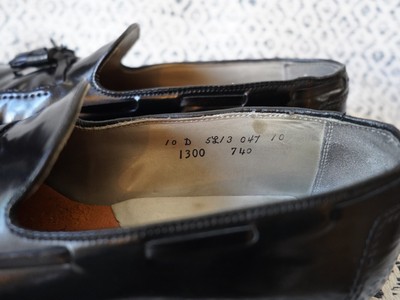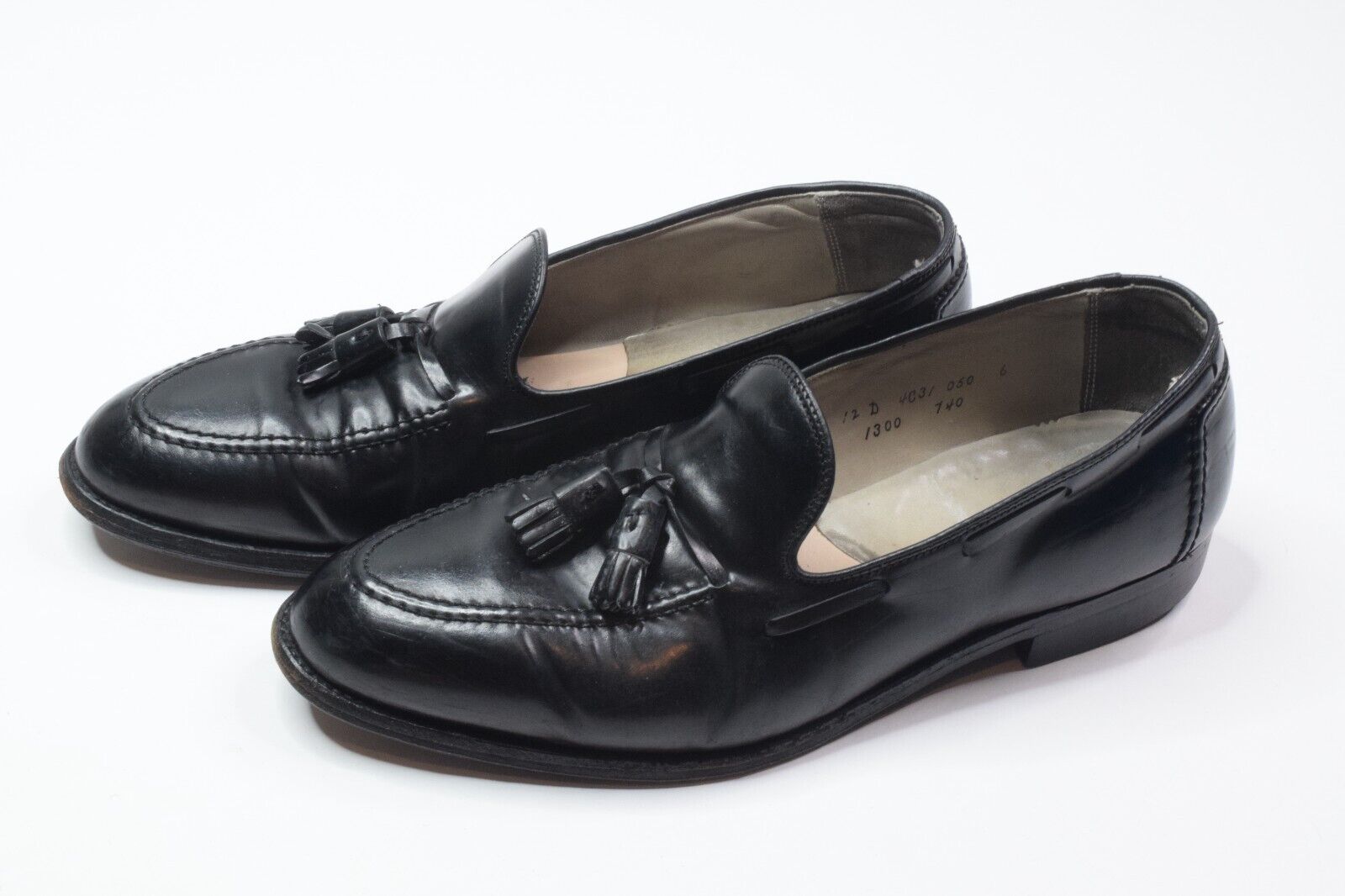 Alden x Brooks Brothers Tassel Loafers Mens 12D Black Shell Cordovan Slip-On 740
Condition: Pre-owned
Size: 12
Start: 2023-10-02 10:12 PM
$199.97

Active

Times Listed: 1
Gorgeous Alden x Brooks Brothers Tassle Loafers Black Shell Cordovan Slip-On 740 . Uppers show light scuffing and small wear. Heels show outer wear, and original soles show wear as well. Please reach out with any questions. Id be more than happy to assist! -Tony SHIPPING All shipments are sent by USPS Priority Mail or USPS Priority Express Mail. Due to value and weight, there may be additional shipping or insurance fees that apply after checkout. All deliveries made within the state of NY will have applicable sales tax. Any customs fees, if applicable, are the buyers sole responsibility. The condition rating above for pre-owned items may include small spots, runs, mends, alterations, or other wear associated with pre-owned items that may not be specifically mentioned. Items are sold per tagged size and measurements are listed as a guide only. PAYMENT Payment due within 7 days of auctions close. Combined shipping is possible ONLY for items ending the same day.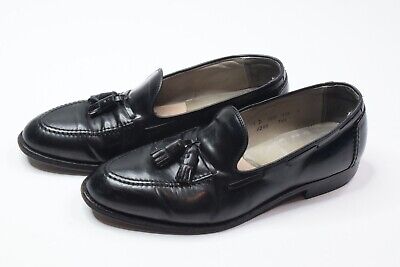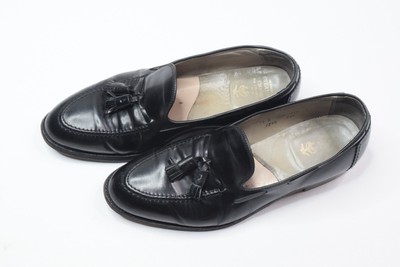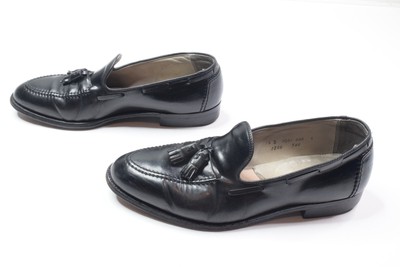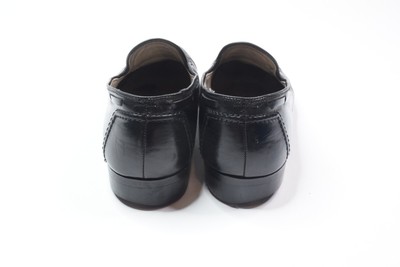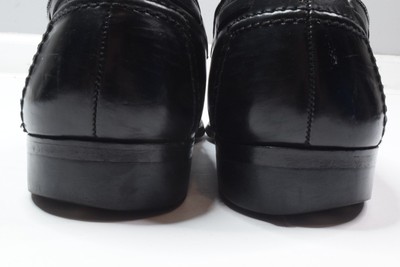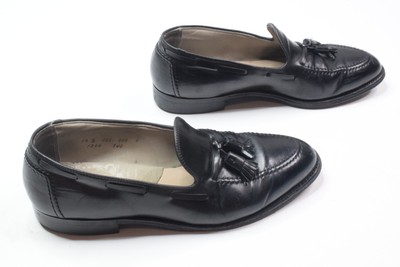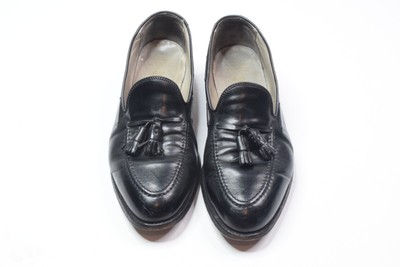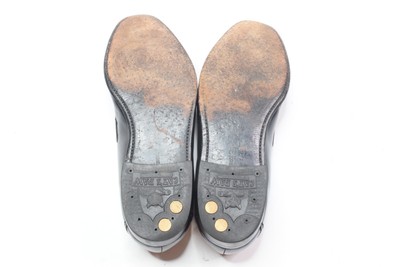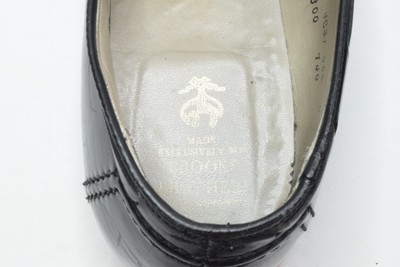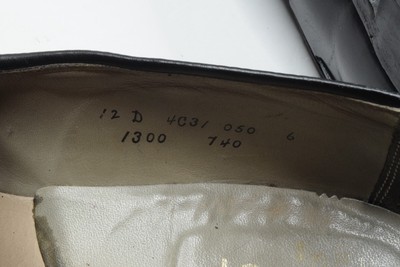 BROOKS BROTHERS 8.5D BLACK SHELL CORDOVAN TASSEL LOAFERS SHOES ALDEN
Condition: Pre-owned
Size: 8.5 D
End: 2023-11-07 9:34 PM
Duration: 7 days, 16 hr, 32 min
$50.00

Sold

Times Listed: 1
BROOKS BROTHERS 8.5D BLACK SHELL CORDOVAN TASSEL LOAFERS SHOES ALDEN
ALDEN x BROOKS BROTHERS 10D BLACK SHELL CORDOVAN TASSEL LOAFERS SHOES
Condition: Pre-owned
Size: 10 D
End: 2023-08-02 1:40 PM
Duration: 17 hr, 30 min
$114.00

Sold

Times Listed: 1
shoeslikeclockwork Shoes LIke Clockwork ALDEN x BROOKS BROTHERS 10D BLACK SHELL CORDOVAN TASSEL LOAFERS SHOES Marked Size: 10D Condition Grade: 6 Model: 740 Last: Aberdeen Measurements: 12 3/16" by 4 3/16" Notes: Please note, these shoes have been previously resoled. Shell cordovan uppers are in good condition with creasing at the vamps and light marks at the toes and light marks at the inside side of the back heel area. The footbeds have a noticeable imprint in line with what you would expect from a resoled shoe but not overly deep. The replacement outsoles show wear but remain very firm to the press. The replacement heels are unworn. Shipping All customs duty, import fees, taxes, and other fees associated with importing footwear are the sole responsibility of the buyer. International Shipping is by USPS Priority International Mail unless otherwise agreed. As a commercial vendor we do not mark shipments with a low value or as a "Gift". All international shipments are fully insured up to the stated value of the shipment. Listing Notes Please note that shoe trees, shoe bags, shoe boxes, and other accessories are not included unless otherwise stated. Any stated color is an approximation, as how a color appears on screen and in person varies greatly depending on the settings, screen, and lighting conditions. Due to ebay's limited "Item Specifics" options, some colors are not available to be selected. For example, there is no "Burgundy" color option, so intead the color "Red" is selected for a burgundy shoe. Grade Chart Grade Description 10 Brand New 9 Like New, or Display Item 8 Used Several Times Only 7 Minor Scratches and/or Marks 6 Moderate Amount of Scratches and/or Marks 5 Many Scratches and/or Marks 4 Used a lot. Many Noticeable Scratches/or Marks 3 Heavily Used, Serviceable with Repair 2 Very Heavily Used, Serviceable with Repair 1 Obviously Damaged, May not be Repairable - ------ V Vintage Visit our store! 〉 © shoeslikeclockwork _gsrx_vers_1480 (GS 9.1.1 (1480))
NEW SOLES | ALDEN BROOKS BROTHERS 10D BLACK SHELL CORDOVAN TASSEL LOAFERS SHOES
Condition: Pre-owned
Size: 10 D
End: 2023-07-29 11:31 PM
Duration: 2 days, 3 hr, 51 min
$184.00

Sold

Times Listed: 1
shoeslikeclockwork Shoes LIke Clockwork NEW SOLES | ALDEN BROOKS BROTHERS 10D BLACK SHELL CORDOVAN TASSEL LOAFERS SHOES Marked Size: 10D Condition Grade: 6 Model: 740 Last: Aberdeen Measurements: 12 1/4" by 4 3/16" Notes: Please note, these shoes have been resoled with new soles and heels. The quality of the resole work is acceptable, not great, but not poor either. The shell cordovan uppers are in good condition with no rips or tears with some creasing at the vamps. There are faint surface scuffs and marks at the insid eback heels and at the outside side of the right heel where the upper is scratched most likely from the cobbler during the resole. The footbeds are original to the shoes and have an impression consistent from previous use but it is not a heavy impression. The new heel and sole appear to be of decent quality. These shoes come with their original box, but please note that the box is in fair condition as there is writing on several panels and packaging tape over the lid and sides. Shipping All customs duty, import fees, taxes, and other fees associated with importing footwear are the sole responsibility of the buyer. International Shipping is by USPS Priority International Mail unless otherwise agreed. As a commercial vendor we do not mark shipments with a low value or as a "Gift". All international shipments are fully insured up to the stated value of the shipment. Listing Notes Please note that shoe trees, shoe bags, shoe boxes, and other accessories are not included unless otherwise stated. Any stated color is an approximation, as how a color appears on screen and in person varies greatly depending on the settings, screen, and lighting conditions. Due to ebay's limited "Item Specifics" options, some colors are not available to be selected. For example, there is no "Burgundy" color option, so intead the color "Red" is selected for a burgundy shoe. Grade Chart Grade Description 10 Brand New 9 Like New, or Display Item 8 Used Several Times Only 7 Minor Scratches and/or Marks 6 Moderate Amount of Scratches and/or Marks 5 Many Scratches and/or Marks 4 Used a lot. Many Noticeable Scratches/or Marks 3 Heavily Used, Serviceable with Repair 2 Very Heavily Used, Serviceable with Repair 1 Obviously Damaged, May not be Repairable - ------ V Vintage Visit our store! 〉 © shoeslikeclockwork _gsrx_vers_1480 (GS 9.1.1 (1480))