Alden 7505Y Black Shell Cordovan Apron Toe Blucher
Additional Model Details:
TruSquare Last

Single Leather Outsole

360 Pre-Stitched Reverse Welt

Extended Welt Sole
Alden 7505Y eBay Sales (last 50):
When you click on links to make a purchase, this can result in this site earning a commission from the eBay Partner Network.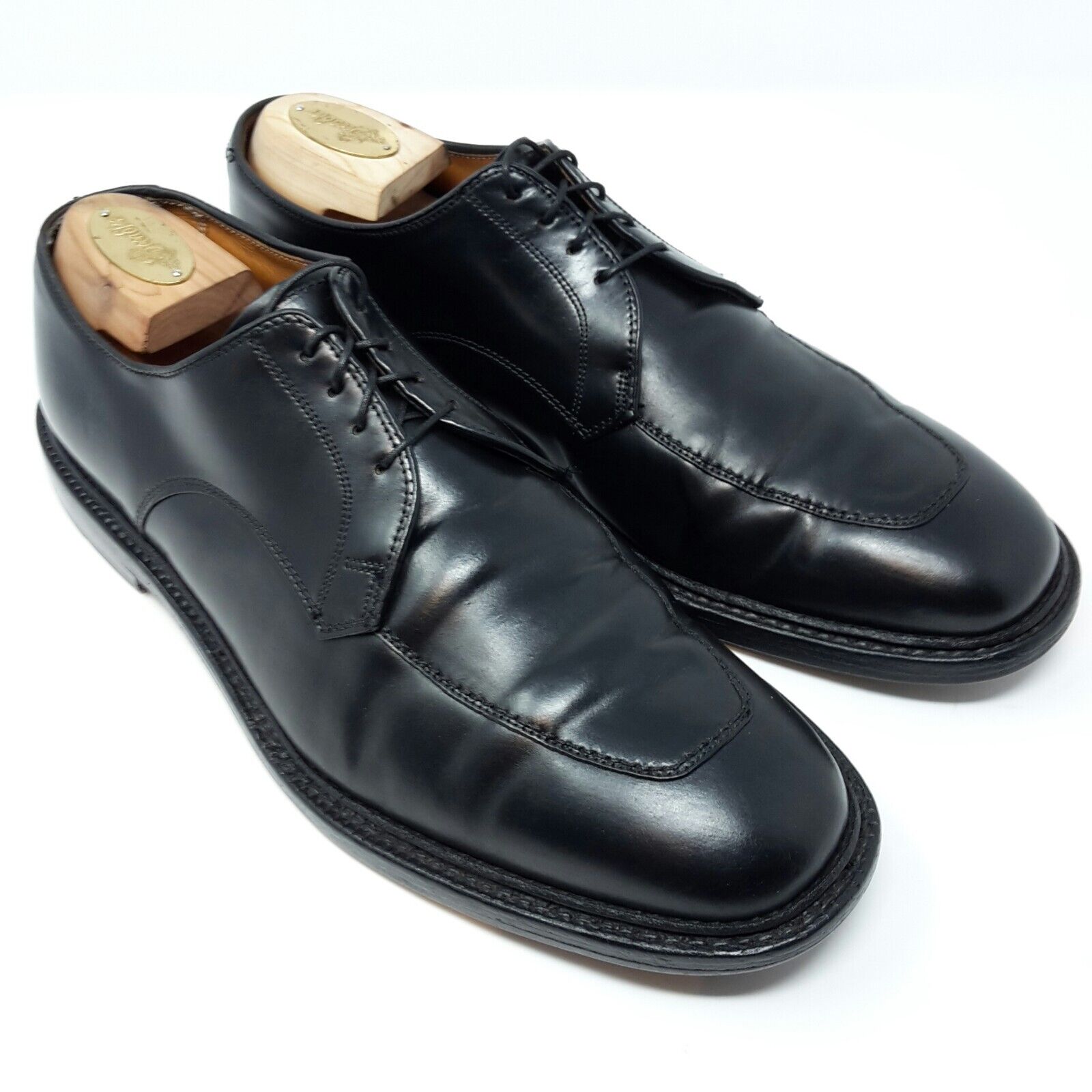 Alden 7505Y Apron Toe Blucher 'Black Shell Cordovan' (EU 46 UK 11.5 US 12 C/E)
Condition: Pre-owned
Size: 12 C/E
Start: 2023-02-21 12:49 PM
159.00 EUR

Active

Times Listed: 1
Alden 7505Y Apron Toe Blucher 'Black Shell Cordovan' (EU 46 UK 11,5 US 12 C/E) Die Schuhe wurden professionell von Hand gereinigt, gepflegt und geschützt mit Saphir MdO Crème Cordovan (01 Schwarz) Artikelzustand: OK (Der Artikel wurde getragen, starke Gebrauchsspuren) - ohne Schuhspanner/without shoe trees Alden 7505Y Apron Toe Blucher 'Black Shell Cordovan' (EU 46 UK 11,5 US 12 C/E) ALDEN 7505Y APRON TOE BLUCHER MADE IN THE USA EXPRESSLY FOR ULI KNECHT LEATHER Black Shell Cordovan SOLE Double oak leather outsoles CONSTRUCTION 360-degree pre-stitched reverse welt Extended welt LAST Trusquare last "Using the centuries-old method of pure vegetable tanning and hand finishing, the single tannery still producing genuine shell cordovan today is indeed practicing a rare art. The tanning process takes a full six months to complete and produces leather that is soft and supple, yet very durable. Alden stands as the acknowledged master in working and finishing this special leather into extraordinary footwear. Cordovan demands the measured pace of hand shoemaking and patient finishing, responding to such careful work with unmatched luster. Over time, the patina in Alden's genuine shell cordovan shoes will only improve, deepening with each polishing and showing to full advantage the especially rich character of the leather. As durable and comfortable to wear as they are beautiful to look at, genuine shell cordovan shoes truly are Alden's masterworks." The Alden Shoe Company was founded in 1884 by Charles H. Alden in Middleborough, MA. Wenn Sie Fragen haben, bin ich gern bereit, diese zu beantworten.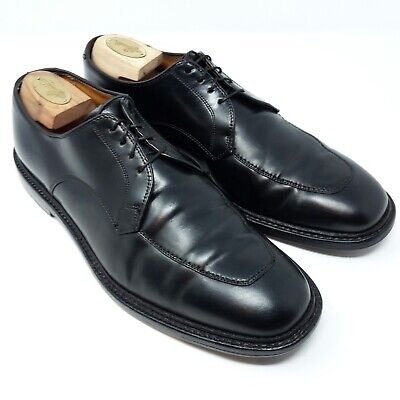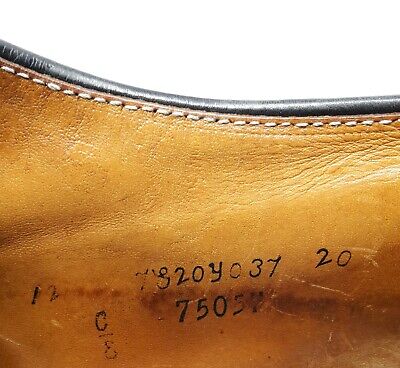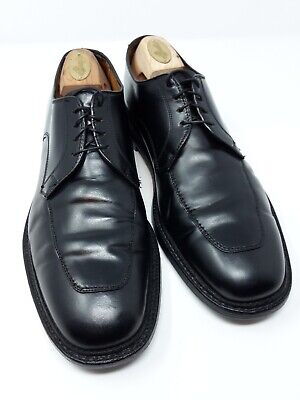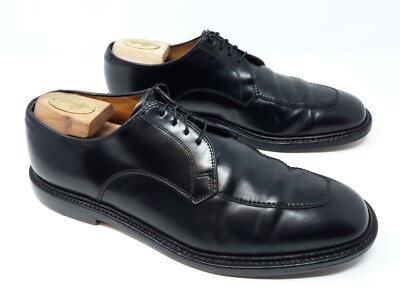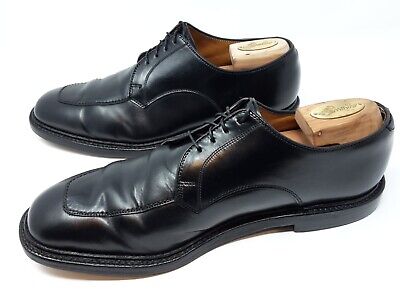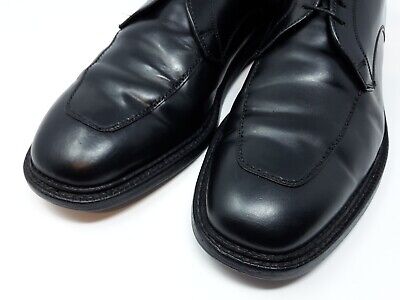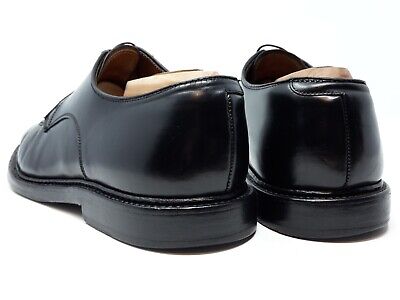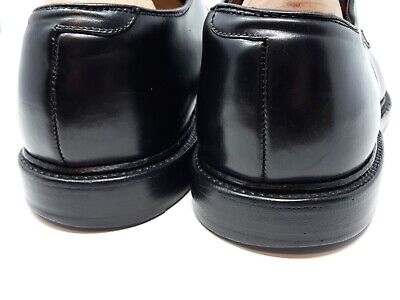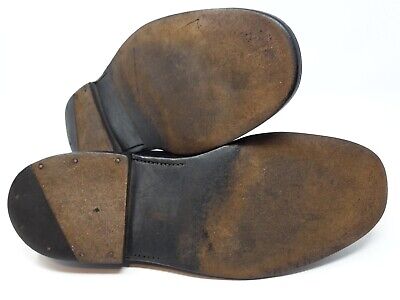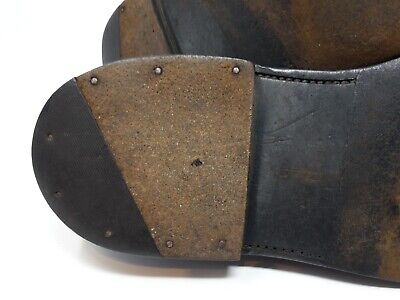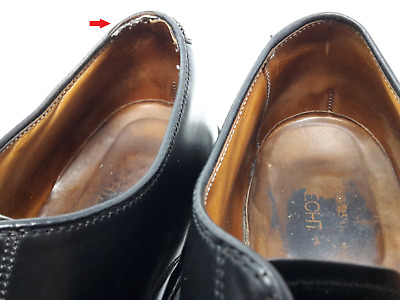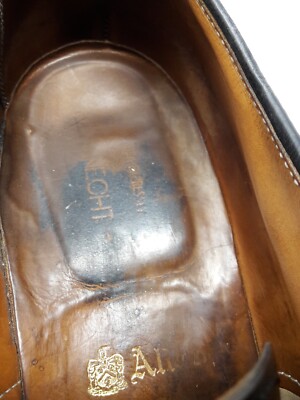 ALDEN /Cordovan Norwegian Blucher / 11 C/E / TOP-Zustand / schwarz
Condition: Pre-owned
Size: 11
End: 2021-05-02 1:45 PM
Duration: 19 days, 17 hr, 24 min
159.00 EUR

Sold

Times Listed: 1
Zum Angebot steht ein gebrauchtes Paar "Norwegian Blucher" der US-amerikanischen Schuhmarke ALDEN Größe 11.0 C/E /44.5 Pferdeleder Schwarz Sohle und Absätze sehr guter Zustand. Angebot wie abgebildet (ohne Schuhspanner). Mit Abgabe Ihre Gebotes/Preisvorschlages erkennen Sie die folgenden AGBs an: 1. Ich agiere nicht als gewerblicher Händler, sondern handele nach BGB als Privatperson. Hieraus folgt, dass ich das nach EU-Recht vorgeschriebene Umtauschrecht auf alle hier angebotenen Produkte ausschließe. 2. Bei den von mir angebotenen Markenartikeln handelt es sich um Originale. Die Angaben über den angebotenen Artikel sind nach bestem Wissen und Gewissen gemacht worden. Sollte es trotz meiner sorgfältigen Prüfung doch einmal zu einem Fehler meinerseits gekommen sein, bitte ich um sofortige Kontaktaufnahme, um eine für beide Seiten zufriedenstellende Lösung des Problems zu erzielen. 3. Mit Abgabe eines Gebots nimmt der Bieter den Haftungsausschluss und die AGB von eBay an und akzeptiert, dass es sich bei einer Auktion um eine Versteigerung im Sinne des § 3 Abs. 5 Fernabsatzgesetz handelt und dem Höchstbietenden kein Widerrufsrecht gemäß dem Fernabsatzgesetz zusteht. 4. Da es sich um einen Privatverkauf handelt, gehen Sie mit der Abgabe eines Gebotes eine Kaufverpflichtung ein und verzichten ausdrücklich auf jegliche Gewährleistung, sowie Rückgabe und Umtausch. 5. Damit für beide Seiten die Transaktion in einer angenehmen Atmosphäre verläuft, erfolgt der Versand ausschließlich als versichertes Paket über DHL. Der Versandcode wird dem Käufer nach Versand zur Sendungsverfolgung aufgegeben.
Alden Shoes Trusquare Last Overlay Tie Black Shell Cordovan Dress 8E 8 C/E
Condition: Pre-owned
Size: 8 Wide (E,W)
End: 2015-07-13 2:49 PM
Duration: 14 days, 12 hr, 56 min
$350.00

Sold

Times Listed: 1
Alden Trusquare Last Overlay Tie Black in Shell Cordovan. Rare shoes.  Kept in great condition and comes free with Alden shoe trees, Alden shoe bags. I am a trusted seller, look at my 100% positive feedback both buying and selling.