Alden 763 Color 8 Shell Cordovan LHS / Penny Loafer
Additional Model Details:
Single Leather Outsole

360 Flat Welt

Full leather heel

Handsewn vamp

Unlined Vamp
Alden 763 eBay Sales (last 50):
When you click on links to make a purchase, this can result in this site earning a commission from the eBay Partner Network.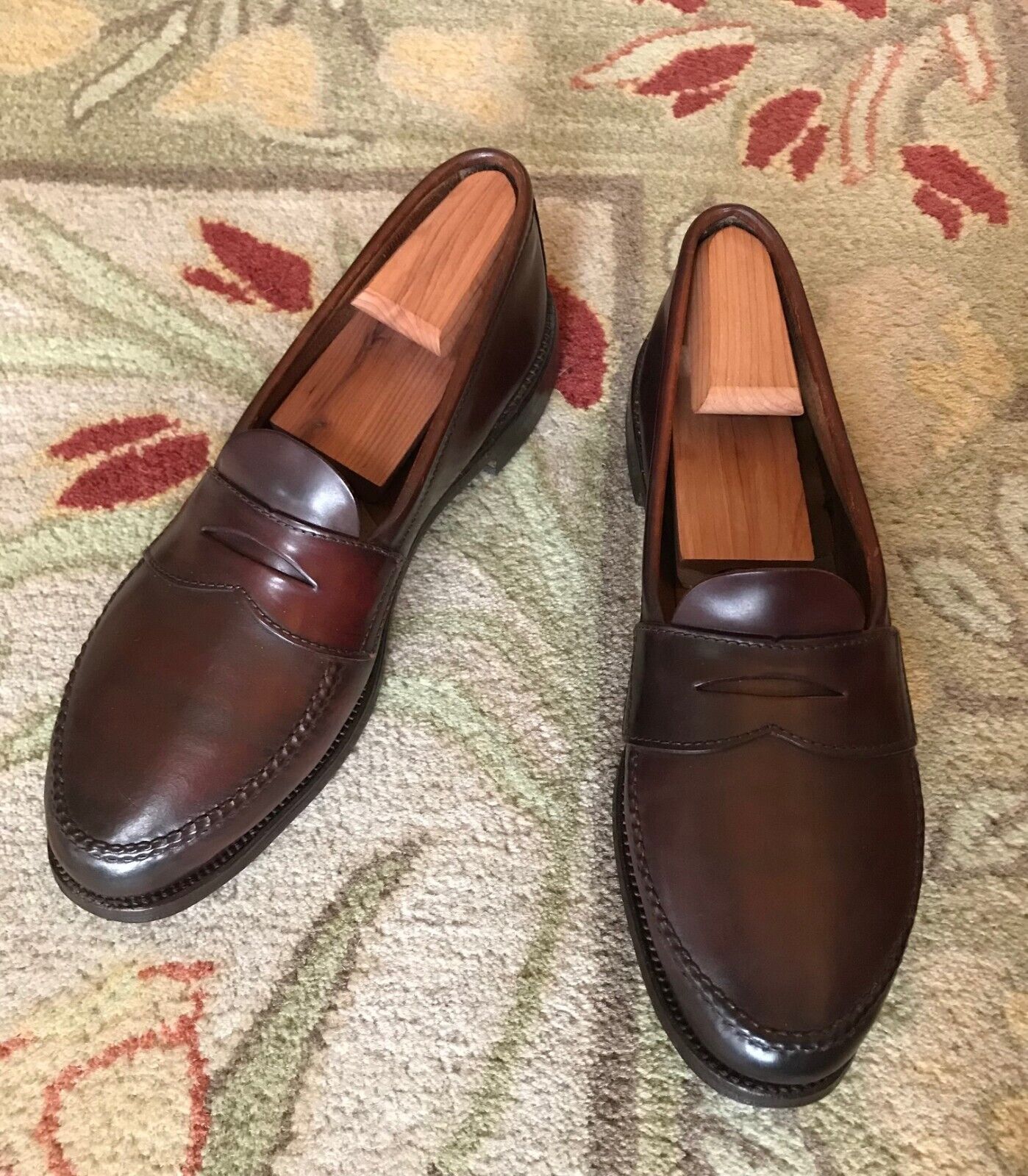 BROOKS BROTHERS x ALDEN 8 1/2 A Shell Cordovan Penny Loafers | Horween Color 8.
Condition: Pre-owned
Size: 8.5 A
Start: 2023-09-25 10:02 PM
$250.00

Active

Times Listed: 1
Brooks Brothers by Alden penny loafers in Horween Shell Cordovan #8 and a size 8 1/2 A. They were purchased at the Brooks Brothers flagship store at 44th and Madison and are "vintage" from a time when Alden produced an even better shoe than it does today. They are the famous #763. The closest model today retails north of $850. Please note that the shoes have their original soles in decent condition (50% +/- life left) but the original heels were replaced last week. They do have a few minor scuffs and creases (see photos) but are in generally good condition. They are being sold "as is/are" Shoe trees will be included if you want them. Maybe because the are unlined (typical of Alden for Brooks Brothers) I find the width fits me (I'm a B width) but the length is a tad snug (I'm a 9). These are from a smoke free house but we do have two dogs. That said, the shoes are kept in a closet away from the dogs. I relate this for people who may suffer allergies. Please don't hesitate to ask questions. But please note I am not a business and only look at my eBay account once or twice a day. It may take me up to 24 +/- hours to respond.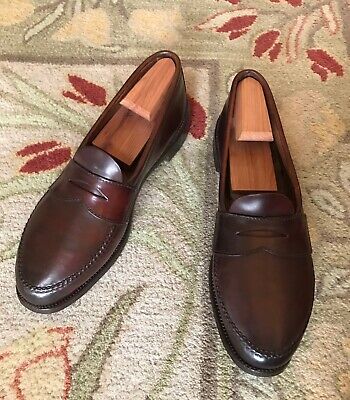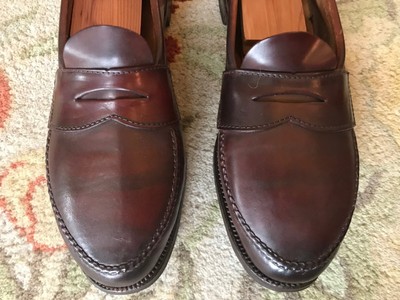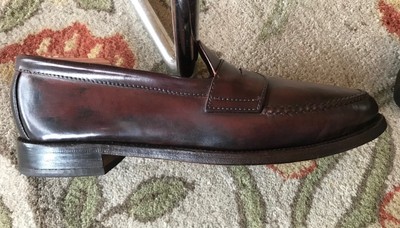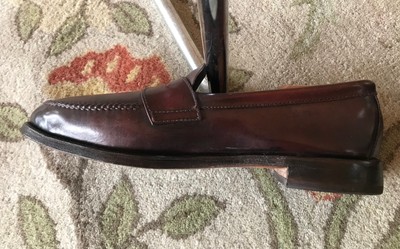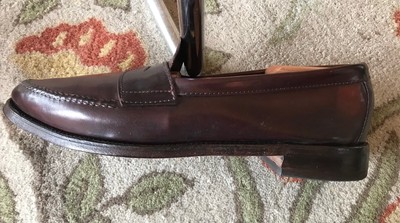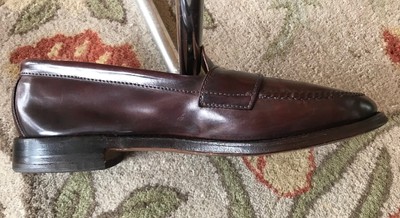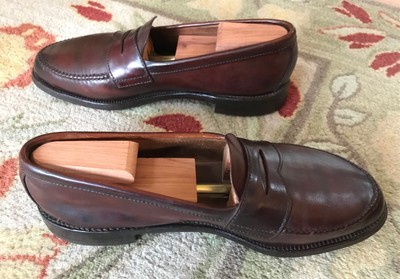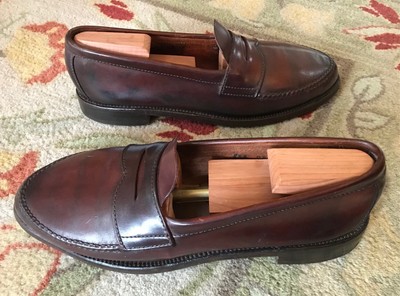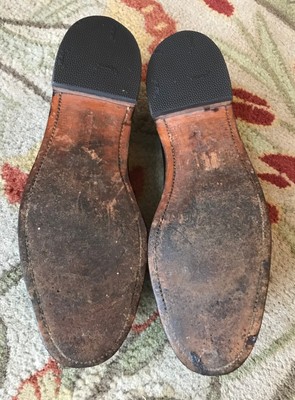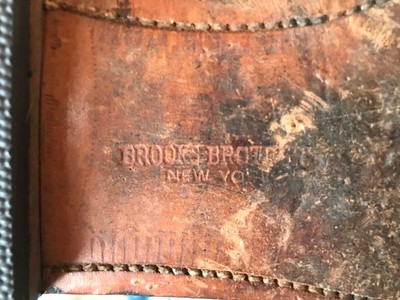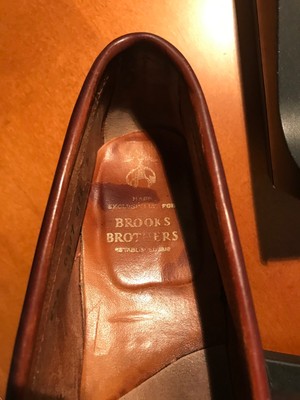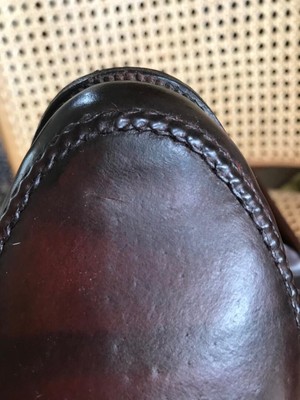 Men's Brooks Brothers Shell Cordovan Penny Loafers 10.5 C
Condition: Pre-owned
Size: 10.5 C
End: 2023-12-07 8:04 PM
Duration: 10 days
$127.50

Sold

Times Listed: 1
Beautiful shell cordovan leather loafers made exclusively for Brooks Brothers, size 10.5C. Original leather soles and heels. Note: The stacked leather heels on both shoes show some separation of the leather layers. The heels seem to still be otherwise secure and in no imminent danger of coming apart. See pics. Please let me know if you have any questions before bidding.
ALDEN x BROOKS BROTHERS 7.5D UNLINED #8 SHELL CORDOVAN LOAFERS SHOES 763
Condition: Pre-owned
Size: 7.5 D
End: 2023-11-25 6:11 PM
Duration: 3 hr, 25 min
$198.00

Sold

Times Listed: 1
Shoes Like Clockwork Shoes LIke Clockwork ALDEN x BROOKS BROTHERS 7.5D UNLINED #8 SHELL CORDOVAN LOAFERS SHOES 763 Marked Size: 7.5D Condition Grade: 5 Model: 763 Last: Van Measurements: 11 7/16" by 4" Notes: Made by Alden for Brooks Brothers in unlined Horween shell cordovan with a partially visible Horween stamp at the inside side of the right shoe. There is a long scratch at the front of the left toe and light marks at the toes and at the back heel area of both shoes. The stitching at the inside of the right heel is frayed and as a result the stitches are coming free at the back of the right heel, a repair that can be addressed by a cobbler without to much difficulty. These shoes have been previously resoled and the replacement soles are firm to the press with approximately 60-70% of their life remaining. The replacement heels are worn through almost to the leather heel stack and will need to be replaced in the near future. These shoes do have a noticeable foot imprint consistent with a resoled shoe. Shipping All customs duty, import fees, taxes, and other fees associated with importing footwear are the sole responsibility of the buyer. International Shipping is by USPS Priority International Mail unless otherwise agreed. As a commercial vendor we do not mark shipments with a low value or as a "Gift". All international shipments are fully insured up to the stated value of the shipment. Listing Notes Please note that shoe trees, shoe bags, shoe boxes, and other accessories are not included unless otherwise stated. Any stated color is an approximation, as how a color appears on screen and in person varies greatly depending on the settings, screen, and lighting conditions. Due to ebay's limited "Item Specifics" options, some colors are not available to be selected. For example, there is no "Burgundy" color option, so intead the color "Red" is selected for a burgundy shoe. Grade Chart Grade Description 10 Brand New 9 Like New, or Display Item 8 Used Several Times Only 7 Minor Scratches and/or Marks 6 Moderate Amount of Scratches and/or Marks 5 Many Scratches and/or Marks 4 Used a lot. Many Noticeable Scratches/or Marks 3 Heavily Used, Serviceable with Repair 2 Very Heavily Used, Serviceable with Repair 1 Obviously Damaged, May not be Repairable - ------ V Vintage Visit our store! 〉 © Shoes Like Clockwork _gsrx_vers_1480 (GS 9.1.1 (1480))
ALDEN BROOKS BROTHERS 12 D 763 LOAFERS #8 SHELL CORDOVAN MENS SHOES USA ORIGINAL
Condition: Pre-owned
Size: 12 D
End: 2023-11-25 1:27 PM
Duration: 62 days, 13 hr, 41 min
$389.00

Not Sold

Times Listed: 1
Alden 763 #8 shell cordovan half strap loafers in size 12 D made for Brooks Brothers of New York. These are very similar to Alden's leisure penny loafers. A super comfortable loafer that fits true to size. There is some splitting of the shell cordovan on the left shoe as seen in picture number three. It is not very noticeable and is on the inside back, but I want to call your attention the the issue. The inside of the left shoe has printing that shows in black print parts of "Horween Shell" which seems to indicate the authentic use of shell cordovan. The insides are clean with no odors and the uppers have a nice subtle patina overall. These come from a smoke-free home and I have included a generic black shoe bag to go with them. Nice original pre-owned shoes that would be a nice to wear casually or for dress. I will provide free shipping. Please e-mail with questions, and i thank you for looking.
Alden for Brooks Brothers LHS Loafer - Color 8 Shell Cordovan Model 763 9.5D
Condition: Pre-owned
Size: 9.5 D
End: 2023-11-12 5:02 PM
Duration: 6 days, 15 hr, 38 min
$250.00

Sold

Times Listed: 1
A pair of gorgeous Alden for Brooks Brothers Color 8 Shell Cordovan LHS loafers. Beautiful shell in Alden's signature color 8. Soles have some wear, but these are resoleable, of course. Some minor wear to threads, but plenty of life left in these loafers. Shoe trees not included. Size 9.5D (B/D).