Alden 86262C Brown Suede Plain Toe Boot
Additional Model Details:
Alden 86262C eBay Sales (last 50):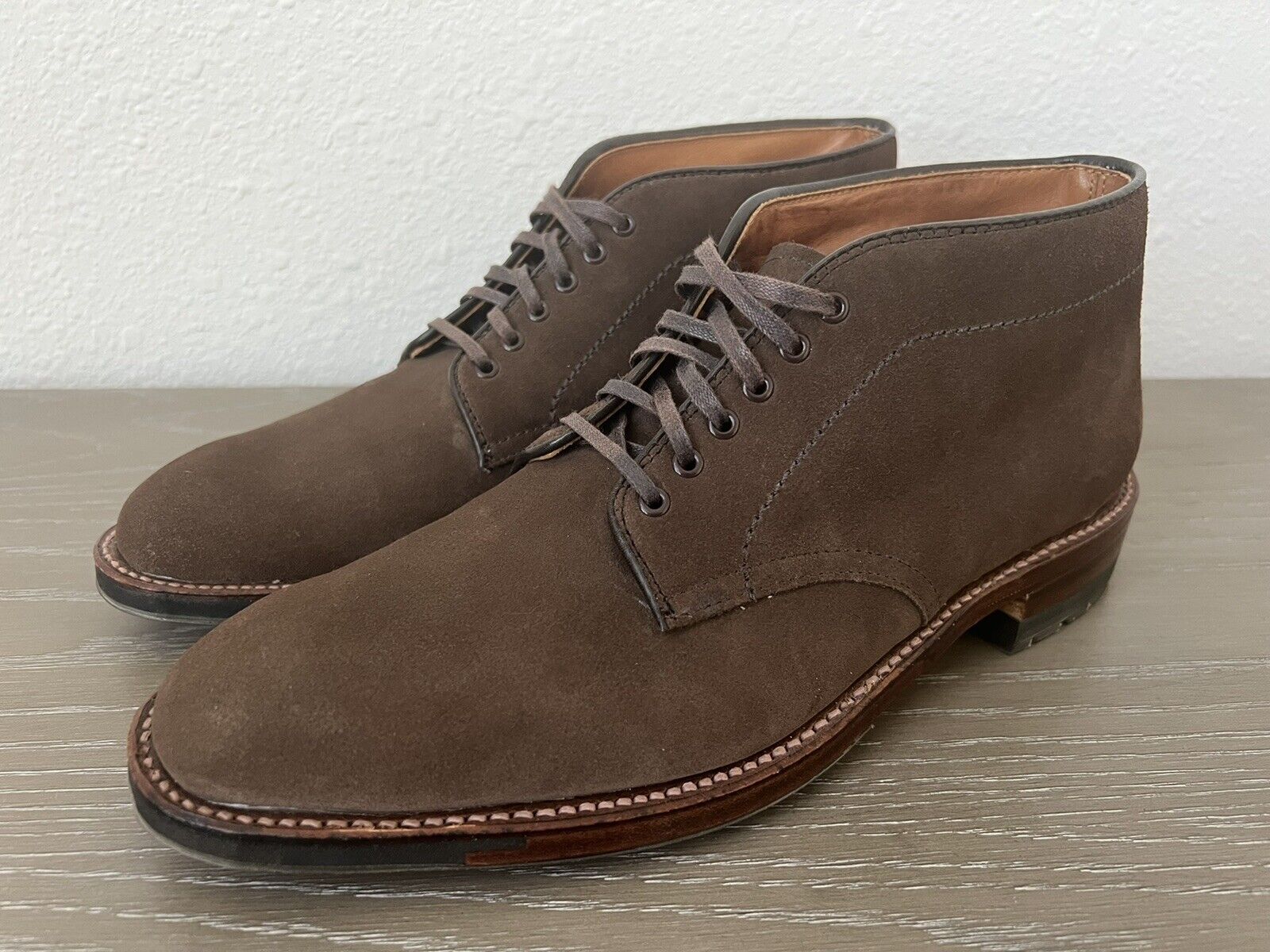 Alden Six Eyelet Plain Toe Suede Chukka Plaza Last size 9D
Condition: New
Size: 9
Start: 2022-11-13 3:32 AM
$500.00

Active

Times Listed: 1
Alden Six Eyelet Plain Toe Suede Chukka Chocolate Suede Plaza Last Size 9D Commando Sole Style 86262C Condition: new with box. Only tried on in home for sizing.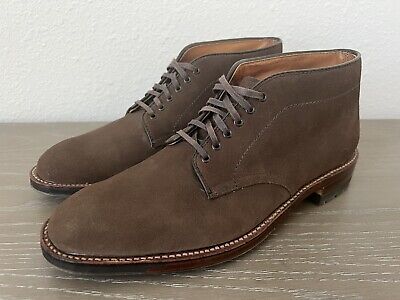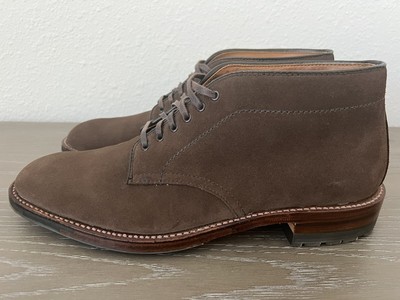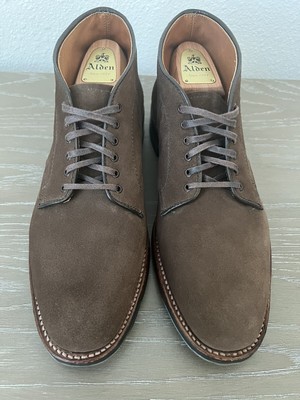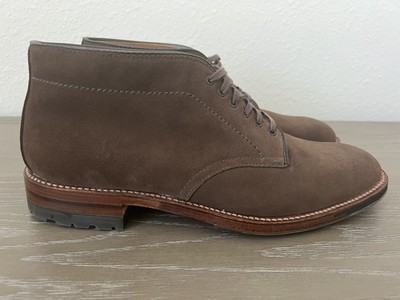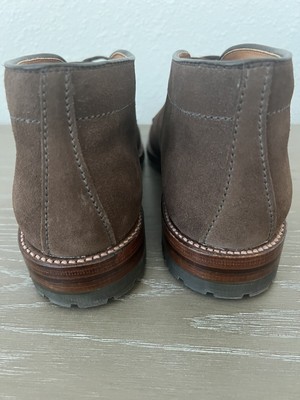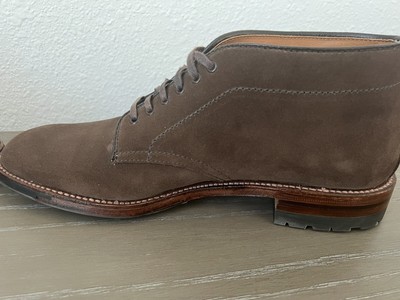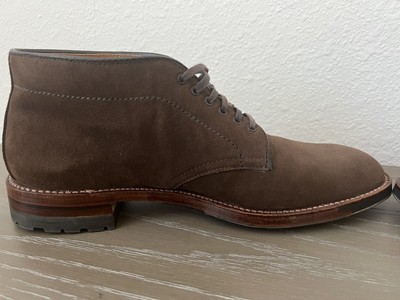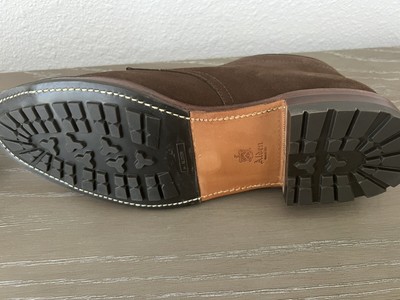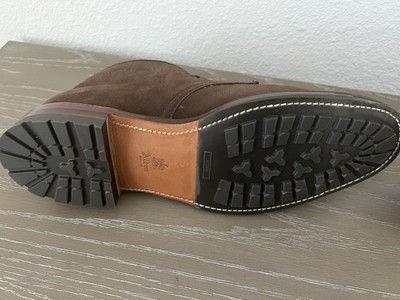 Alden Six Eyelet Chukka Brown Suede Plaza Last (11 B/D)
Condition: Pre-owned
Size: 11 D
End: 2022-07-29 1:13 PM
Duration: 6 days, 17 hr
$160.00

Not Sold

Times Listed: 4
Up for sale is a pair Alden six-eyelet chukkas (model #8262C). They are size 11 b/d (heel and midsole widths). I think these were made exclusively for J Gilbert (perhaps now closed?). The chukkas are made of brown suede with a leather sole that includes Alden's commando heel and front sole overlay. These are on Alden's Plaza last, which fits quite a bit different than the Barrie or Trubalance lasts (more narrow in the heel and midsole). These are used with a little wear on the heel edges and toes. Please review the photos carefully as what you see if what you will receive (except that the shoe trees are not included!). Please know your size and fit, as returns are not accepted.
ALDEN Brown Suede 6 Eyelet Chukka Boots Mens 10E (10 Wide) - NEW.
Condition: New
Size: 10 Wide (E, W)
End: 2019-03-05 12:08 AM
Duration: 2 days, 3 hr, 47 min
$595.00

Sold

Times Listed: 1
A brand new pair of Alden 6 Eyelet Chukka boots. Model #86262C. These boots are lovingly crafted in a brown suede and Alden's own "commando" sole. Size is a Men's 10E. These were purchased at the J Gilbert Footwear in Seattle before that store closed, and the boots have never been worn outside of the store. As indicated by the text that is printed on the inside of the boots, these were an exclusive to J Gilbert Footwear at the time. USA buyers only, please. Sold 'As Is'. All Sales Are Final. No Returns. Thanks for looking!
Alden J. Gilbert Chocolate Suede Chukka Boots 7.5D Plaza Last
Condition: Pre-owned
Size: 7.5 Medium (D, M)
End: 2016-02-11 6:55 PM
Duration: 12 hr, 47 min
$225.00

Sold

Times Listed: 2
Alden Gilbert Chocolate Suede Chukka 7.5D Plaza Last. Six Eyelet. Commando sole. First set of photos are before the shoes were clean. The second set shows them clean. Pardon the change in lighting as it went from natural to indoor lights. Shoes will come with a set of red laces and black laces. Shoe trees not included.
Alden Mens Chukka Boot 7.5 B/D Brown Suede Plaza Last
Condition: Pre-owned
Size: 7.5 B/D
End: 2015-09-30 7:40 PM
Duration: 19 hr, 17 min
$199.00

Sold

Times Listed: 8
FABULOUS Alden for J Gilbert 6 Eyelet Brown Suede Chukka Boot 7.5 B/D Plaza Last with Commando Sole. CURRANT style in store to order for $ 595.00 new. These boots show very little wear and are in excellent well cared for CLEAN condition. The back of the heels on the bottom show walking wear, if that will bother you please don't buy them. If it wont bother you then you get a great shoe at an incredible price. Shoe trees are not included. Measurements: Length 11 3/4" Width 4" I carefully wrap my shoes before shipping. Respectfully. Joyce