Alden 9341 Black Shell Cordovan Plain Toe Bal
Additional Model Details:
Single Leather Outsole

270 Flat Welt
Alden 9341 eBay Sales (last 50):
When you click on links to make a purchase, this can result in this site earning a commission. Please see our affiliate disclosure policy.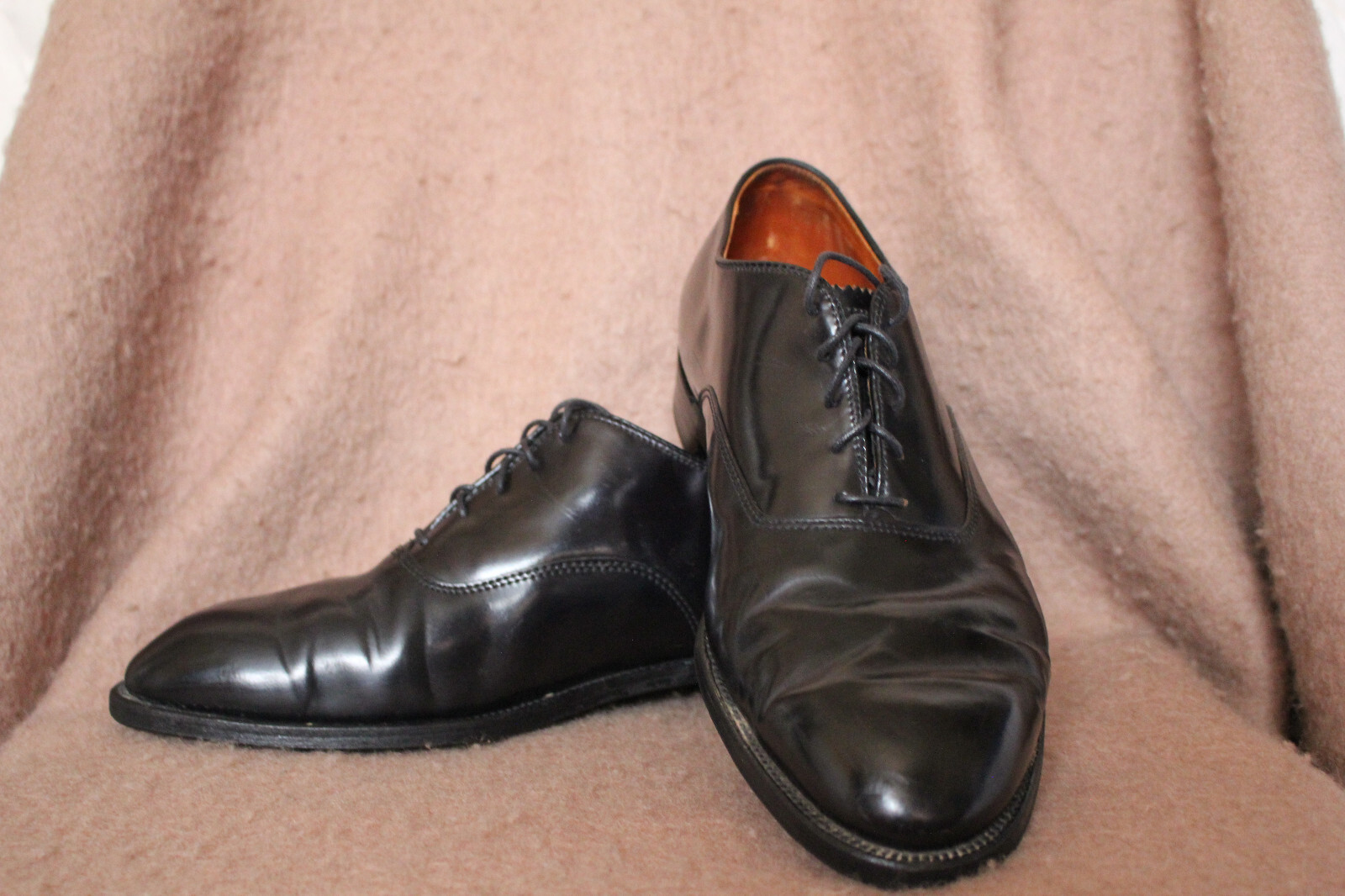 Alden New England Black Shell Cordovan 11.5 E / EEE Wide Plain Toe Dress VTG EUC
Condition: Pre-owned
Size: 11.5 EEE
Start: 2023-08-19 3:08 AM
$249.99

Active

Times Listed: 1
Item Description: Shoes are in good used condition: 8.5/10 Valleys in some sections as consistent with shell cordovan. Scuffing as shown but no cracking. Lots of life left Signs of wear on insoles and outsoles. General Information: Shoe trees are not included. Buyer will receive item in pictures. Shipments are sent by USPS Priority Flat Rate. There may be additional shipping or insurance fees. International deliveries will not have lower declared values on customs forms and customs fees are the buyers responsibility. The condition rating includes cosmetic imperfections like scratches, scuffs and other forms of wear that may not be specifically mentioned or photographed. Items are sold as their tagged size which should be used as a guide. Measurements are approximate.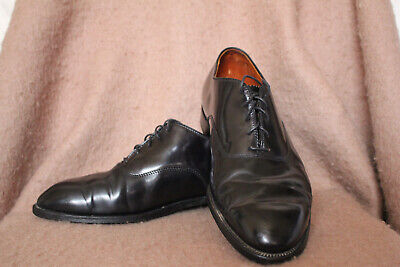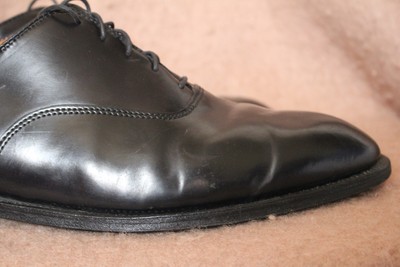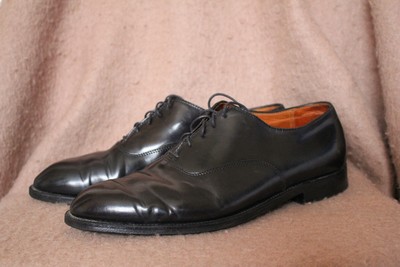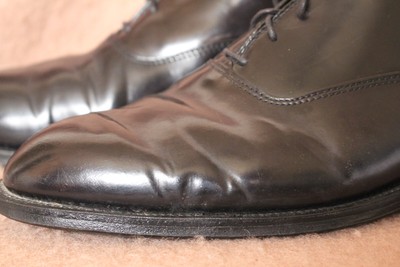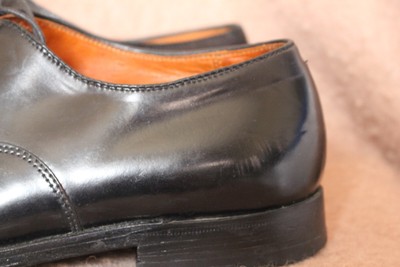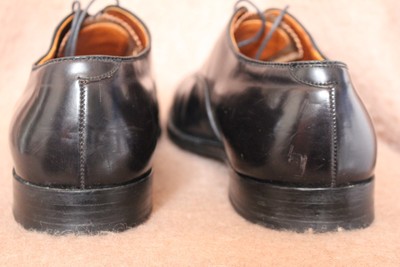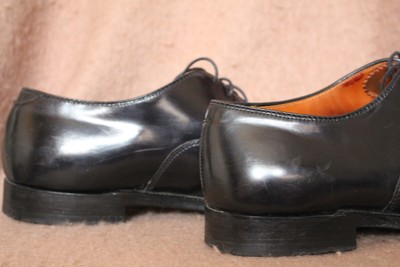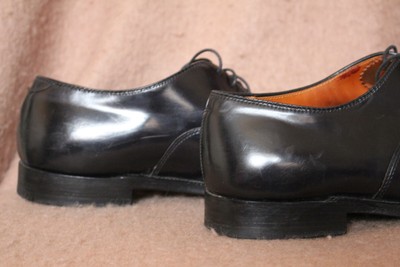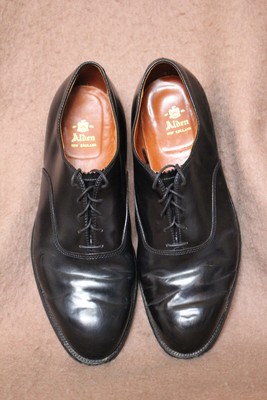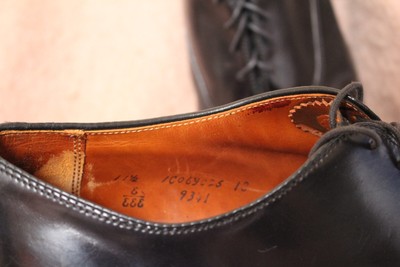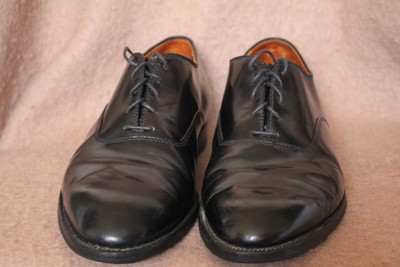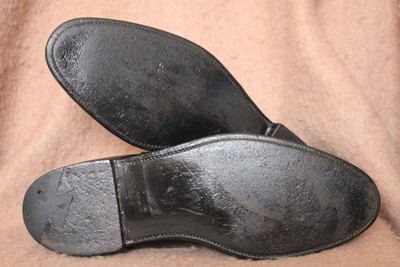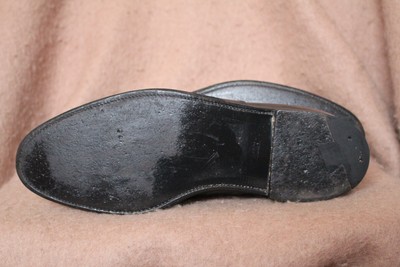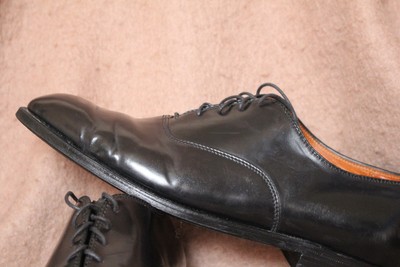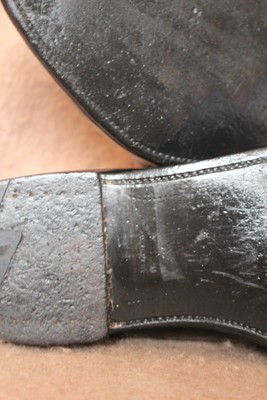 Alden 9341 Shell Cordovan Aberdeen Men's Oxfords Dress Shoes Sz 10 D Black
Condition: Pre-owned
Size: 10 D
End: 2023-09-09 2:44 PM
Duration: 3 days, 1 hr, 5 min
$172.80

Sold

Times Listed: 3
We ship fast, same day or next day. We usually ship on Saturdays also! Get your items fast! Tag Size : Men's Size US 10 D Color : Black Description: Leather upper Synthetic sole Round toe Lace-up closure Leather lining Condition: Very good condition. May have minor marks as seen in pictures. Plenty of life on uppers and soles. See detailed photos. Inv # 2003 08-21-23
WORN 1x | ALDEN 11.5D BLACK SHELL CORDOVAN PLAIN TOE BAL DRESS SHOES 9341 !
Condition: Pre-owned
Size: 11.5 D
End: 2023-07-08 6:32 PM
Duration: 179 days, 4 hr, 38 min
$498.00

Sold

Times Listed: 5
shoeslikeclockwork WORN 1x | ALDEN 11.5D BLACK SHELL CORDOVAN PLAIN TOE BAL DRESS SHOES 9341 Marked Size: 11.5D Condition Grade: 7 Measurements: 12 15/16" by 4 1/2" Model: 9341 Last: Aberdeen Notes: Very good pre-owned condition throughout. Shoes show creasing at vamps and small surface mark at the toe of the right toe. Left shoe has marks at front toe and slight marks at inside back heel. Original soles and heels excellent. Please note that shoe trees, shoe bags, shoe boxes, and other accessories are not included unless otherwise stated. Any stated color is an approximation, as how a color appears on screen and in person varies greatly depending on the settings, screen, and lighting conditions. Grade Chart Grade Description 10 Brand New 9 Like New, or Display Item 8 Used Several Times Only 7 Minor Scratches and/or Marks 6 Moderate Amount of Scratches and/or Marks 5 Many Scratches and/or Marks 4 Used a lot. Many Noticeable Scratches/Marks 3 Heavily Used, Serviceable with Repair 2 Very Heavily Used, Serviceable with Repair 1 Obviously Damaged, May not be Repairable - - V Vintage Visit Our Store! 〉 © shoeslikeclockwork _gsrx_vers_856 (GS 7.0.20 (856))
Alden Plain Toe Balmoral Shoes in Black Shell Cordovan, size 7D, Aberdeen last
Condition: New
Size: 7D D
End: 2023-03-24 8:42 AM
Duration: 728 hr, 27 min
$500.00

Not Sold

Times Listed: 1
A pair of Alden plain toe Balmoral (a.k.a. Oxford) shoes in black shell cordovan, style 9341, in like new condition. Size 7D, Aberdeen Last (the standard recommendation is to wear the same size in Aberdeen as one's normal dress shoe size, rather than sizing up or down). Purchased last month from Alden of Madison Ave, original price $758 (see here for listing: https://aldenmadison.com/collection/plain-toe-bal-black-shell-cordovan-9341/). Worn twice for try-on, never outside the home, but I foolishly wore them off of the carpet and lightly marked the soles (see the photo showing the soles with some minor dimples), which is enough to make them unreturnable. The size turned out to be wrong, hence I am reselling here -- as long as you don't care about perfect outsoles, which no one ever sees anyway, these should be considered a brand new pair of shoes. Priced at a significant discount from regular retail price. In original Alden box, includes original shoe bags. 360-degree flat welt, single oak-tanned leather soles. Aberdeen is a handsome, dressy last. In black Horween shell cordovan leather, one of the finest leathers in the world. Full leather lining. This is a first-rate pair of traditional dress shoes.
Alden Plain Toe Bal Black Shell Cordovan 9341 Balmoral Mens Shoe Size US 7.5 E
Condition: Pre-owned
Size: 7.5 E
End: 2023-01-23 1:31 PM
Duration: 1 days, 19 hr, 58 min
$180.00

Sold

Times Listed: 1
Alden Plain Toe Bal Black Shell Cordovan Model 9341. $800 when new! You can have them gently used and get a sweet deal. Look at the way the cordovan leather rolls! Not with all the little fine lines of calfskin. Just that fat, soft roll that catches the light so beautifully. They are used shoes of course. Small scratch on the heel (see photos), expected amount of toe wear, but very minimal heel wear (see photos). Shoe trees not included. Ask any questions you have!