Alden 93911 Cigar Shell Cordovan Plain Toe Blucher
Additional Model Details:
Double Leather Outsole

360 Pre-Stitched Reverse Welt
Alden 93911 eBay Sales (last 50):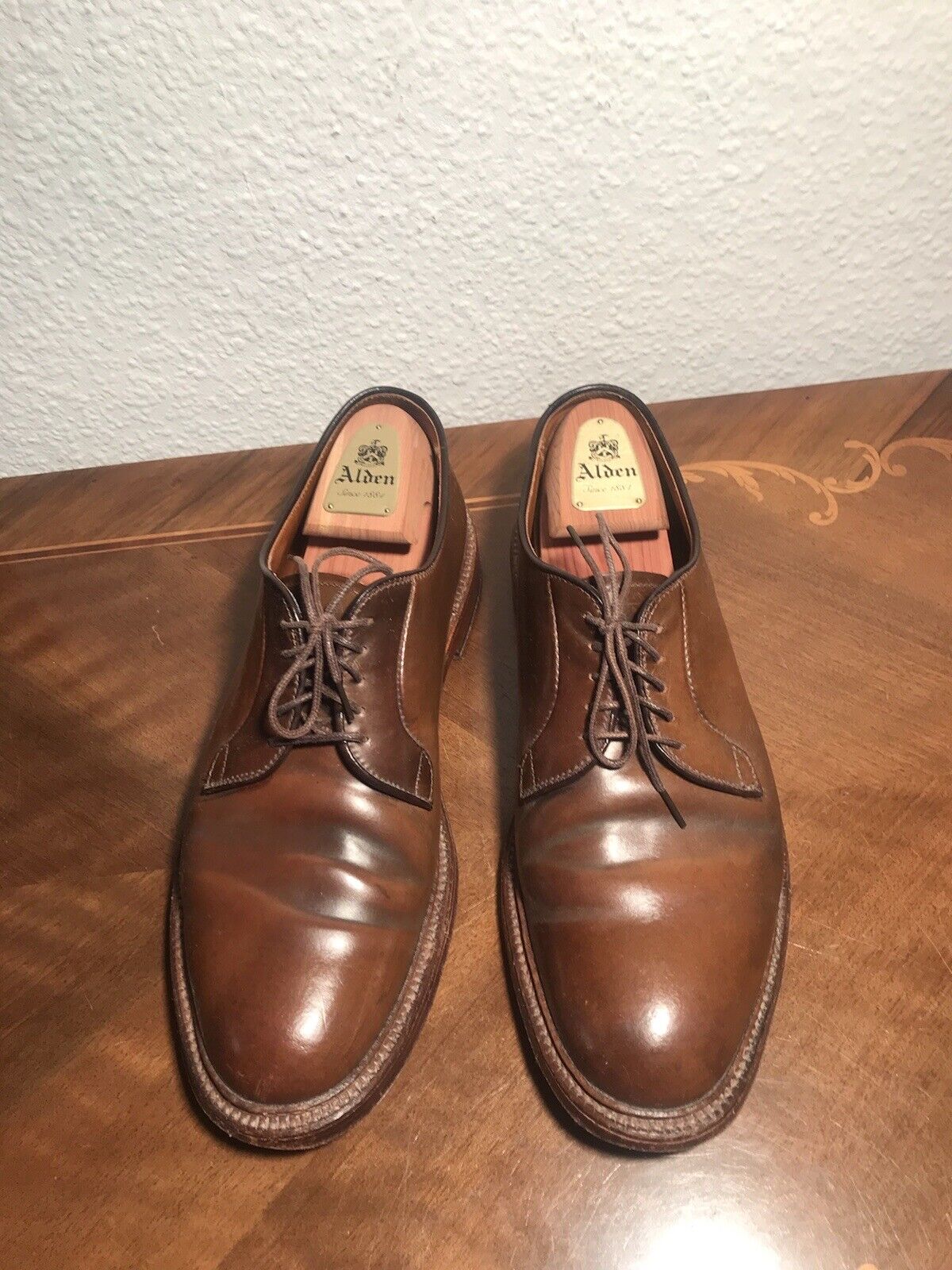 Rare Alden 93911 Cigar Shell Cordovan PTB Barrie Last Blucher - 10C/E
Condition: Pre-owned
Size: 10 C/E
Start: 2023-01-13 9:11 PM
375.00 EUR

Active

Times Listed: 29
Werter Ebayer, Ich gebe mir viel Mühe, dass Ihr Paket so schnell wie möglich ankommt. Bitte haben Sie Verständnis dafür, dass einige Faktoren wie Wetter, hohes Postaufkommen und die Leistung von Versandunternehmen außerhalb meiner Kontrolle liegen. Versand: · Der Versand an ein Postfach ist ausgeschlossen. · Der Nachnahmeversand ist ausgeschlossen. · Ein Express-Versand ist nicht eingeplant. · Bei PayPal-Zahlung erfolgt der Versand ausschließlich an die von PayPal und Ebay übermittelte Lieferadresse. _____________________________________________________________________________________________ Ich Verkaufe weitere Luxus-Artikel weit unter 1/2 Preis, gekauft meist ohne Rücksicht auf Hohe Kosten, was sich bei mir über die Jahre angesammelt hat, siehe unter weitere Artikel von mir. ____________________________________________________________________________________________ ALDEN Schuhe, bei dessen Konstruktion auf Robustheit, Langlebigkeit und Passform sehr viel Wert gelegt wurde. Wunderschöner Shell Cordovan in Cigar brown, auf Grund zuviele Schuhe in Rotation vielleicht wenig getragen – entsprechend die Gebrauchsspuren. Die letzten drei Bilder mit Blitzlicht fotografiert, je nach Lichtverhältnisse wechselt die Lederfarbe von Cigar braun bis Cognac braun. Der ideale ultimative Luxusschuh für den stilvollen Herren, den wirklich nicht jeder hat. Alden 9501 PTB Cigar Shell Cordovan , hand made shoes from USA cond..., see Photo... Barrie Last Goodyear Welt construction This natural cigar shell cordovan blucher is hand crafted with a natural leather patina that offers a unique style addition to your wardrobe. Not only great for any casual setting, this shoe dresses up with ease. Do not hesitate to order this shoe as supplies are very limited with this rare look from Alden. _____________________________________________________________________________________________________________________________________ Obermaterial aus Shell Cordovan in Cigar Brown Barrie Last Goodyear Welt-Konstruktion Dieser natürliche Blücher ist handgefertigt mit einer natürlichen Lederpatina, die Ihrer Garderobe eine einzigartige Stilergänzung bietet. Dieser Schuh eignet sich nicht nur hervorragend für jede Freizeitumgebung, sondern kleidet sich auch mit Leichtigkeit. Zögern Sie nicht diesen Schuh zu kaufen, da die Vorräte bei diesem seltenen Look von Alden sehr begrenzt sind. US 10 C/E Shipping insured with value of goods Widerstandsfähiges Cordovan Leder ist eines der teuersten Materialien für Schuhoberteile, teils wegen seiner hervorragenden Eigenschaften, teils weil aus der Hautoberfläche eines verhältnismäßig großen Tiers ausschließlich zwei kleine ovale oder kriesförmige Flächen von ca. 2 qm am Kreuz des Pferds , der Kruppe, zum Herstellen von Oberteilen verwendet werden können. Man kann also sagen: ein Pferd = ein Paar Schuhe ! Hohe Neupreis Verkauf ohne Schuhspanner. Sämtliche Angaben, Bilder und Hinweise zur angebotenen Ware sind nach bestem Wissen und Gewissen gemacht und möglichst genau, damit sich der Käufer ein genaues Bild davon machen kann. Fragen bitte unbedingt vor Abgabe eines Gebotes zu klären! Es handelt sich um eine Privatauktion! Das neue EU-Gesetz schreibt folgenden Vermerk bei Privatkäufen vor: Bei meinen Auktionen verkaufe ich ausschließlich Waren, sofern ich es nicht anders beschreibe. Die Waren stammen aus meinem Privatbesitz, ich verfolge keinerlei gewerbliche Zwecke. Ich erkläre ausdrücklich dass ich für die von mir versteigerten Artikel keine Gewährleistung übernehme. Mit der Abgabe eines Gebots erklären Sie sich ausdrücklich damit einverstanden, auf die Ihnen nach neuem EU-Recht gesetzlich zustehende Gewährleistung/Garantie zu verzichten. Keine Rücknahme und keine Rechnung. Danke!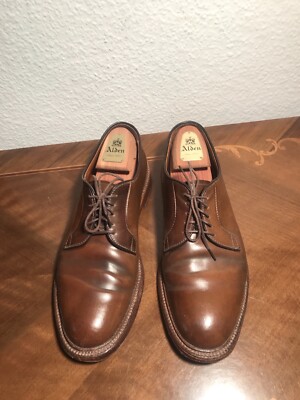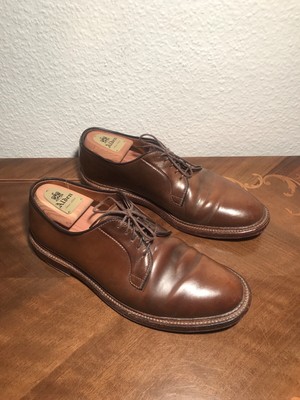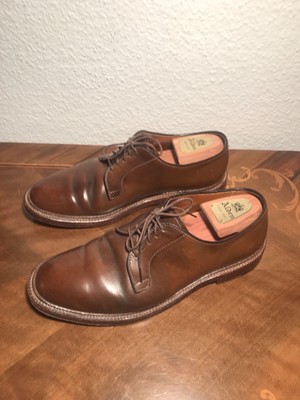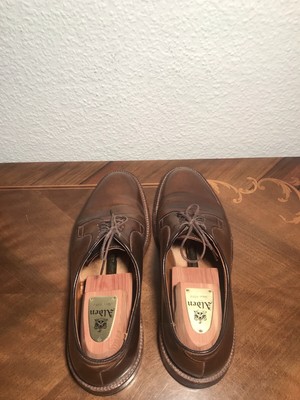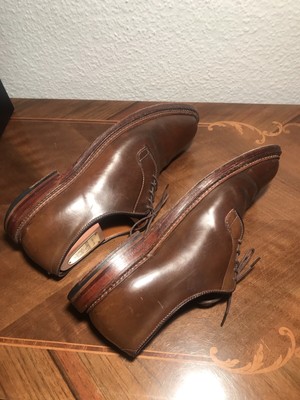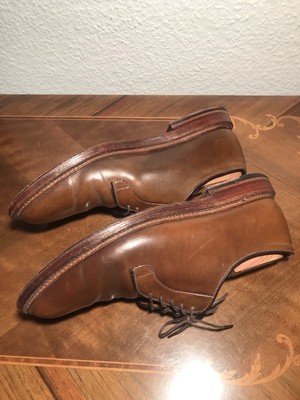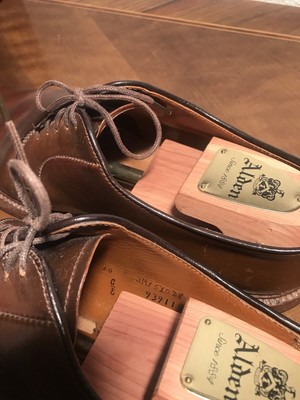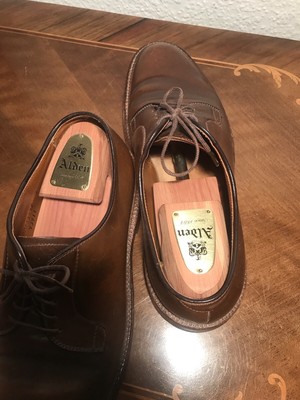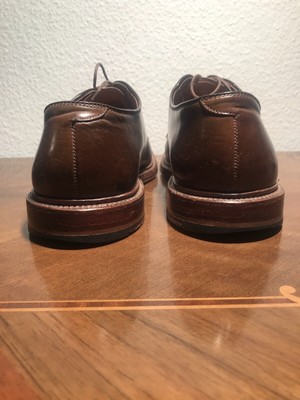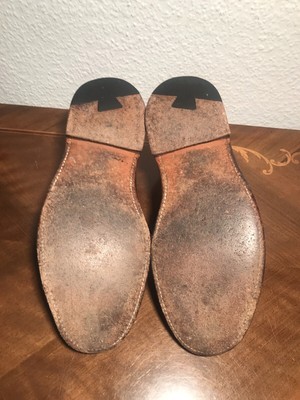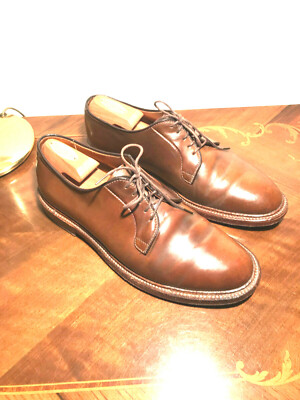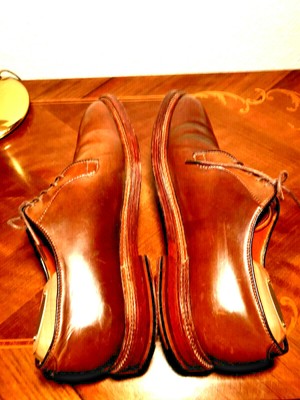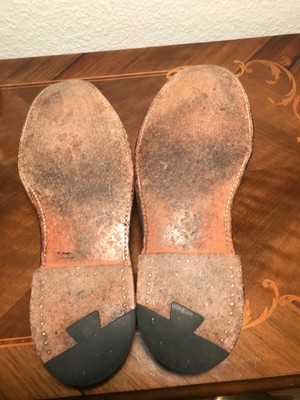 Alden Shoes Cigar Shell Cordovan, 9 E Plain Toe Bluchers, Barrie Last
Condition: Pre-owned
Size: 9 E
End: 2022-12-27 8:24 PM
Duration: 3 days, 1 hr, 23 min
$500.00

Sold

Times Listed: 1
Alden Shoes Cigar Shell Cordovan, 9 E Plain Toe Bluchers, Barrie Last. Beautiful pair of Horween Cigar Shell Cordovan bluchers on Alden's Barrie last in size 9 E. Wiped down and brushed after each wear, and always stored with shoe trees inserted. These seem to be made with thicker Shell Cordovan and I think that is why they have minimal rolls in the vamp, which is what most people prefer. These shoes are 5 years old and have developed a beautiful patina with a lighter color of cigar and slight olive tones. They do have medium wear to the heels and toes of the soles, but still in very nice condition with years of wear remaining before their first resole. No returns. Shipping to the continental US only. They have stick on arch supports inserted, which will pull out easily, if needed. My feet have widened a bit, and I just don't wear these anymore due to the tight fit. Included are the original box, tissue paper, plastic bags, and Alden cloth shoe bags. Thanks.
Alden Dress Shoes, Brown, Plain Toe, Leather, Travel Bags and Box Included
Condition: Pre-owned
Size: 9 D
End: 2022-12-11 2:35 AM
Duration: 1 hr, 35 min
$300.00

Sold

Times Listed: 1
These Alden Dress Shoes, Brown, Plain Toe, Leather, Travel Bags and Box Included are now for sale. These excellent shoes made by one of the most reputable shoe brands have lasted me a very long time, but I now work remotely and haven't worn them in a while. As you can see, there are a few blemishes that can be remedied with some polish and care. The travel bags and shoe trees are included, making this the excellent shoe to bring to a wedding or work trip out of town. I highly recommend this excellent shoe to newcomers who want a discounted price on a shoe that retails at $400.
Alden Shell Cordovan Plain Toe Blucher 93911 Cigar US 8 C/E + Shoe Clamp
Condition: Pre-owned
Size: 8
End: 2022-11-18 1:36 PM
Duration: 2 hr, 27 min
350.00 EUR

Sold

Times Listed: 3
Alden Shell Cordovan Plain Toe Blucher 93911 Cigar US 8 C/E gebraucht, inklusive abgebildetes Schuhbeutel und Schuhspanner in Gr. 9, Zustand siehe Bilder, die Absätze sollten demnächst erneuert werden, die Sohlen sind noch intakt. Die Couch gehört nicht zum Angebot. Privatverkauf, daher keine Gewährleistung und Rücknahme. Viel Spass beim Bieten! Alden Shell Cordovan Plain Toe Blucher 93911 Cigar US 8 C/E used, including shoe bag and shoe tree in size shown. 9, see pictures for condition, the heels should be replaced soon, the soles are still intact. The couch is not part of the offer. Private sale, therefore no guarantee and return. Happy bidding!
Alden Cigar Shell Cordovan Plain Toe Blucher 10.5 B
Condition: Pre-owned
Size: 10.5 B
End: 2022-11-16 12:31 PM
Duration: 1317 hr, 16 min
$300.00

Sold

Times Listed: 11
Alden Cigar Shell Cordovan Plain Toe Blucher 10.5 B. Barrie Last.  Model 93911. Rare Cigar Shell Cordovan.  Antique edging double oak soles.  Excellent condition, seldom worn.   With original Alden Box and shoe bags.  Shoe trees not included.  I'm only owner.