Alden N6439 White Suede Plain Toe Dover
Additional Model Details:
Alden N6439 eBay Sales (last 50):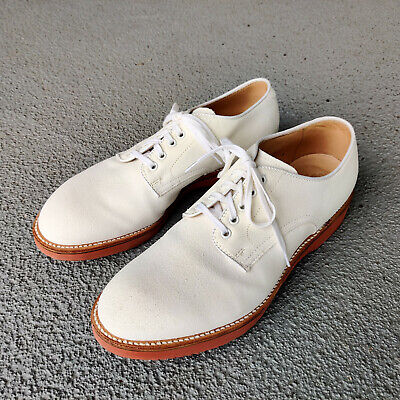 Alden Factory Second Modified last White Suede Plain toe Derby Shoe 8D
Condition: Pre-owned
Size: 8
End: 2021-11-19 10:13 AM
$300.00

Active

Times Listed: 3
Alden Factory Second Modified White Suede Plain toe Derby Shoe 8D. From a large rotation. Worn Appx. 5 timesUpper in great condition (Please refer to pics) One of my favorite makeup, hesitated for a year but finally decided selling them as they are a full size too large for me.This model is exclusively made for one of the most famous Alden retailers in Japan the Lakota house. Initially sold for around $1k. This pair is factory second though, the only flaw I could find is a small amount of gel stain on the tongue (they are literally invisible when laced).Also asked store in US that carrying modified last for doing something similar but was refused as white shoes generally didn't made a nice selling figure. Along with the fact that white suede defects much easier than any other kind, results in the company don't regularly have them in stock.Hope someone take them, wear them, instead of sitting in the closet. Modified lastWhite Suede leather5 white agatine eyelets 360 degree natural flat weltRed wedge sole https://www.lakotahouse.com/journal/2018/03/alden-n6439-white-bucks-super-light-sole.html Manufactured in November 2017, Model No. N6439,Lakota house exclusiveWith factory seconds original white box.